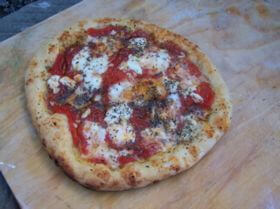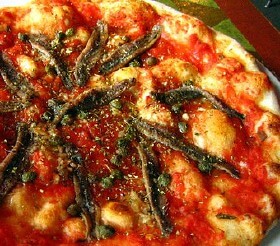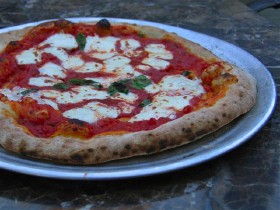 The Best Brick Oven Pizza Sauce
You can use canned San Marzano tomatoes (Pomodori Pellati) to create a wonderful, and simple wood fired pizza tomato base. Use a potato masher or a hand-crank food mill to get a good sauce consistency. Don't use a food processor or hand mixer, as those will break the seeds and give your sauce a bitter flavor. If you are using a brick wood fired pizza oven, you should not cook the sauce. The hot oven will cook the sauce perfectly. If you are using a Pizza Stone in your oven, you might want to try cooking the sauce first. Try it both ways to see what you like.
Smashed Tomato Sauce
1 can (28 oz) San Marzano tomatoes
1/4 teaspoon freshly ground black pepper
1/2 teaspoon of salt
1 teaspoon of oregano
Options
1 teaspoon dried basil or 2 tablespoons of fresh basil
1 tablespoon garlic powder
2 tablespoons red wine vinegar or lemon juice
1 tablespoon olive oil – don't forget to swirl excellent extra virgin olive oil on your pizza right before you put it in the oven
Watch the Best Brick Oven Pizza Sauce Video on YouTube.

Back to Pizza Home Page