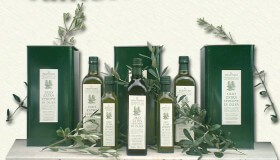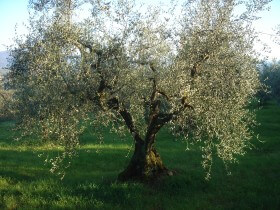 Well pruned trees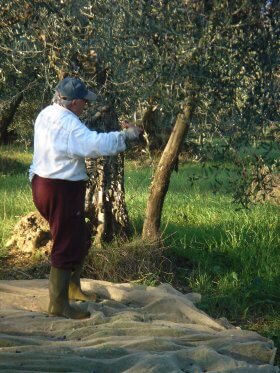 Harvested by hand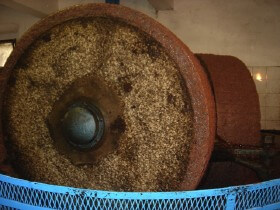 Traditional mechanical stone mill
Forno Bravo imports a wonderful cold-pressed, 100% Tuscan extra virgin olive oil directly from the source — the oil mill (Frantoio) just south of Florence, Tuscany where it is grown and produced using a traditional, mechanical stone mill. Everything comes from a single farm, including the frantoio trees themselves. We are very lucky to have made this connection, and to be able to offer this truly world-class olive oil for pizza through the Forno Bravo Store, at reasonable prices. We sell the Forno Bravo extra virgin olive oil in 500ml and 1-liter cans. While it is not inexpensive, it is much less expensive than other ultra premium olive oils, and we think it is much better.
The oil is wonderful; full-bodied, fruity and flavorful, with a hint of pepper and spice. It is the standard to which other oils are compared.
The Italian olive oil marketplace can be confusing. There are many different standards and grades of olive oil for pizza, and not everything is disclosed on the olive oil label. For example, olive oil from other countries can be blended and bottled in Italy, and then labeled as Italian. Much of the Italian olive oil for sale you see in the supermarket comes from Spain, Turkey, Tunisia, and Greece. In fact, while Italy produces only 20% of the world's olive oil, it actually consumes 28% of it, making it a net importer of olive oil — not an exporter.
That is one thing that makes the Forno Bravo olive oil so special. You know exactly where the trees grow, how they are pruned, and even when the olives were harvested and pressed.
And while there is a DOC system (Denominazione D'Origine Controllata) for olive oil in Italy, very little DOC olive oil makes it to the U.S. Even the ultra-expensive Italian olive oil for sale found in specialty shops typically comes from less-renowned locations, such as Sardegna, Puglia, and Sicily. While those regions produce good olive oil, they do not have the climate, types of olive tree, or cultivation and pressing methods that make Tuscan olive oil the best in the world.
As a result, most of the Italian extra virgin olive oil sold in the U.S. just isn't very good, while a majority of the best Italian olive oil is sold and consumed in Italy — close to where it was produced.
This is where we come in. As an importer of large Italian items, such as the Artigiano pizza oven, Forno Bravo has developed relationships over the years with various producers that allow us to cost-effectively import olive oil. We purchase directly from the mill, and we pass these efficiencies on to you. We think that you will be very impressed by this olive oil for pizza.
Order a liter to try it out, or order a Vera Pizza Napoletana Kit – it includes a 1-liter canister.
Salute,
Forno Bravo
p.s. While you are shopping, check out our Aceto Balsamico Traditionale di Modena (12-year-old), directly imported from the producer in Modena. It's incredible.
Additional Resources
See a Photo Journal of an Old-Fashion Stone Mill in Operation
Read an overview about using Extra Virgin Olive Oil with Pizza
Learn more about Italian Olive Oil Labeling Rules
Enjoy our Olive Tree Photo Journals:
Shop Now
Back