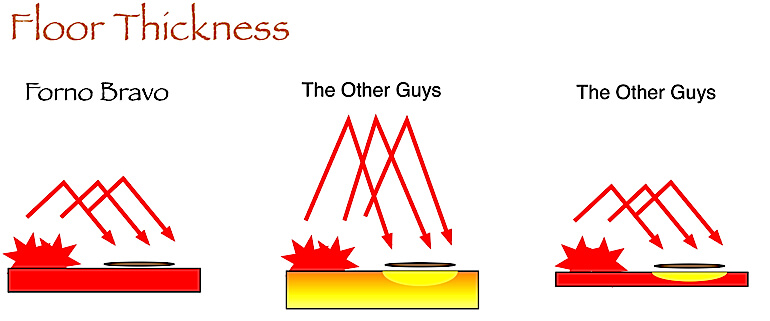 Pizza Oven Floor Comparison
Right
The Forno Bravo oven uses 18″x18″x2 1/2″ true firebrick baking tiles—the optimal thickness and material for baking Pizza Napoletana. The 2 1/2″ floor can be fully heated to an 800ºF pizza baking temperature, which allows for continuous baking, without the floor cooling down. The oven fire (either gas or wood) can recharge the floor to keep up with even high throughput baking. Unlike a cast oven floor (refractory material mixed with water and left to dry), our industrial baking tiles are compressed (2,700psi) and kiln fired (2,650ºF), creating a material (through sintering) that is significantly more durable and less likely to crack—while the large 18″x18″ tile size presents few seams.
Too Thick
Some ovens use a too thick 4″ floor constructed with cast and air dried refractory material—which is too much mass to fully heat up to pizza baking temperature. The bottom of the floor remains cool and continually wicks heat away from the inside of the oven, and the baking floor is always cooling down. While this is fine for baking 5-9 minute pizzas at 500ºF, it does not work for Pizza Napoletana or other serious artisan pizzas. Because air cast material is much softer and less durable than a true firebrick tile, these floors are much more likely to crack and wear down. In all likelihood, it is the relatively soft, non-ceramic nature of the cast floor material that resulted in the overly thick floor design.
Too Thin
Some ovens use very small and thin 12″x12″x1 1/2″ baking tiles. While it is very easy to bring a thin baking tile floor up to the proper temperature for baking a pizza, the tile is too thin, and does not retain enough heat for continuous pizza baking. After baking a series of pizzas, the floor significantly cools down—and the pizza chef can either bake the pizzas for a longer period of time, or wait for the floor temperature to recover. Further, the small 12″x12″ tiles result in too many oven floor seams.
<<< Oven Dome Thickness | Insulation Efficiency #1 >>>