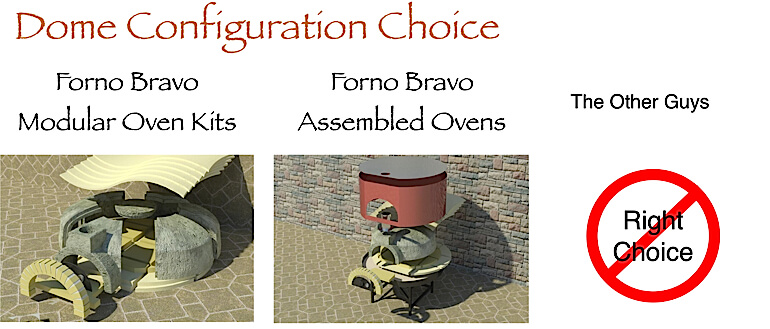 Dome Configuration for Pizza Ovens
Right
The Forno Bravo modular oven kits are constructed with interlocking joints for a tight fit, easy assembly, and excellent heat retention and durability. Each piece can be lifted by two people and carried up stairs and through a standard doorway. Our pizza oven kit is complete, with insulation and mortar, and the oven pieces can be efficiently packed in a wooden crate for cost-effective shipping. If you need a modular oven kit, this is the right choice.
Right
The Forno Bravo assembled pizza ovens feature a monolithic dome—cast as a single piece. The massive oven dome and integral vent have no seams, offering industry-leading cooking performance and durability. The single piece dome is also more resilient to shipping than a pizza oven kit that has been pre-assembled. If you are looking for the best-assembled oven, this is the right choice.
Wrong Choices
Some producers build their assembled ovens using modular oven kits. Their oven kits are manufactured in Europe and shipped to the US in pieces, where they are assembled—and then shipped again to your restaurant. This is not the best choice of your restaurant.
Other producers only make assembled ovens cast as a single dome. If you do not have forklift access to your kitchen, you can't install the oven.
<<< Proper Oven Opening Size | Baking Pizza Napoletana >>>