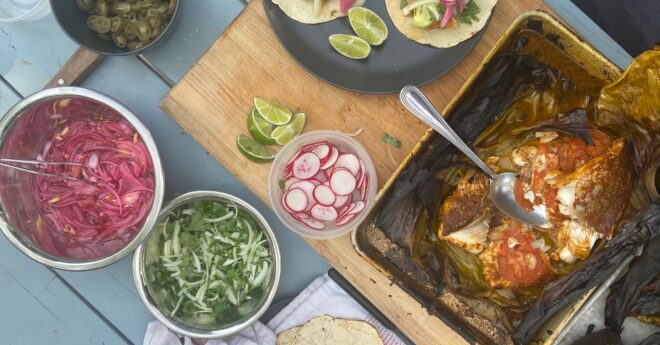 Yucatan-Style Fish Tacos and Garnishes
Jul 30, 2021
Posted by guestchef
Print
Flaky, flavorful, and delicious! This recipe for fish tacos made with marinated and roasted snapper or yellowtail filets takes wood fired cooking back to its essence. Enjoy the video below with Chef Aaron Brooks as he takes us through all of the ins and outs of making wood fired fish tacos with all the fixings from scratch!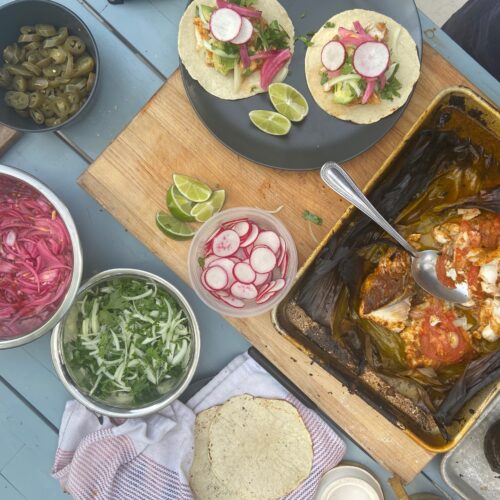 Wood Fired Yucatan Fish Tacos and Garnishes
Get the steps for creating your own Yucatan-style fish tacos with avocado, pickled onions, and fresh corn tortillas. The perfect meal for a summer afternoon feast.
Ingredients
Fish Preparation
2 x 1 - 2 lb Snapper or Yellowtail Fish - Filets
1 Red Onion - Sliced
½ cup Sour Orange Juice
½ cup Lime Juice
1 Tomato -Sliced
1 Large Banana Leaf - Split
Seasoning for Fish
2 tsp Achiote
1 Tbsp Salt
1 pinch Cinnamon
½ tsp Mexican Oregano
1 piece Chipotle Pepper in Adobo
½ tsp Cumin Seeds - Toasted
4 pieces Cloves - Toasted
6 pieces Allspice - Toasted
4 Cloves Garlic - Crushed
Pickled Onions
1 Red Onion - Sliced thin
1 cup White Distilled Vinegar
½ cup White Sugar
1 tsp Sea Salt
½ tsp Chili Flake
Corn Tortillas
2 cups Maseca Corn Flour
1½ cup Warm Water
1 tsp Salt
Additional Garnishes
1/2 bunch Cilantro - Chopped
6 pieces Radish - Thinly Sliced
2 ea Avocados - Cut into wedges
2 ea Limes - Cut into wedges
Instructions
Preparing the Fish
Mix sour orange juice and lime juice together. Pour half the mix over the sliced onions and allow to pickle for at least 15 minutes. (Season with salt.)

Toast and grind dry spices and herbs. Mix with crushed garlic, salt, chipotle, and remaining juice to make a paste.

Rub paste over the fish.

Lay first piece of fish, skin side down, on the split banana leaf which has been laid out in a criss-cross pattern. Place tomato slices and pickled onions on top. Place the other filet on top. Wrap tightly.

Seal, place on a heat-safe pan, and bake in your wood fired oven at 500°F (no flame) until an internal temperature of 140°F is reached.
Preparing the Pickled Onion Garnish
Bring vinegar, sugar, chili, and salt to a boil.

Immediately pour over onions.

Store refrigerated until needed.
Making the Tortillas
Raise the oven temperature to 650°F on the floor - Maintain a moderate flame.

Combine and ingredients and knead for a minute or two until the dough forms.

Roll into small 35 gram balls.

Line your tortilla press with parchment paper. Press with tortilla press to apx. 1/8th thick. Cook directly on the oven floor for around 20-30 seconds each side. (They should still be soft.)

Stack and wrap in a tea towel or place in a tortilla warmer until needed.
Final Assembly
Unwrap and flake the fish. Assemble the tacos with the above ingredients (Fish, vegetables, cilantro, pickled onion, and avocado in a fresh tortilla.)

Serve with a squeeze of lime and your favorite hot sauce. Enjoy!
Video
Notes
The unique seasonings in the fish rub can be found online or in many neighborhood or ethnic grocery stores. Banana leaves can be purchased at Indian grocery stores, online, or sometimes even at Walmart or other grocery chains. Alternates to banana leaves as a food wrapper include aluminum foil, parchment paper, ti leaves, fresh corn husks, bamboo leaves, or lotus leaves. **Be sure to watch the video for extra tips and tricks from Chef Aaron to make this recipe the best it can be!