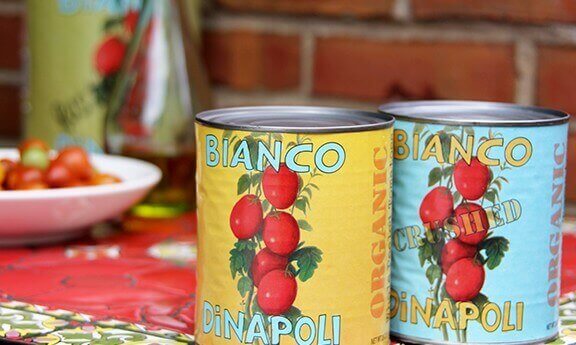 You Say Tomato…
Jun 02, 2015
Posted by Chef Bart
Print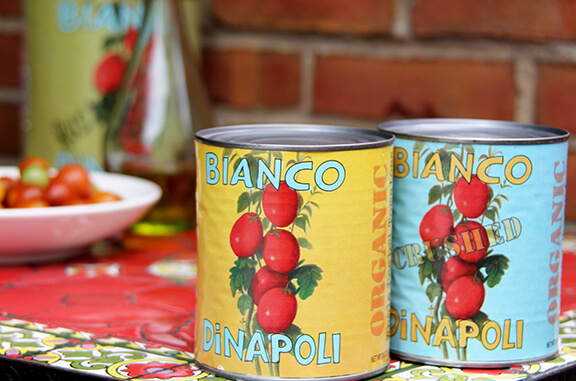 You say to-may-to, I say to-mah-to.
Pizzeria Bianco in Phoenix is considered to be some of the best pizza in the country, and some would even argue it is the best.  Among his many accolades, Executive Chef and Owner Chris Bianco is passionate for placing a significant emphasis on sourcing and using the highest quality ingredients.  As such, he diligently works to ensure his flour, cheese, and tomatoes are the very best.  On his quest for the perfect tomatoes for his pizza and pastas, Chris partnered with successful California family farmer Rob DiNapoli.  Together they launched Bianco DiNapoli tomatoes.  Their mission is to celebrate California's agricultural heritage and to "connect the dots from seed to field" to yield the perfect tomato for your pizza making.
Bianco DiNapoli Crushed and Whole Peeled tomatoes are packed with organic basil and sea salt.  The crushed tomatoes have the addition of naturally derived citric acid to aid in preserving the tomatoes as well as providing a subtle additional hit of tartness.
The whole and crushed tomatoes have great, clean flavors right from the can.  Admittedly, my mouth started to water the second the aroma hit me. The crushed tomatoes pop with a desirable acidic and naturally sweet punch.  The velvety smooth and consistent texture coats the mouth and easily spreads across the pizza dough.
The whole tomatoes possess the same balance of sweet to acid though it is not as pronounced as it is with the crushed.  The firm meatiness of the tomato provides a wonderful toothsome bite.  As with any whole tomato, it requires crushing prior to applying to the pizza.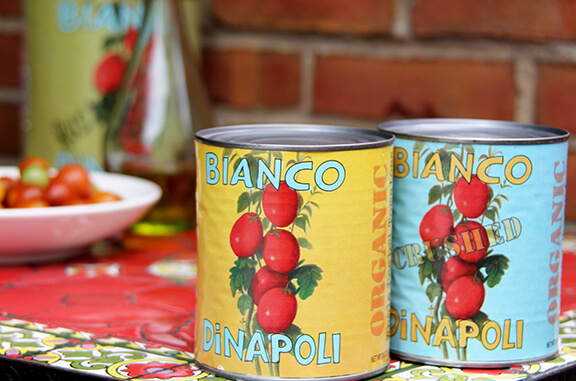 You Say Tomato…
Ingredients
Whole Tomato Sauce
1 can whole peeled tomatoes Bianco DiNapoli
2 tablespoons extra virgin olive oil
1 teaspoon salt optional
Crushed Tomato Sauce
1 can crushed tomatoes Bianco DiNapoli
2 tablespoons extra virgin olive oil
1 teaspoon salt optional
Instructions
Whole Tomato Sauce
Using a spoon, remove the whole tomatoes from the can and place in a non-reactive bowl. Using your hands crush each tomato until it is broken into smaller pea sized pieces. Add olive oil and salt (optional) mix until incorporated. Because the Bianco NiDapoli tomato products are packed with salt it is not necessary to add salt, but I prefer a bit more saltiness in my sauce.
Crushed Tomato Sauce
Empty the crushed tomato can into a non-reactive bowl. Add olive oil and salt. Mix until incorporated.
Notes
Bianco NiDapoli tomatoes are certainly a favorite of mine and I am thrilled Forno Bravo now carries them in the online store. Hope you enjoy. Until next week, feast well.