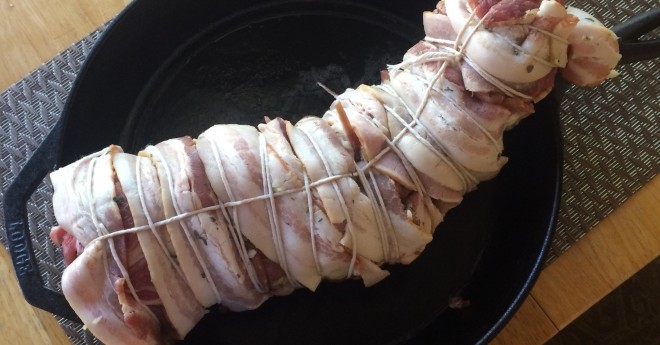 Wood Fired Porchetta
Jun 03, 2019
Posted by guestchef
Print
Big thanks to Paul Dunaway for submitting this wonderful recipe! 
Note: You can also check out Brad English's recent guest post on Pizza Quest with Peter Reinhart discussing Porchetta, and offering several delicious options for using it on pizzas and sandwiches!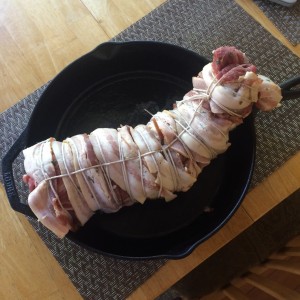 Wood Fired Porchetta
Modified Porchetta recipe for a wood fired oven
Ingredients
2.5 - 3 pound Boneless Pork Shoulder approximately 12" in length
1 1/4 pound pound Pork Tenderloin approximately 12" in length
12 - 15 Strips bacon Medium Thickness
10 Fresh Sage Leaves
2 tsp minced Thyme
1 tbsp minced Rosemary
1/4 cup diced Onion
6 cloves minced Garlic
1 tbsp fennel seeds slightly toasted
3/4 tsp Ground Clove
2 tsp Medium Coarse Salt
1 tsp black pepper coarsely ground
4 tbsp Olive Oil divided
Instructions
Heat oven to maintain about 500 degrees F.

In a food processor or by hand, finely chop herbs and stir in olive oil. (Note: Fresh herbs are preferable, but you can use dry herbs as well. If you use dry herbs, you'll need less of them, as they are generally have stronger flavors - about 1/3 the amount of fresh.)

Using a sharp knife, roll cut the pork shoulder and tenderloin to approximately ½ inch thickness. Laying each piece flat, evenly spread the herbs and massage into the meat.

Place the seasoned tenderloin herb side up onto the shoulder and role the shoulder over the tenderloin. Wrap with bacon and tie with cooking twine several times holding each piece of bacon and tightly wrap. (You can let the roast rest in the refrigerator up to 24 hours at this point to allow the herbs to marinate into the meat, or cook it right away.)

Heat a 12" cast iron skillet in the oven to about 350 degrees F.

Lightly oil the pan and place the Porchetta in the pan. Cook at the furthest wall from the fire and partially close the door to the oven to maintain about 500 degrees F. Turn every 15 minutes and cook for a total of approximately 1.5 hours or until internal temperature reaches 145 degrees F.

Let rest for 15 - 20 minutes. Slice into ¼" steaks and serve by itself as a main dish with veggies, or in a sliced Ciabatta roll.
Notes
Porchetta is a common street food in Italy, with different regions each having their own twist on the preparation. Traditionally, pork belly is more commonly used for the exterior layer for the crispiest exterior, but the bacon substitution in this recipe allows for a much quicker prep time, while maintaining the extra moisture and flavor.
Porchetta is a versatile meat that can be served as a roast, sandwich, or pizza topping. If serving it in a sandwich, place slices or chunky pieces on a warm crusty bread roll (ex. baguette and ciabatta) with roasted garlic aioli and arugula for a real treat.
Porchetta can also be thinly sliced on a meat slicer after it is cooled, like prosciutto. This is the version that works the best on pizza, as the high heat of the wood fired oven will warm it quickly, and blending with the melting cheese, will add tons of flavor to the pie. (You can also finish the pie with fresh arugula and a touch of olive oil after it comes out of the oven.) Because of the herbs and delicate flavors, Porchetta works best with a "white pizza" (no tomato sauce,) using a light pesto or garlic olive oil dressing as the sauce instead.
Note: Alternate cooking time — Porchetta can also be roasted for a slow cook of 2.5 – 3 hours at 275-300 degrees F in your wood fired oven. Keep the fire small, and be prepared to do some wood management to achieve this temperature. An infrared thermometer is very helpful to monitor temperatures.