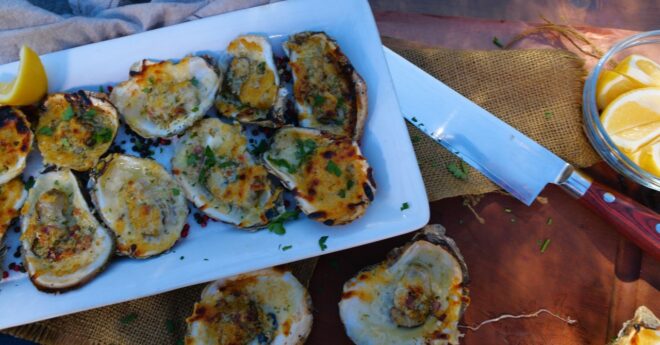 Wood Fired Oysters
Jan 26, 2023
Posted by cecebeauchamp
Print
Wood Fired Oysters are an easy, different type of dish for an evening's delight. Chef Daniel and the team at Cowboy Charcoal came up with a great recipe and demo for this quick and delicious appetizer. Below is a short video overview to get you started!
Note 1: This recipe calls for compound butter. The options to include in this are endless and it can be made in multiple ways. For example, you can mash together softened butter with chopped parsley, garlic, cilantro, fried bacon crumbles, and lemon juice in a bowl with a fork, or even easier, you can combine them in a food processor, where the butter will get softened, and the herbs and garlic get chopped at the same time. Any combination of herbs and ingredients with high acidity and bright, fresh flavors will work. Once combined, form the butter into a log shape, wrap it in plastic wrap, and refrigerate it to make it easier to work with when you add it to the oysters.
Note 2: Quantities included in the recipe below are approximate and can be highly variable, depending on how many oysters you are preparing.
Wood Fired Oysters
Roasted oysters with compound butter and melted cheese create a briny, smokey, delicious bite. Great for an appetizer or main course.
Equipment
heavy sheet tray

metal rack
Ingredients
12-16 Fresh Oysters - Large Size
1/2 lb Compound Butter - Choice of herbs and ingredients optional
1 cup Parmesan Cheese - Grated
1 Lemon
1/4 cup Dry White Wine - or less
Instructions
Preheat the oven to 800 - 900 deg F. (Pecan makes a nice mellow smoke and is a good wood to use for this recipe.)

Brush off any sand, dirt, or debris on the outside of the oyster shells. Look for any open oysters and discard. Note: Do keep your oysters in a bowl of ice until you are ready to use them.

Place the closed oysters in the oven on a sheet pan and raised metal tray. (This keeps any oyster juice from spilling on the firebrick cooking floor.) Bake for 2-3 minutes or until the shells start to pop open.

Remove the tray from the oven and using a heat-resistant glove and an oyster knife, carefully open and remove the top shell. Loosen the oyster from the shell and remove any little pieces of dirt or shell that may have fallen in when you open them. Do try to keep the juice in the shell, as it adds to the overall flavor combination.

Reposition the open oysters on the rack, and add 1/2-1 tablespoon of compound butter directly on each oyster. Sprinkle on the cheese, and return to the oven until the butter melts and the cheese bubbles and browns (1 - 2 minutes.)

Remove from the oven and put them on a plate or platter with some coarse salt and whole peppercorns on it. (This looks pretty and helps hold the oysters in place.) Squeeze fresh lemon over the oysters. Add a drizzle of dry white wine. Serve hot.
Would you like to see a more detailed presentation of the recipe by Chef Daniel? Click below for the 10-minute version where he goes through all of the steps much more thoroughly!