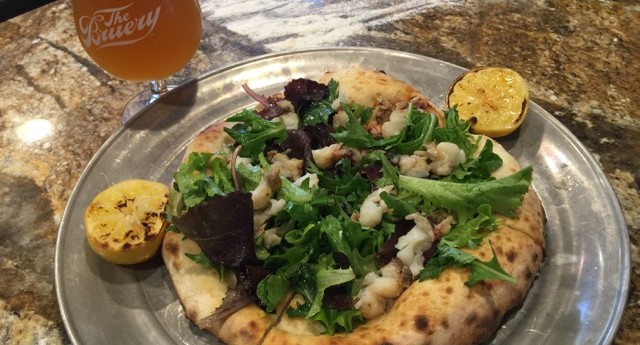 Wood Fired Lobster Pizza
May 24, 2016
Posted by Brad English
Print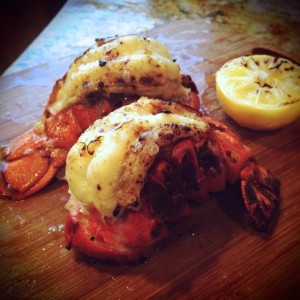 It was beautiful out. I was going to make some lobster and put it on a pizza, but what's different about that and putting other seafood on a pizza like shrimp, mussels, clams, salmon etc? I decided to keep it simple for this one and make a lightly dressed salad to lay on the pizza dough after it was cooked – making sure it was nice and cool – kept in the fridge until the last minute and then finishing it all with the warm lobster right out of the oven.
This pizza uses Peter Reinhart's popular Neapolitan Pizza Dough recipe which can be found on Pizza Quest (link).
Visit Pizza Quest to read more about this recipe.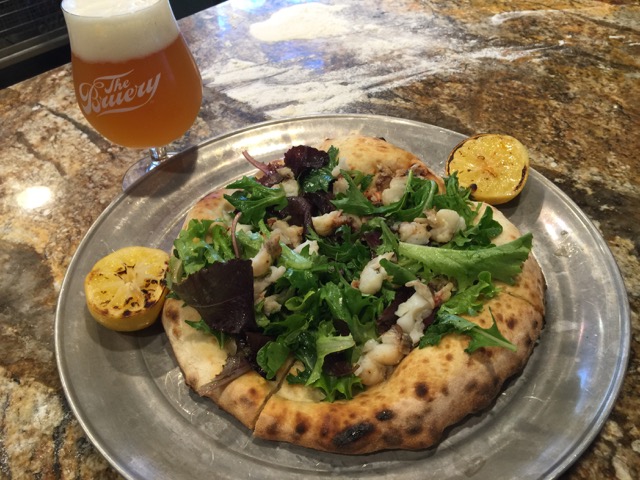 Wood Fired Lobster Pizza
Ingredients
2 3-4 oz. lobster tails
olive oil
spring mix greens
Lemon Vinaigrette
olive oil
juice of 1/2 lemon
Salt and pepper
Citrus Buerre Blanc Sauce
1 stick butter unsalted
zest 1/2 orange
zest 1/2 lemon
juice 1/2 orange
juice 1/2 lemon
1/4 cup white wine
chopped shallots
Salt and pepper
Instructions
Lemon Vinaigrette Dressing
Add some olive oil to a bowl (about 3 tablespoons). Add 1/2 lemon's juice (about 1 1/2 tablespoons) – whisk. Salt/Pepper – make adjustments to taste. Simple and delicious! *We make this all the time. It's about 2/3 oil – 1/3 lemon juice. Taste and adjust for your preference. Lightly dress the salad – just before serving, or putting on the pizza.
Citrus Buerre Blanc Sauce
Add zest and juice of lemon and orange, shallots, and wine to the sauce pan and saute. When the shallots are softened and the sauce is reduced and thickened, add in the softened butter and whisk it all together.
Lobster Tails
Prepare the lobster tails by cutting the top of the shell and pulling the meat out and resting it on top of the shell. There are many YouTube videos showing how to do this. Brush the lobster meat with the Citrus Butter on top and underneath. I drizzled the rest of the butter over it and squeezed some more lemon on it and put the lemons in the cast iron pan with everything.
Making the Pizza
Spread the dough and rub a thin layer of olive oil on top. Into the oven. Because this is a lighter dish with lobster and salad I chose not to try to cook this dough too long. I wanted some char, but a lighter dough that is 85% done — seemed like a good call on this one. About a minute and nothing, and the dough came out of the oven. The lobster tails go into the oven — I put them close to the fire. This didn't take long – maybe a few minutes. I pulled them out to test the firmness with my finger. When it felt right, I slid my pizza peel under the cast iron and "domed" my lobster just as I would with a pizza! I let it rip up there for longer than I would a pizza, because it was moist and could take it — just trying to give it that smokey charred finish with the super intense heat.
Notes
For a dinner party, how about serving small personal pizzas with salad on top and giving everyone a lobster tail to cut up and put on their own pizza? My pizza here got 2 tails!
The salad is put on the warm pizza crust right out of the fridge. This was one of the keys to my original idea…warm crust – coold (so cool it's almost cold) – warm charred lobster. It doesn't look like a lot of lobster in that salad, but there's plenty in there — I chopped it up and a lot of it fell in under the salad.
The crust is warm and perfectly cooked for this pizza. The salad is cool and fresh with a clean crisp zing from the vinaigrette. The lobster is warm, charred and just has a delicious sweet buttery coating that isn't too sweet because of the citrus zest and juices.
More hot lemon juice over the top and this was just simply wonderful! After a bite or two and some OMG's and traditional WOWS, I took a sip of a Trade Winds Triple. My Angels didn't cry, but they did weep!