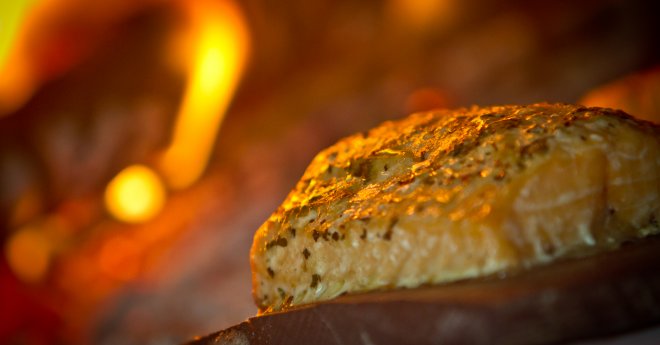 Wood Fired Cedar Plank Salmon
Aug 16, 2019
Posted by guestchef
Print
Home chef, Doug Garner, from Kyle, Texas loves cooking in his custom, wood fired brick oven. He mostly makes pizzas, but has added salmon, steaks, cobblers, and roasted veggies as other go to items! He submitted these beautiful photos for our 2019 Summer Photo Contest, and they looked so good, we just had to get his recipe!
Following is his recipe for a Wood Fired Cedar Plank Salmon that is both simple to make and delicious to eat!
A couple notes to get started:
What kind of fish to use? Doug reports that his family likes Atlantic Salmon the best. "I know the foodies on here will say it's inferior to Wild Caught, but it's what we like!"
How long should I soak my plank? The Cedar plank should be soaked in warm water for 15 minutes to 2 hours prior to cooking. (Thinner planks only require 15 minutes, as the release of flavor is most apparent after that time, and does not increase when the soaking time is increased. However, a thicker board will require a longer soak.)
How does Cedar plank grilling work in a wood fired oven? As the plank warms, moisture rises out of the plank and pulls the characteristic flavors of Cedar with it. This essentially infuses the salmon with a fresh wood flavor, and allows the fish to gently steam; the plank acts as a barrier between the fish and the fire or hot floor.
Do I need to flip the fish? No, just leave it skin side down while cooking.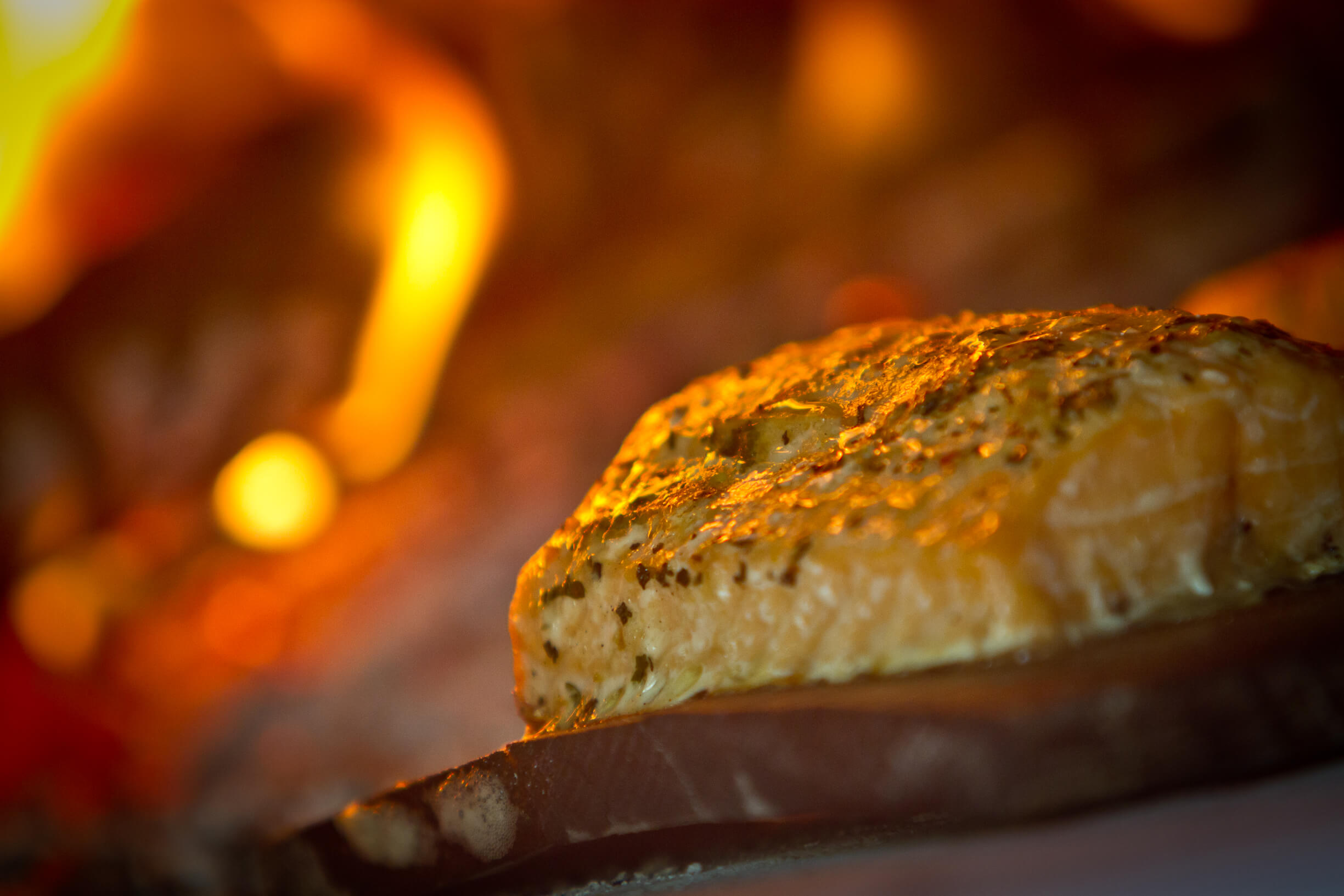 Wood Fired Cedar Plank Salmon
Sumptuous salmon infused with wood and smoke flavors, with a slightly crispy crust and tender, flaky interior.
Ingredients
3-4 Pieces Atlantic Salmon (or other variety if preferred)
3 Tbsp Extra virgin olive oil (EVOO) Enough to brush on both sides of the fish
1 Tbsp brown sugar
3-4 tsp Combined Spice Mix Your choice of salt, pepper, herbs, basil, shallots, or any favorite combination
1 small bunch Fresh Dill Chopped
1 lemon Cut into wedges
Western Red Cedar Plank(s) 8-10" long
Instructions
To prepare, soak your Western Red Cedar plank for at least 15 minutes in warm water. Rinse your salmon pieces in cold water and pat dry with a paper towel. Combine brown sugar and desired spice combination in a small bowl and set to the side.

Spread EVOO on both sides of the fish and place it gently on the pre-soaked plank, skin side down. Add your seasoning mix to the top of the fillet. Chef's note: Go light on the seasoning, remembering that the salmon is the star of the show and will be absorbing flavors from the cedar and wood smoke as well. (Chef's note: I don't really do the same seasoning twice -- it's all part of the creative process.)

I like a pretty hot fire, so set up with a good sized flame. A flame is a must for getting a nice, crisp crust. Just put the plank fairly close to the fire, rotating it until an even crust develops.

Move the plank away from the flames to a cooler spot in the oven (closer to the door) to roast until the internal temperature of the salmon is about 140°F. Cooking time is about 6-8 min total per inch of thickness, on average. However, keep an eye on it, because cooking times will vary depending on the heat of your oven, thickness of the fish, and dampness of the plank. (Overcooked salmon will be dry and tough.)

Remove the plank from the oven and rest it for a few minutes. Plate the fish, and garnish it with fresh-chopped dill. (Fresh dill was made for salmon!) Serve with some roasted veggies from your WFO to round out the meal!
Notes
Note: Quantities are approximate. Scale ingredients to the number of portions you are serving and the combination of spices you choose.
Where can I get Western Red Cedar Planks for grilling? Wildwood Grilling is a great, sustainable, online source out of Northern Idaho for these planks. You can also purchase planks at your local cooking or grilling supply store. You can sometimes even use a natural cedar plank left over from a backyard project — but be sure it has no additives or finishes.)
Important Note - Avoid Eastern Cedar, as it can contain toxic resins and is not safe to cook on!