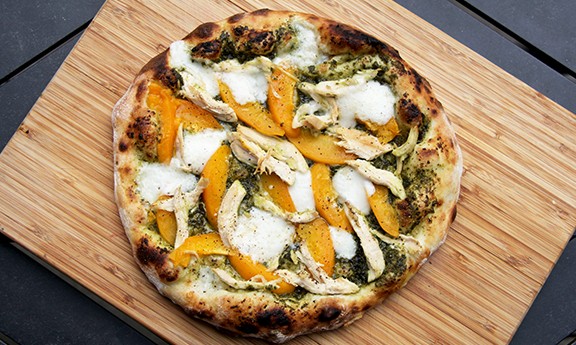 Wood Fired Apricot Pizza
Sep 22, 2015
Posted by Chef Bart
Print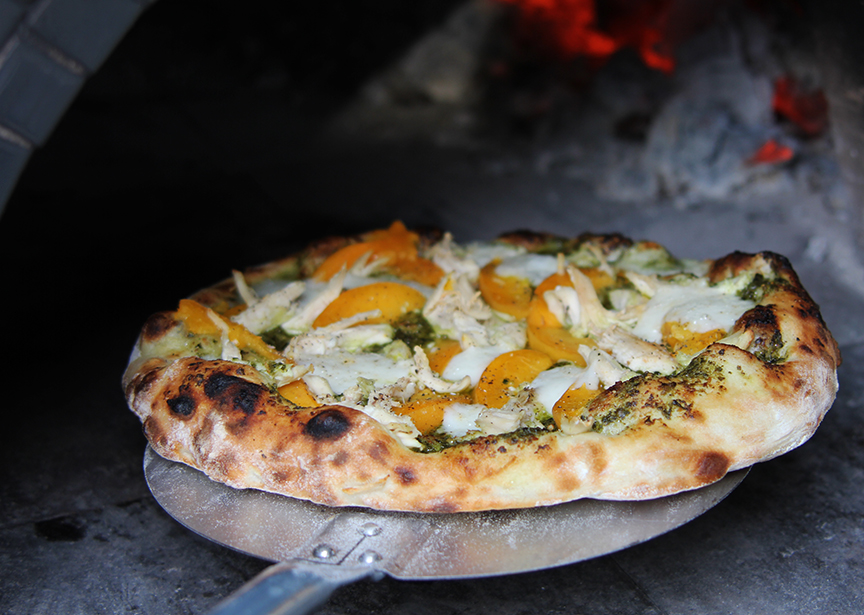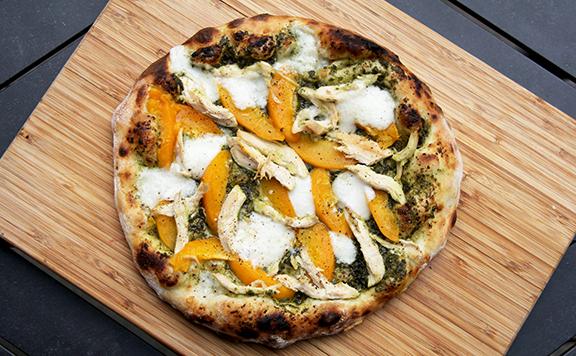 Wood Fired Apricot Pizza
Tart, creamy, sharp, savory, and sweet … just a few of my favorite things. Keeping with the summer season, this recipe highlights the sweet ripeness of apricots combined with the tart creaminess of goat cheese.  Add savory chicken meat and a sharp pop of pesto, and you have a complete feast with just one pizza. Until next week, feast well. - Chef Bart
Ingredients
1 pizza dough your choice
3 tbsp basil pesto
1-2 ea apricots thinly sliced
2 ounces goat gouda cheese torn or cut into small pieces
1/2 cup chicken breasts cooked and shredded
sea salt
Fresh ground black pepper
Basil Pesto
1 bunch basil approx. 1 cup
1-2 cloves garlic
1/4 cup pine nuts toasted
1/4 cup Parmesan cheese grated
1/4 cup olive oil extra virgin
salt to taste
Instructions
Basil Pesto
Pound the garlic and salt, using a mortar and pestle, into a paste. Add toasted pine nuts and continue to pound. Once the mixture is a course paste, remove garlic-pine nut mixture from mortar and place in a small mixing bowl.

Chop the basil coarsely and add to the mortar. Pound the leaves to a paste.

Return the pounded pine nut mixture to the basil. Add Parmesan, and continue to pound, while adding the olive oil. Taste. Adjust seasoning as necessary.
Pizza
After forming the pizza dough, spread the basil pesto evenly on the dough base and top with sliced apricots. Scatter the shredded chicken meat and goat gouda over the top. Season liberally with salt and pepper.

Place the dough in your wood fired Forno Bravo oven. Cook until the crust is golden brown and the cheese is melted --approximately 90 seconds to 3 minutes (depending on your oven temperature.) Remove from the oven, season with fresh cracked pepper, and enjoy.
Notes
Editor's Notes:  You can substitute thinly sliced peaches for the apricots in this recipe, if you prefer. They share a similar flavor profile. With either fruit, be sure that the fruit is ripe (for sweetness,) but not mushy (for a good texture.) Some people prefer to use a food processor or blender to make their pesto, but there are benefits to using a good, heavy mortar and pastel instead. With ingredients like garlic and basil, you don't get the bitterness that you might get with other methods. The color stays better, as well, and it is easier to control the coarseness or fineness of the texture. You also get the benefit of inhaling fabulous scents as you grind; it's a pleasure for all of the senses!