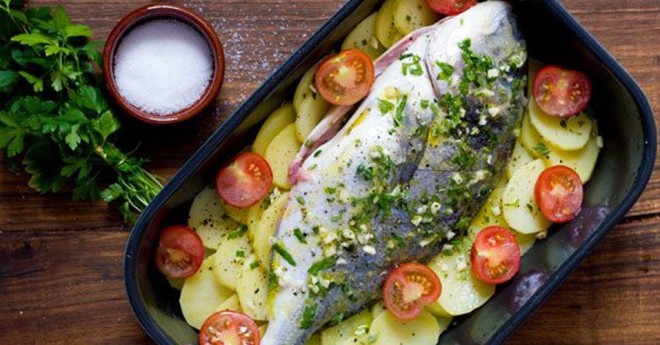 Whole Sea Bream Al Forno
Feb 22, 2016
Posted by guestchef
Print
Thanks to Kim Kozol of Boston, MA for submitting this recipe!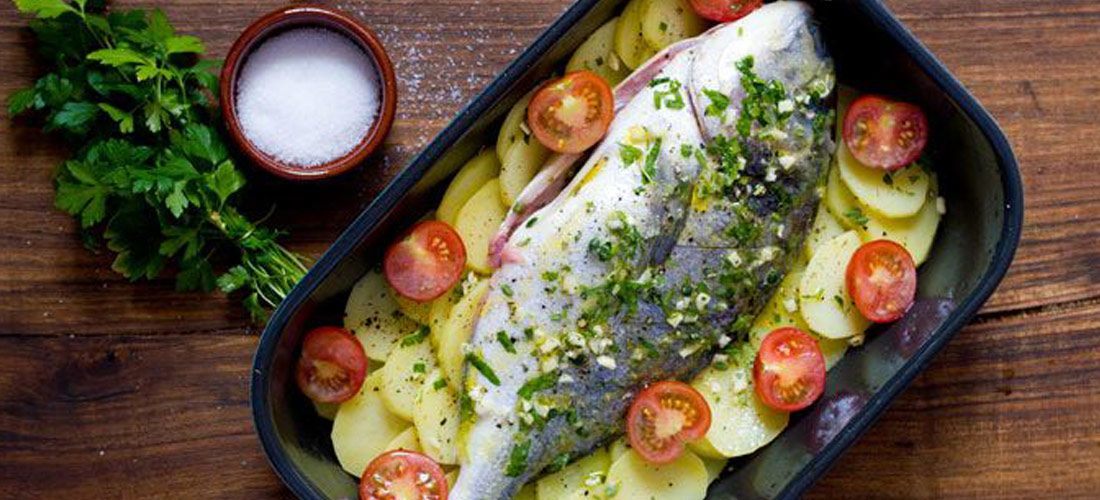 Whole Sea Bream Al Forno
Whole Fish cooked on a wood fired oven
Ingredients
1 2-3 lb. Sea Bream cleaned and scaled
1 1/2 cup white wine
2 large potatoes peeled and sliced
1 bunch parsley chopped
1 pkg fresh poultry herbs found in plastic containers in herb section
1 container cherry tomatoes halved
1 jar artichoke hearts drained
1 cup black olives
2 large lemons 1 sliced; 1 quartered
4 tbsp olive oil
Instructions
Heat wood fired oven to around 400 degrees. While oven is heating, check cavity and fish to make sure it is clean and that the fish is properly scaled. Stuff fish cavity with poultry herbs and sliced lemon. Assemble oven pan-such as paella pan-and all other ingredients near oven. Heat pan for 3-4 minutes in the oven. Remove pan and swirl in 2 tablespoons olive oil and add the potatoes lined around the bottom of the pan. Return the pan to the oven for 2 minutes. Remove pan and place fish on top of potatoes. Scatter in the tomatoes, olives, artichoke hearts and white wine. Return to oven for 5-10 minutes depending on the size of the fish, turning the pan every few minutes. Remove the pan when the fish skin looks slightly charred. Top pan with parsley and remaining olive oil. Serve with lemon quarters.