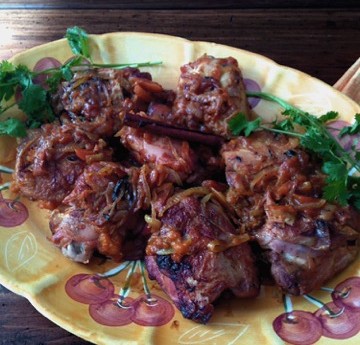 Triple-Apricot Chicken Tagine
Jul 29, 2016
Posted by Chef Lea
Print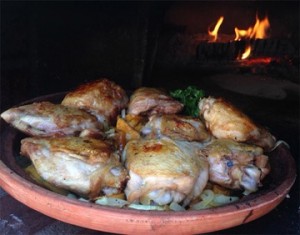 Stone fruit season is my favorite time of the year. One of the most difficult fruits to find is an aromatic, sweet apricot. When I lived in California's Sonoma County, I knew a terrific produce guy at Oliver's Market who would always find me at least one flat of Blenheim apricots, the most delicious and perfect of fruits. This year, however, in the beautiful Hudson Valley, the weather knocked out all the stone fruit blossoms so there are no stone fruit this season. Nevertheless, I found a few 'cots from New Jersey that had a pleasant fragrance and sweet-tart flavor that made this dish a star.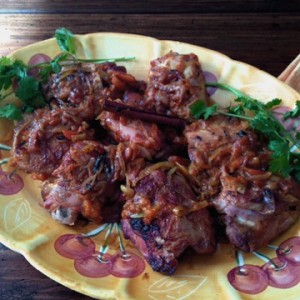 Triple-Apricot Chicken Tagine
Ingredients
4-6 Chicken thighs
1 T olive oil
2 pinches saffron threads soaked in 1/2 cup chicken broth (optional)
1 Yellow onion, diced
1 Garlic clove, minced
1/2 tsp Ground ginger
1/2 tsp Turmeric
1/4 tsp cinnamon
1/8 tsp Grated nutmeg
Salt and pepper
1/2 bunch Cilantro, tied
1 Cinnamon stick
1/2 T butter
1/2 cup Dried apricots, sliced
2 T Apricot marmalade
3 Apricots, fresh, sliced
1 T Orange flower water
1/4 cup sliced or chopped toasted almonds
Instructions
Trim chicken thighs of excess fat. Season with salt and pepper. Place the tagine in the oven to heat. Add the olive oil. Sear the chicken and allow the fat to run out. Drain out most of the fat and remove chicken to another dish. Add to the tagine the onion and garlic. Once the onions have become translucent and slightly browned, add the spices, cilantro, 1 T of the butter, dried apricots, marmalade and the saffron with its liquid. Return the chicken to the tagine. Cover and cook for 20-30 minutes. If the mixture seems a little dry, add some chicken broth or fresh orange juice. Once the chicken is cooked through, remove the tagine top and the cilantro as well. Allow the chicken to brown, if necessary. Add the orange flower water and fresh apricots. Scatter the toasted almonds on top and serve.
Notes
Buon appetito e ci sentiamo presto! Lea