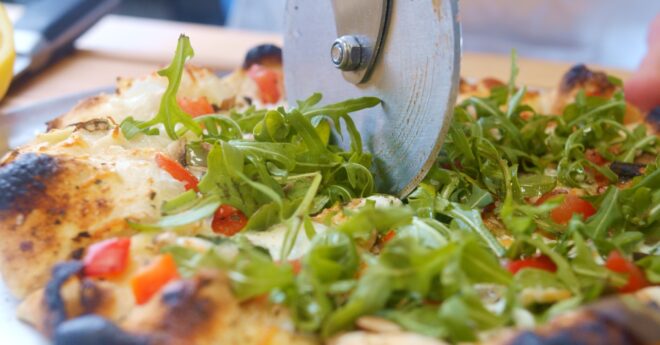 Super Tasty Veggie Pizza
Mar 15, 2023
Posted by guestchef
Print
During a recent Forno Bravo demo day in Colorado, our resident chef whipped up a quick veggie pizza that was a hit with our guests and staff. It proved once again that not all pizza needs to be meat-centric in its topping profile to be magnificent. A nice, light, vegetarian pizza can be the perfect inclusive and delicious appetizer or main dish for all of your guests, no matter what their food preferences are!
Watch the short demo below:
NOTE: If you want to make this pizza vegan, up the veggies, eliminate the cheese, and instead substitute some vegan parmesan cheese made with cashews and medium flake nutritional yeast to pull it all together.
Simple Vegan Parmesan Cheese Recipe:   
3/4 cup raw cashews, 3 Tbsp nutritional yeast, 3/4 tsp sea salt, 1/4 tsp garlic powder – Pulse items in a food processor until they combine into a course meal texture. Use 2-3 Tbsp on the pizza, and refrigerate the remainder for up to 2-3 weeks.
Super Tasty Veggie Pizza
Light, fresh, vegetarian pizza -- perfect for an appetizer or the main course.
Ingredients
Pizza Base
Dough Ball -10", Room Temperature
Flour - 00 or All Purpose
Olive Oil - Extra Virgin or Regular
Suggested Toppings
Garlic - Minced
Mushrooms - Sliced
Tomatoes - Diced (seeded)
Red Pepper - Diced
Fresh Basil Leaves or Baby Spinach
Italian Blend Seasoning
Toasted Onion Powder
Suggested Cheeses
Mozzarella or Sharp White Cheddar - Shredded
Fresh Mozzarella - Hand Torn
Italian Cheese Blend - Shredded
Parmesan Cheese - Grated
Finishing Elements
Arugula - Washed and Dried
Fresh Lemon Juice
Ground Black Pepper
Instructions
Sprinkle some flour on your working surface, and dip your room-temperature dough ball in a bowl of flour to make it easier to work with. Stretch the dough to approximately 10".

Drizzle olive oil on the surface of the stretched dough and spread it around into a thin layer. Sprinkle on the minced garlic and add a thin layer of shredded cheese (mozzarella or white cheddar). Do not go too heavy, since there is more cheese to come!

Add the mushrooms, red peppers, and tomatoes. Add fresh basil leaves or some baby spinach. Place hand-torn or sliced pieces of fresh mozzarella about the pie. Season with the toasted onion powder and/or Italian seasoning blend.

Add a bit of shredded Italian cheese blend and a little dusting of grated Parmesan cheese to finish it off. Bake at 650 - 750 degF for 2-3 minutes.

Remove the pizza from the oven and add the arugula. Cut a lemon in half and squeeze the fresh juice over the arugula. Be sure to remove any seeds that fall! (Alternately, you can pre-dress the arugula by tossing it in a bowl with the lemon juice and a little olive oil just before placing it on the pizza.) Garnish with fresh cracked pepper.

Cut and serve.