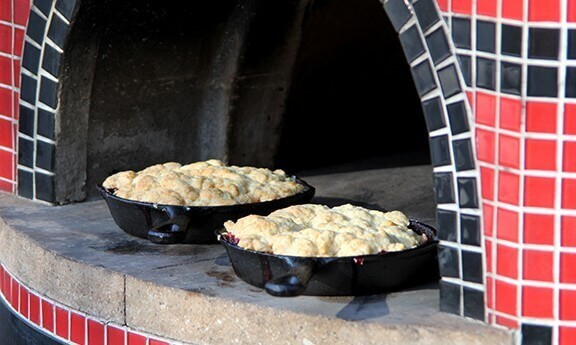 Strawberry And Rhubarb Cobbler
Apr 05, 2015
Posted by Chef Bart
Print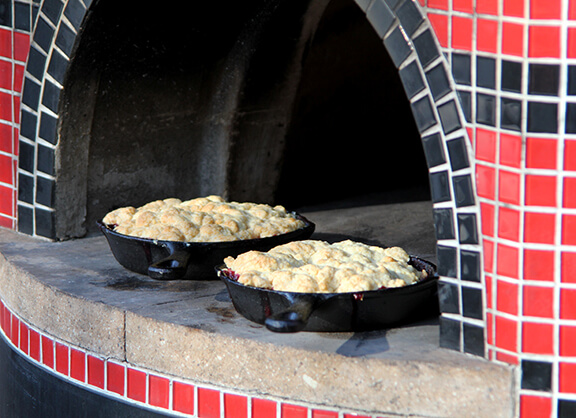 Early spring means strawberries and rhubarb! No better reason to break out the cast iron and build the perfect cobbler to cap off a perfect night of pizza. Rhubarb adds a wonderful tartness to any dish but it is typically prized in desserts to balance the sweetness of other fruits, thus creating a desired sweet and sour effect. Shout out to my grandma on this one; she loved rhubarb. Hope you enjoy it as much as she did.
Until next week, feast well.
Chef Bart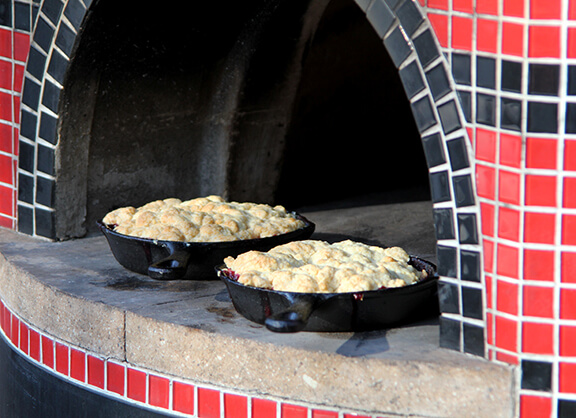 Strawberry And Rhubarb Cobbler
Ingredients
Cobbler Fruit
3 cups strawberries sliced into quarters
2 cups rhubarb peeled, sliced into 1-inch blocks
2 tablespoons corn starch
1-2 tablespoons brown sugar
1 teaspoon vanilla extract
1 lime juice and zest
Cobbler dough
2 cups all purpose flour
2 tablespoons sugar
1 tablespoon baking powder
1 teaspoon salt
.25 cup butter chilled, unsalted
1.5 cup heavy cream
Instructions
Cobbler Fruit
In a mixing bowl, combine all the ingredients and toss gently so that the fruit is evenly coated with the cornstarch and sugar is mixed throughout. Place in a buttered cast iron dish or similar high-heat baking dish. Evenly spread the cobbler dough over the top and place in the your Forno Bravo oven. Bake at 350 degrees for 35-40 minutes or until the cobbler dough is golden brown and the fruit juices are bubbling.

Adding cornstarch to the fruit mixture will thicken the fruit juices. You can substitute flour for the cornstarch if desired; just ensure the cooking time is over 30 minutes allowing the flour to "cook" though so you do not have a grainy finish.
Cobbler Dough
In a mixing bowl combine flour, sugar, baking powder and salt. Cut the butter into small pieces and add to bowl. Using your hands or a fork "cut in" the butter until the butter is broken up to smaller pea size pieces. Add the cream and mix into all the ingredients are combines. Batter will be stick and small lumps are okay.