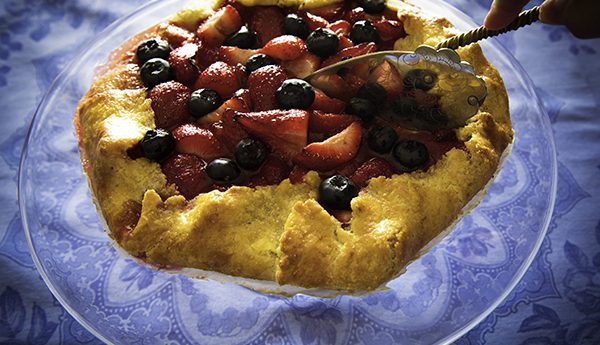 Spring Strawberry Galette
Feb 08, 2016
Posted by Brigit Binns
Print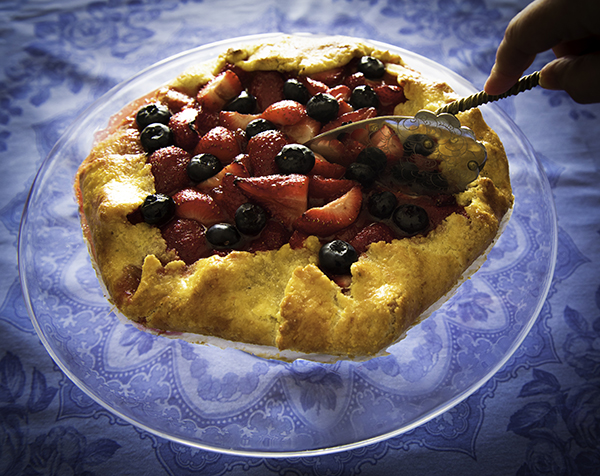 Serves 5 to 6
This dough is gorgeously butter-centric and thus a bit tricky to work with, so I form and bake it atop a sheet of baking parchment that can easily be slid from counter to baking peel and into the oven, then back onto a peel and then a serving platter. The browned parchment paper is quite pretty, but trim or tear it away if you like. If you make this galette with out-of-season strawberries (which I don't recommend), toss the strawberries with about 2 tablespoons of cornstarch to soak up the excess liquid.
The Fire: Medium-low baking environment, about 375°
Equipment: Baking parchment rectangles
Half a recipe Rustic Dough, at cool room temperature (12 ounces)
1 pound strawberries, about 3 cups (in-season only, please), hulled and halved (or quartered if very large)
½ cup lavender jelly, or ginger or apricot preserves
2 tablespoons butter, melted
1 tablespoon granulated sugar
For serving:
About ½ cup blueberries
1 pint sheep's milk ice cream, honey or vanilla flavor (optional)
1. Place a sheet of baking parchment on a work surface and dust generously with flour. Place the dough in the center, and roll it out to a 15-inch round (flouring the rolling pin and pastry as needed), slightly under 1/4-inch thick; it's nicer if the edges are rough and uneven. Brush the preserves over the dough, leaving a 2-inch border. Jumble the strawberries attractively over the preserves, leaving a 2-inch border. Using a metal spatula to help, gently begin lifting the edges of the dough, folding them in and forming large "pleats" as you fold. Brush the top of the dough with melted butter and sprinkle the sugar over the whole tart.
2. Slide the pastry-topped parchment onto a baking peel and slide/load into your oven. Bake until the fruit is bubbling and the crust is golden, 45 to 60 minutes (place a piece of foil over the strawberries only, if they begin to brown before the pastry is done). Retrieve with the metal peel, and slide the tart-topped parchment paper onto a cooling rack (this helps to keep the pastry crisp); let stand for 10 to 15 minutes. Now pull onto a platter and scatter the strawberries with a few blueberries. Cut into wedges; serve warm or at room temperature, with a scoop of sheep's milk ice cream on the side if desired.
Brigit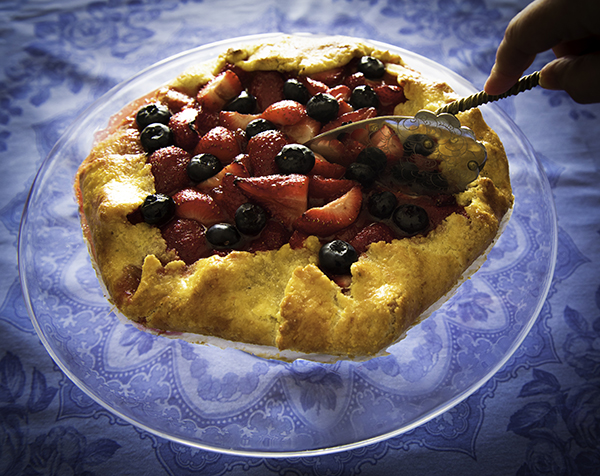 Spring Strawberry Galette