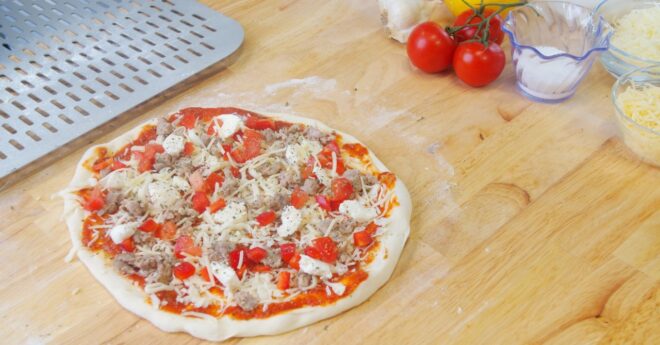 Sausage and Red Pepper Pizza
Feb 23, 2023
Posted by Forno Bravo
Print
Sausage and red peppers are a classic combination on pizza – with a little spicy, a little sweet, some earthy tones, and a bit of crunch all blended together. In this example, we've added a few extra notes, like an interesting combination of cheeses, spices, and a scattering of fresh arugula to finish it off. This recipe can be customized to the max, or you can try it just the way it is shown for a guaranteed delicious bite.
Enjoy the short video overview below, and let us know what your favorite combinations are!
Sausage and Red Pepper Pizza
A classic pizza combination with a few added bonuses.
Ingredients
10 inch dough ball
AP or 00 Flour
1-2 ladles Tomato Pizza Sauce
Italian Sausage - Cooked and divided
Red Peppers - Seeded and diced
Sharp White Cheddar Cheese or Italian Cheese Blend - Shredded
Parmesan Cheese - Shredded
Fresh Mozzarella - Diced or in strips
Toasted Onion Powder
Dried Basil
Black Pepper - Freshly ground
Arugula
Extra-Virgin Olive Oil - Optional
Balsamic Glaze - Optional
Instructions
Bring your wood fired oven up to pizza temperatures. 650 - 750 degF+

Take your room-temperature dough ball and lightly dip it in the flour on both sides to make it easier to work with. Add a little flour to your counter and stretch the dough. First, form the cornichons by pressing the dough out using your fingertips, working across from the center to the edge. Flip it and turn it a quarter turn, repeat. Next, stretch it to the desired size and thickness using a slap and stretch technique, or gently stretching it with your knuckles and gravity, turning as you go.

Add and spread the tomato sauce in a thin layer with the back of your ladle. Note: Some people prefer to spread a drizzle of olive oil on the top of the pizza before adding the sauce to keep the sauce from seeping into the dough and making the pizza stick to the counter, if you are working slowly.

Dress your pizza. Add the shredded white cheddar or Italian blend of cheese, and the parmesan. Distribute the cooked sausage pieces, and diced red peppers. Fill in with the fresh mozzarella (but don't go too heavy - You have quite a bit of cheese on the pizza already, so this is almost a garnish.)

Add your spices. Sprinkle a little fresh ground pepper, toasted onion powder, and dried basil to make the flavors pop!

Put in oven and bake for approximately 2 minutes. You may want to "dome" the pizza briefly to give it a little extra crispness on top once the crust is done to your liking. (Doming is when you lift the pizza on your peel up to the top of the oven for 10-15 seconds. It is much hotter than the cooking floor and will act like a broiler.)

When done, spread a little washed and dried arugula on top for a spicy/pepper freshness. Drizzle with olive oil and balsamic glaze if desired. Cut and eat!