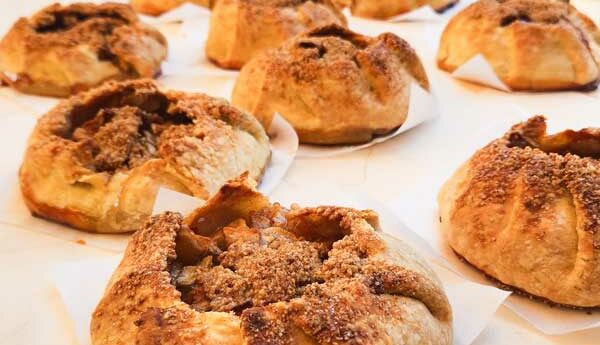 Rustic Apple Tart
Sep 29, 2023
Posted by guestchef
Print
Apple tarts are the ultimate fall pastry. Crisp-tender apples, with tart, sweet, and flaky elements all in one place! Following is Dori Colognese of the Jamestown Bread Project's recipe for this classic, rustic delight that bakes beautifully in a wood fired oven. This is a three-part recipe with a simple pie dough, the filling, and a crumb topping that all come together in one tasty treat!
Rustic Apple Tart
A flaky fall dessert that encapsulates the essence of home baking.
Ingredients
Pie Dough
10 oz Butter - Cold and cut in cubes
1 lb 4 oz All Purpose Flour
2 Tbsp Sugar
1 tsp Salt
1/2 Cup Cold Water
Filling
7 Apples (Mixed Variety is nice) - peeled, cored, and sliced
1.5 Cup Sugar
1/2 tsp Cinnamon
1/2 tsp Allspice
Dash Nutmeg
1 tsp Fresh Grated Ginger
3 tsp Lemon Juice
3 - 4 Tbsp tapioca or corn starch
Crumb Topping
3.2 oz Flour
1.4 oz Sugar
2 oz Brown Sugar
1 tsp Cinnamon
3.2 oz Butter
Instructions
Preheat oven to 350 F

Make and mix filling. Set aside.
For Dough:
Place flour, sugar, and salt in a food processor; pulse in cubed cold butter until a sandy texture.

Slowly add cold water until it forms into a ball of dough. (Don't overwork it.)

Cover with plastic wrap and refrigerate for 30 minutes.
To Assemble Tarts
To make small individual tarts, separate chilled dough into 4 oz pieces.

Roll each piece into a 6-inch circle. Lay onto a baking sheet separated by plastic wrap. Refrigerate for 30 minutes.

Working quickly, take each circle and begin gathering two folds to create a recessed space for filling. Holding the dough in one hand, spoon in the prepared apple mixture, then continue folding/crimping around until completely enclosed. (see photo)This should not take more than 5-6 folds.

Do this with each circle, placing them 4 inches apart on a baking sheet. Refrigerate for 45 min.

Add a big tablespoon of crumb topping to the center. Then bake at 350F for 45-55 minutes.