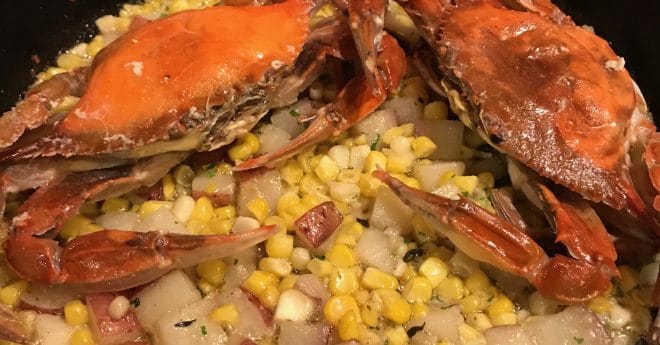 Roasted Soft-Shell Crabs with Potato and Corn Hash
Sep 16, 2020
Posted by guestchef
Print
This recipe is from our seafood expert, John Livera, who again shows us that wood fired cooking is about so much more than just pizza! For example, a delicacy that cooks up beautifully in a cast iron pan is soft-shell crab. It's sweet, succulent flavor with a slightly crispy texture is a delight to seafood lovers everywhere.
Soft-shell crabs are blue crabs that have been harvested immediately after they shed their shell, and before the new shell has a chance to harden and is still thin as paper. Instead of having to pluck out the meat, almost every single part of the soft-shell crab is edible. They are in season from April to mid-September when the water temperature rises above 50°F. (The farther down the East Coast you travel, the longer the season lasts.) They can be purchased live or frozen, and are always sold whole.
Note: It's a good idea to ask your fishmonger to clean them for you. Cleaning them is not very difficult, as you are only removing a few parts, but it can be unpleasant for most people to tackle. (Pro tip – You will want to cook them the same day they are cleaned and they should be cooked quickly without much fuss, like in this recipe. The flavor is great as is!)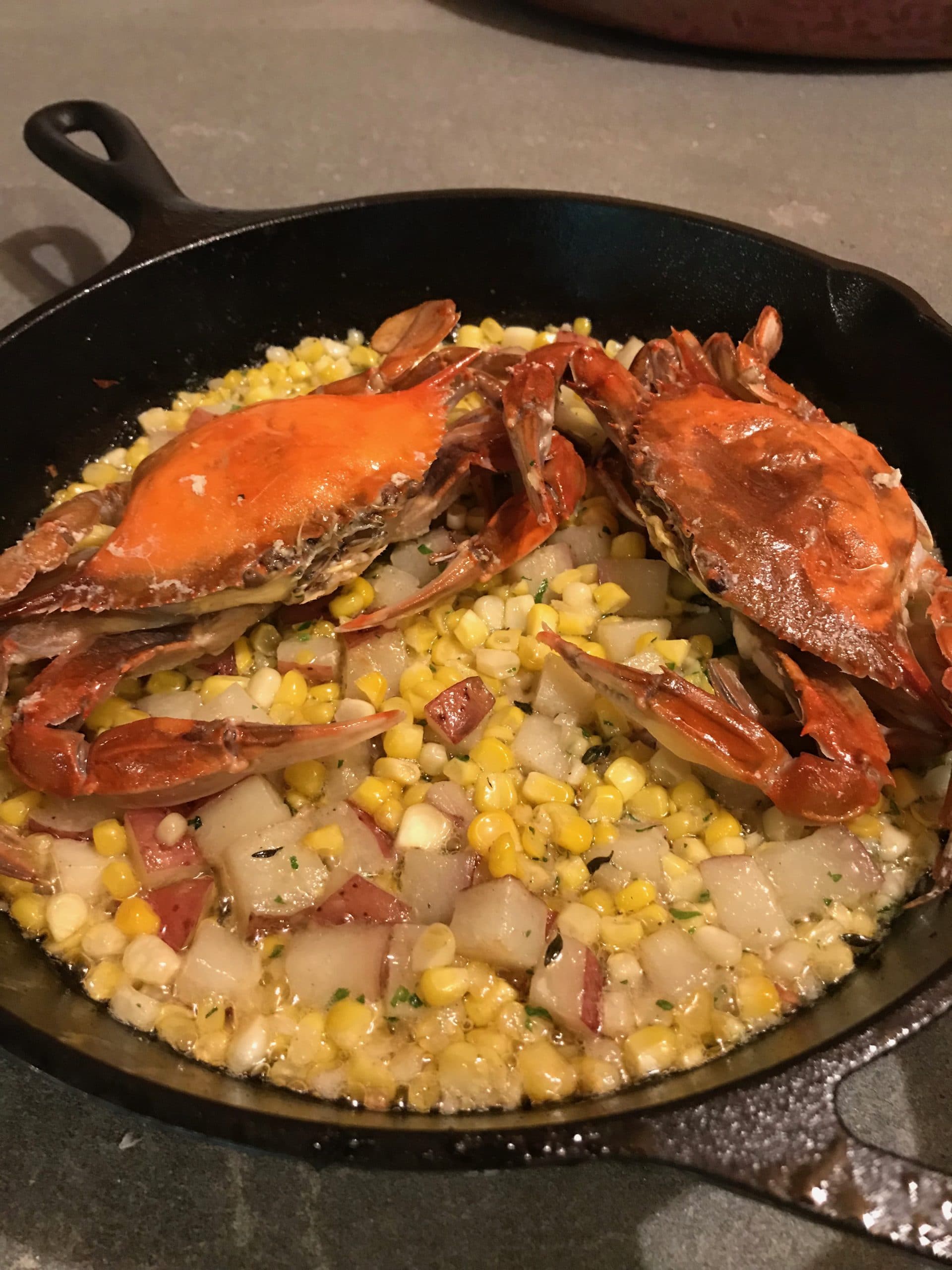 Roasted Soft Shell Crabs with Potato and Corn Hash
A delicious date night treat! Enjoy the smokey, sweet flavors of roasted soft-shell crab with a compliment of sauteed vegetables in this prep-ahead, one-dish, wood-fired meal.
Ingredients
2 Soft Shell Crabs - Cleaned
4 Red Skinned Potatoes - Diced, boiled to fork tender, shocked in ice bath
2 Ears Fresh Corn - Cut off the cob
1 shallot - Minced
4 Sprigs Fresh thyme - Leaves picked
2 Tbsp unsalted butter
2 Tbsp olive oil
kosher salt & fresh cracked black pepper - For seasoning to taste
Lemon wedges - optional
Instructions
Preheat your wood fired oven to a high temperature.

Prep your potatoes and corn.

Preheat your cast iron pan in the pizza oven until hot.

Add the olive oil to the cast iron pan, add the potatoes and sauté for 3-4 minutes.

Add the corn, shallot, butter, and thyme; season with salt and pepper.

Rinse the soft shell crabs in cold water, Lay the on top of the vegetables.

Cook in the pizza oven until the shells turn bright pink. Remove and serve. Optional garnishes include lemon wedges and melted butter for dipping.