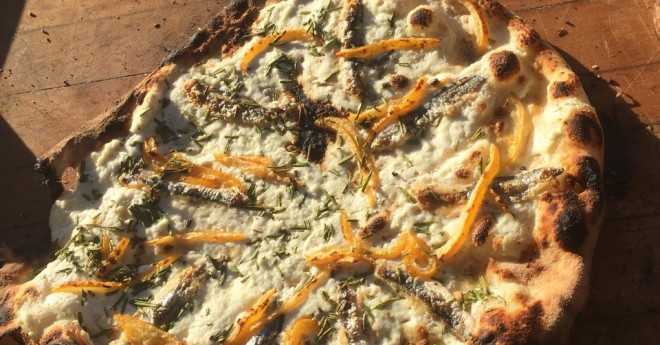 Ricotta and White Anchovy Flatbread with Preserved Meyer Lemon and Fresh Rosemary
Sep 09, 2016
Posted by Brigit Binns
Print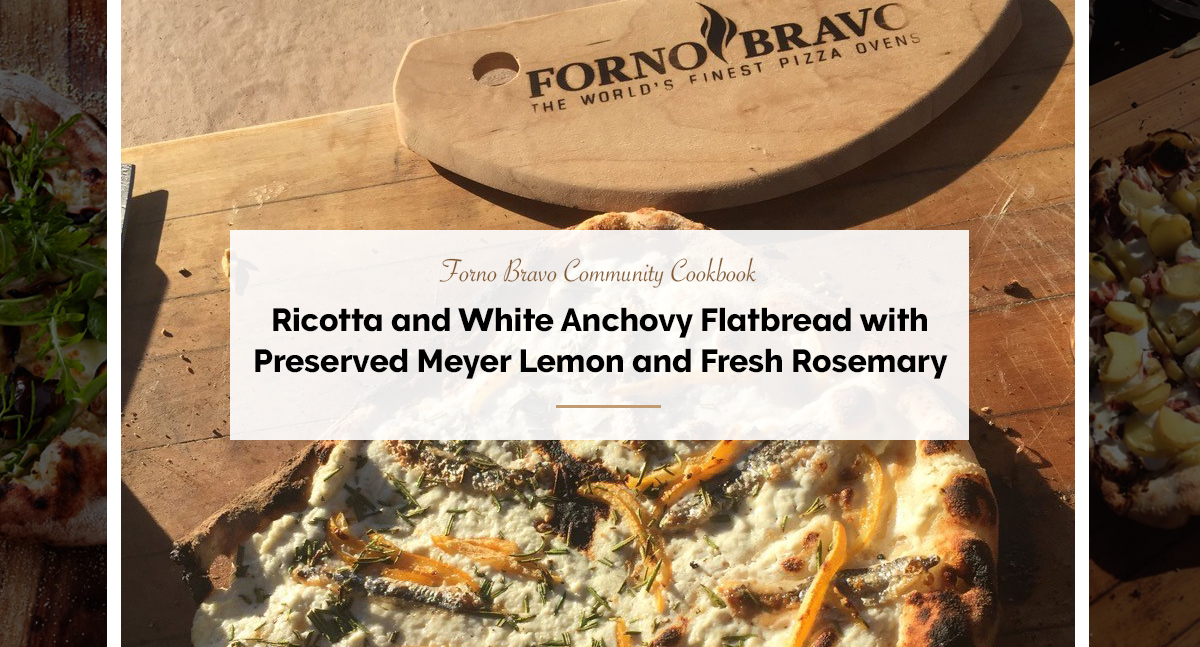 In my one-woman campaign to pull red-sauce-aficionadoes kicking and screaming outside the pizza-box, here I offer a mostly-white "take" on flatbread (using my amazing 72-hour dough, of course) with a decided kick of salty, sour, and herbal notes. White anchovies bear as little resemblance to standard anchovies as burrata cheese to aged Parmiggiano: They're both good, in their place, but sooo not interchangeable. Make the effort to get some of these plump, juicy white anchovies (with an almost pickle-like flavor); they don't last forever—like the originals—but a couple of weeks is no problem.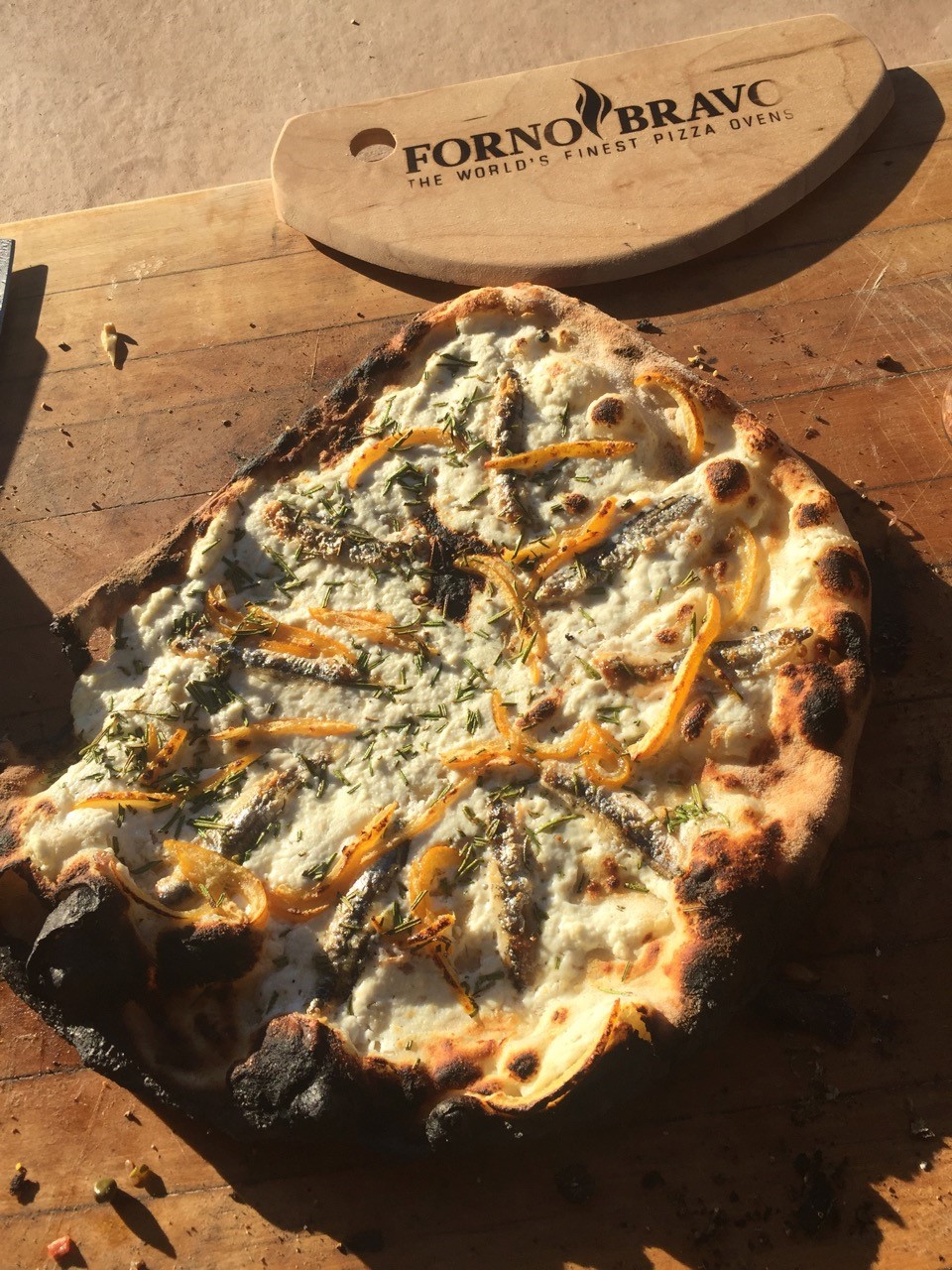 Ricotta and White Anchovy Flatbread with Preserved Meyer Lemon and Fresh Rosemary
Makes one @13-inch flatbread; may be doubled or tripled.
Ingredients
9 oz dough ball at room temperature
rice flour and cornmeal for shaping and cooking the flatbread
1/3 Cup very soft, Whole-Milk Ricotta, at room temperature
fine sea salt and freshly ground black pepper
finely slivered zest from one Preserved Meyer Lemon (see below)
2 tbsp minced fresh rosemary
10 Filets filets of white anchovy (aka Boquerones)
*do not substitute standard anchovies
red pepper flakes (optional)
Instructions
Flatbread and Ingredients
Build a very hot fire in your oven, and wait until the floor and walls achieve your target temperature.

Flour a board and your hands with rice flour, then stretch and pull the dough (never press) into a roughly 13-inch round or oval—don't try too hard to make it a perfect round.

Transfer the dough circle to a long-handled wooden pizza peel liberally sprinkled with cornmeal.

Working quickly, gently spread the ricotta over the dough, leaving a 1-inch border; season generously with salt and pepper.

Scatter the lemon zest and rosemary evenly over the top and then arrange the anchovy filets skin side up in a circle, like the spokes of a wheel.

Scatter with a big pinch of pepper flakes, if desired. Jiggle the dough on the peel to make sure it's still mobile, then slide it smoothly onto the floor in the hot oven.

Bake until the edges are golden, 1 ½ to 4 minutes, depending on your oven.

Retrieve with a metal pizza peel, transfer to a cutting board, slice, and enjoy.
Two-Week Preserved Meyer Lemons Yield: 5 preserved lemons
5 large Meyer lemons, scrubbed to remove wax, and dried

3/4 cups coarse sea salt.

Olive oil, as needed (do not use best-quality oil for this recipe)

Wash a large glass jar with abundant, very hot water and soap; rinse well and dry. Wash your hands well.

Cut each lemon in quarters, but not all the way through; leave connected at the base like a flower.

Pack 2 tablespoons of salt into the center, then squeeze back together and place in the jar.

Continue partially quartering and packing with salt. Squeeze the lemons down into an even layer and place a sheet of plastic wrap over the top, pressing it down so it touches the top of the lemons.

Let stand in a sunny place for one week, pressing the top of the lemons every day to compact them further.

By the end of the week, the lemons will have flattened and be covered with a layer of juice; they are now ready to use.

Gently pour about 1/2 inch of olive oil over the top to keep out the oxygen, and refrigerate for at least one week before using, and up to six months. When using, retrieve a lemon with clean tongs—not your fingers—and rinse well.

Trim away and discard the remainder of the inner flesh, then chop or sliver the preserved rind as needed.