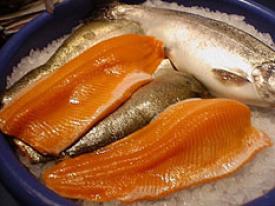 Rainbow Trout (Courtesy of The ARCH)
Oct 20, 2011
Posted by guestchef
Print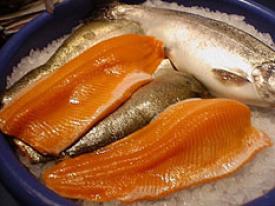 We wanted to share this recipe for cooking rainbow trout in your wood-fired oven … taken from The ARCH's October newsletter. (The ARCH Architectural Finishes, Flooring & More is located in Asheville, North Carolina. See The ARCH's website at http://www.thearchnc.com/ for more information.)
Rainbow Trout
Start with sustainably harvested fish!
Right here in our own backyard of Western North Carolina we have an incredible source for sustainably harvested farm raised Rainbow Trout at Sunburst Trout Company (http://www.sunbursttrout.com/our-story). Having recently read about Seafood fraud and the problems facing our oceans it is so refreshing to read about a local business that does it right. No pesticides, no animal by-products, no growth hormones. In researching a good fish recipe to use in a wood-fired oven, I thought it best to start with Oceana's Southeast United States seafood guide.
Sunburst includes a great recipe on their home page of their website at the bottom of the page which I'm anxious to try in our Forno Bravo wood fired oven.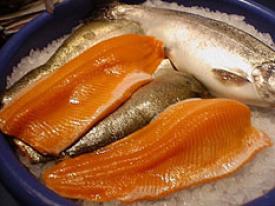 Rainbow Trout (Courtesy of The ARCH)
Ingredients
1/4 Cup juice pineapple
2 tbsp juice Lemon
2 tbsp brown sugar
4 tsp chili powder
2 tsp lemon rind grated
3/4 tsp salt
1/4 tsp cinnamon
4 Trout Sunburst, Fillets
Instructions
Mix all ingredients and pour over fillets. Marinate trout for 2-6 hours.

Depending on how hot the wood-fired oven is, adapt your cooking time accordingly.
Notes
You do not want the oven so hot that the flames are licking the dome, but you do want it hot enough that the fillets do not need to be flipped over. Because the fillets are somewhat delicate you'll need a smaller grate or fish basket that you can transport the fillet's onto the larger grate positioned in the oven over a bed of coals that have cooked down some. If you start moving fillets around, trying to flip them, etc…, this is when you get into trouble. Most of all, have fun exploring sustainable fish with your wood-fired oven.