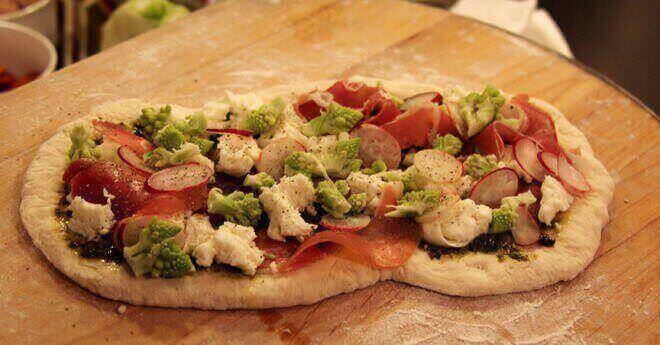 Prosciutto, Pesto, Radish & Romanesco Pie
Jul 06, 2015
Posted by Chef Bart
Print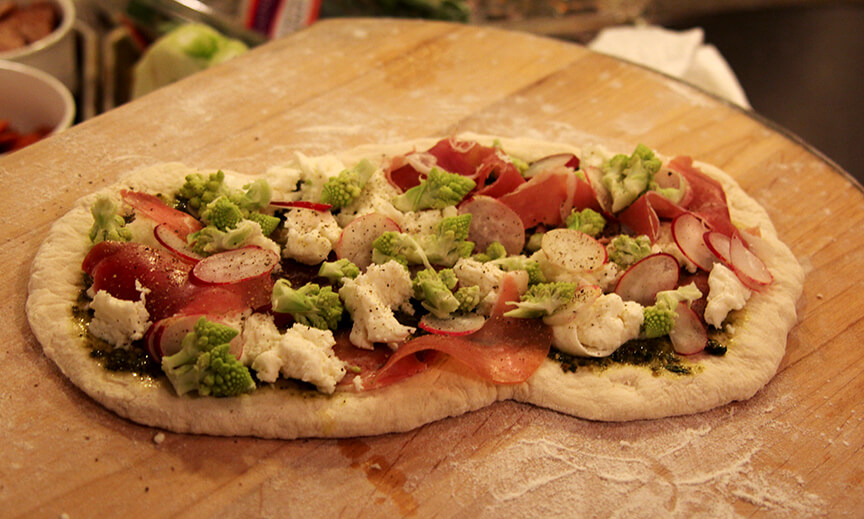 I am back to pizza making this week, inspired by lesser-used, non-traditional toppings. I am also breaking the golden rule of not overloading the pizza with toppings. Romanesco broccoli or simply Romanesco plays the starring role in this vegetable-driven prosciutto concoction. So what is Romanesco? Credit to the Community Table Website for the best description I've come across: "Romanesco appears to be part psychedelic broccoli, part alien life form." Technically, Romanesco comes from the same family as cabbage that also includes broccoli, brussels sprouts and cauliflower. It can be found in a variety of colors: yellow, purple, white, and most common, green. Raw with crunch or cooked with a creamy firm texture, Romanesco has a delicate nutty flavor.
Hope you enjoy. Until next week, feast well.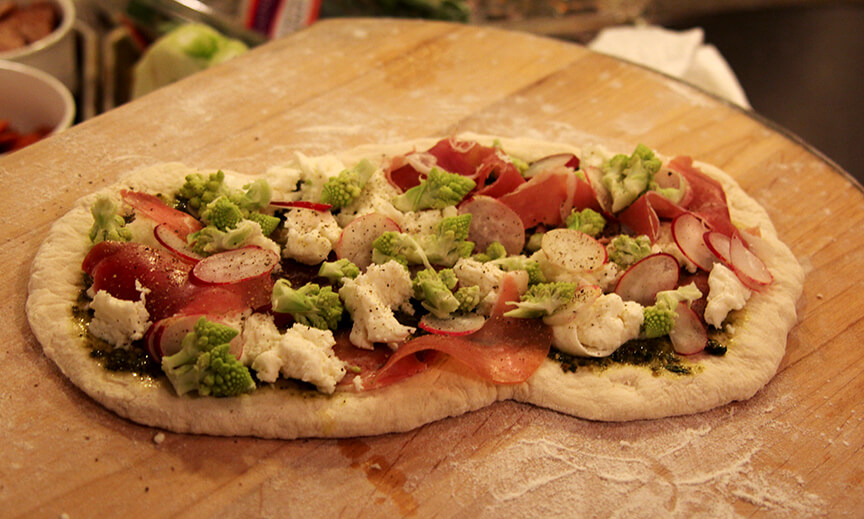 Prosciutto, Pesto, Radish & Romanesco Pie
Ingredients
PIzza
1 pizza dough
2 tbsp basil pesto
4 slices prosciutto
0.25 cups fresh mozzarella
1 head Romanesco broccoli broken into small florets
3 radishes sliced thinly
Fresh cracked black pepper
Basil Pesto
1 cup bunch basil
2 cloves garlic
0.25 cups pine nuts toasted
0.25 cups Parmesan cheese
0.25 cups extra virgin olive oil
salt to taste
Pizza Dough
7.75 cups g/ 7 ¾Caputo "00" Soft White Flour
3 cups water 90-95 F
1 tbsp sea salt
0.75 tsp sea salt
0.5 tsp yeast
Instructions
Pizza
After forming the pizza dough, spread the pesto evenly on the dough base and top with sliced prosciutto.

Scatter the mozzarella, Romanesco broccoli and radish over the top.

Season with a liberal amount of fresh cracked black pepper and place the pizza in your Forno Bravo oven.

Bake until the crust is golden brown and the Romanesco is lightly caramelized. Remove the pizza from the oven and enjoy.
Basil Pesto
Pound the garlic and salt, using a mortar and pestle, into a paste.

Add toasted pine nuts and continue to pound.

Once the mixture is a course paste, remove garlic pine nut mixture from mortar and place in a small mixing bowl.

Chop the basil coarsely and add to the mortar.

Pound the leaves to a paste.

Return the pounded pine nut mixture to the basil, add Parmesan, and continue to pound while adding the olive oil. Taste. Adjust seasoning as necessary.
Pizza Dough
Yield – 5 | 340 g dough balls

Hydrate the yeast with 3 tablespoons of the 3 cups of water.

In a separate bowl, combine the flour and remaining water together with a wood spoon or hands until incorporated. Let the water-flour mix sit for 30 minutes.

Sprinkle dough with salt and yeast mixture and using damp hands make quarter folds in the dough until the yeast and salt are fully incorporated. Cover and set aside, let the dough rest for an hour. From the corners, fold the dough in on itself one time, cover and let rest at room temperature for 5-6 hours.

After dough has rested and doubled in size, divide into 5 – 340 gram dough balls. Dough will be slightly tacking, use a bit of extra flour for your hands and work surface as needed. Dough is ready for the oven.

This dough is 70% hydration and yields a traditional Neapolitan pizza. The crust will produce a crisp bite with a great chew, soft fermentation flavors with medium to large air pockets.