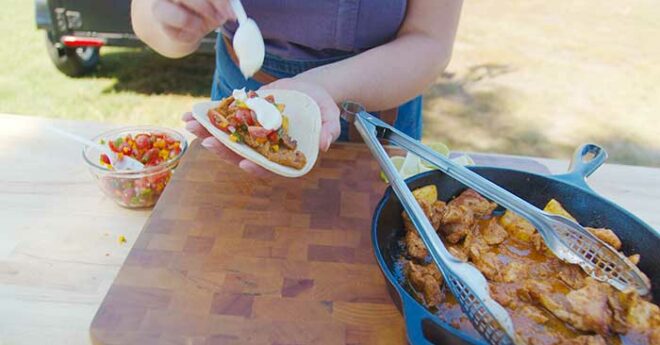 Pork and Pineapple Tacos
Oct 27, 2022
Posted by guestchef
Print
Chef Cortney Smith of Gather, a food studio, store, and school in Colorado Springs, CO has created a new cast iron classic that will make your taste buds sing. This recipe is as easy as marinating chunks of pork in a mildly spicy sauce, cooking it up with fresh pineapple in the wood fired oven, and then topping your soft tacos with garden salsa and fresh crema. Light and delicious!
Watch the video below for a quick demo of the recipe with Chef Cortney.
Pork and Pineapple Tacos
Sweet, zippy, and smokey, these pork and pineapple street tacos are a delicious main course for both lunch and dinner.
Equipment
Wood Fired oven

Cast Iron Skillet
Ingredients
Marinade
2 Tbsp oil
3 Garlic Cloves minced
1 Onion finely diced
1 tsp Dried Oregano
1/2 tsp Cumin
1/4 tsp Ground Cloves
4 Guajillo Chiles stems removed and broken into pieces
1/2 cup Pineapple Juice
1/2 cup Apple Cider Vinegar
2 tsp Achiote Paste
Salt & pepper to taste
Other Key Items
2 lbs Pork Shoulder sliced into thin pieces
1/2 Pineapple cut into chunks
Tortillas and Garnishes
Flour or Corn Tortillas small, street taco size
3-4 Limes cut into chunks
Crema Fresca (made with heavy cream and fresh lime juice)
Cilantro
Salsa fresh garden style is best
Instructions
Add oil, garlic, onion, spices, chilies, pineapple juice, vinegar, achiote, salt and pepper into a large bowl. Remove and reserve 1/3 cup of marinade.

Add pork and toss. Let marinate for 20 minutes to 2 hours.

When the pork is ready, pre-heat wood fired oven to 400 -500 deg F. (Make a fire in the center of the oven using dry, cured hardwoods, and then when it is going, push it to the back or side of the oven. Continue to feed the fire as needed to keep it at a full flame. Sweep the floor with a copper brush to prepare your cooking surface.)

Slide a cast iron skillet into the oven to preheat. Once preheated, add the pork and pineapple to the skillet and place back into the oven, cooking until pork is done to your preference and pineapple is beginning to brown.

Once pork is done, remove it from the oven and baste with the remaining marinade.

Serve with tortillas, topped with salsa and toppings. Enjoy!
Notes
Pork should be cooked to a minimum internal temperature of 145ºF for safety. Depending on the size of your cuts, the pork will cook quickly. Stir frequently to prevent charring.
The tortillas can be baked or warmed directly on the oven's floor for an added flavor and texture bonus.