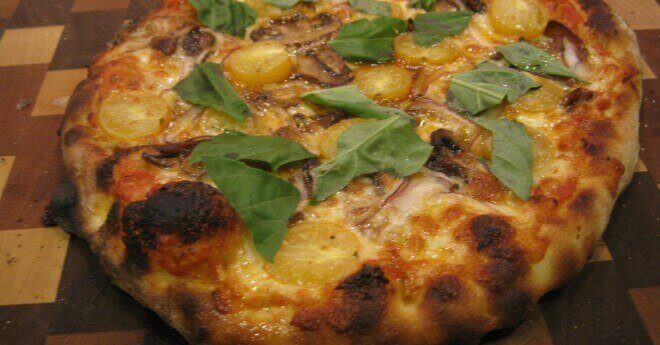 Pizza With Roasted Mushrooms, Cherry Tomatoes, Red Onion and Basil
Aug 27, 2012
Posted by chefdan
Print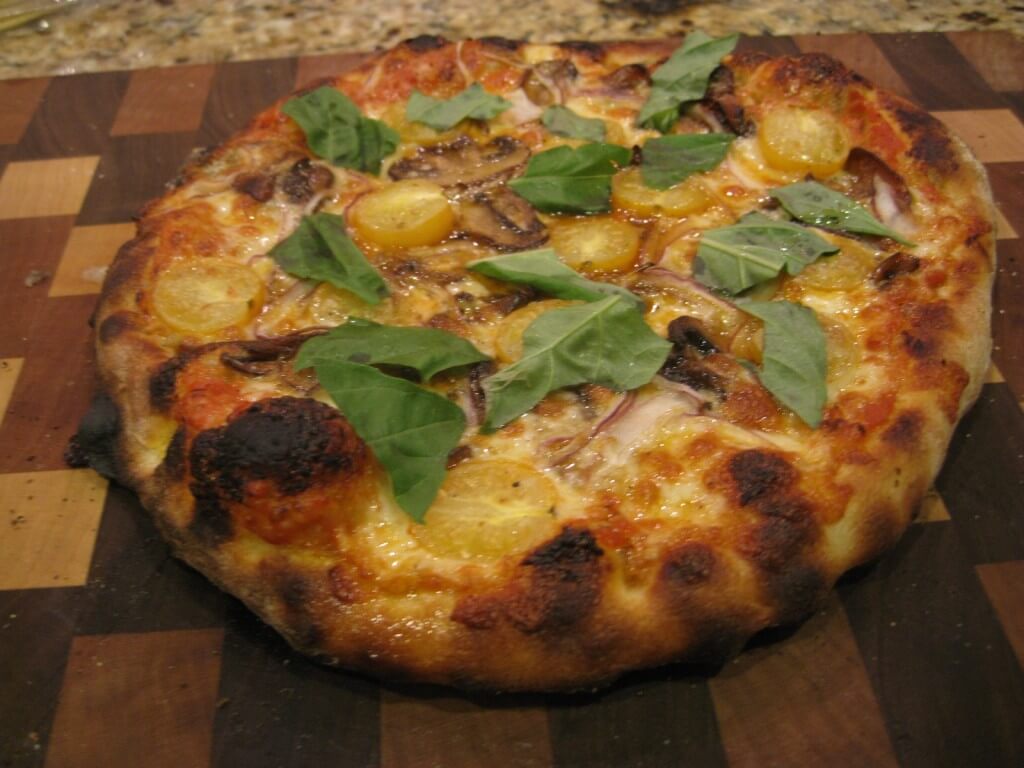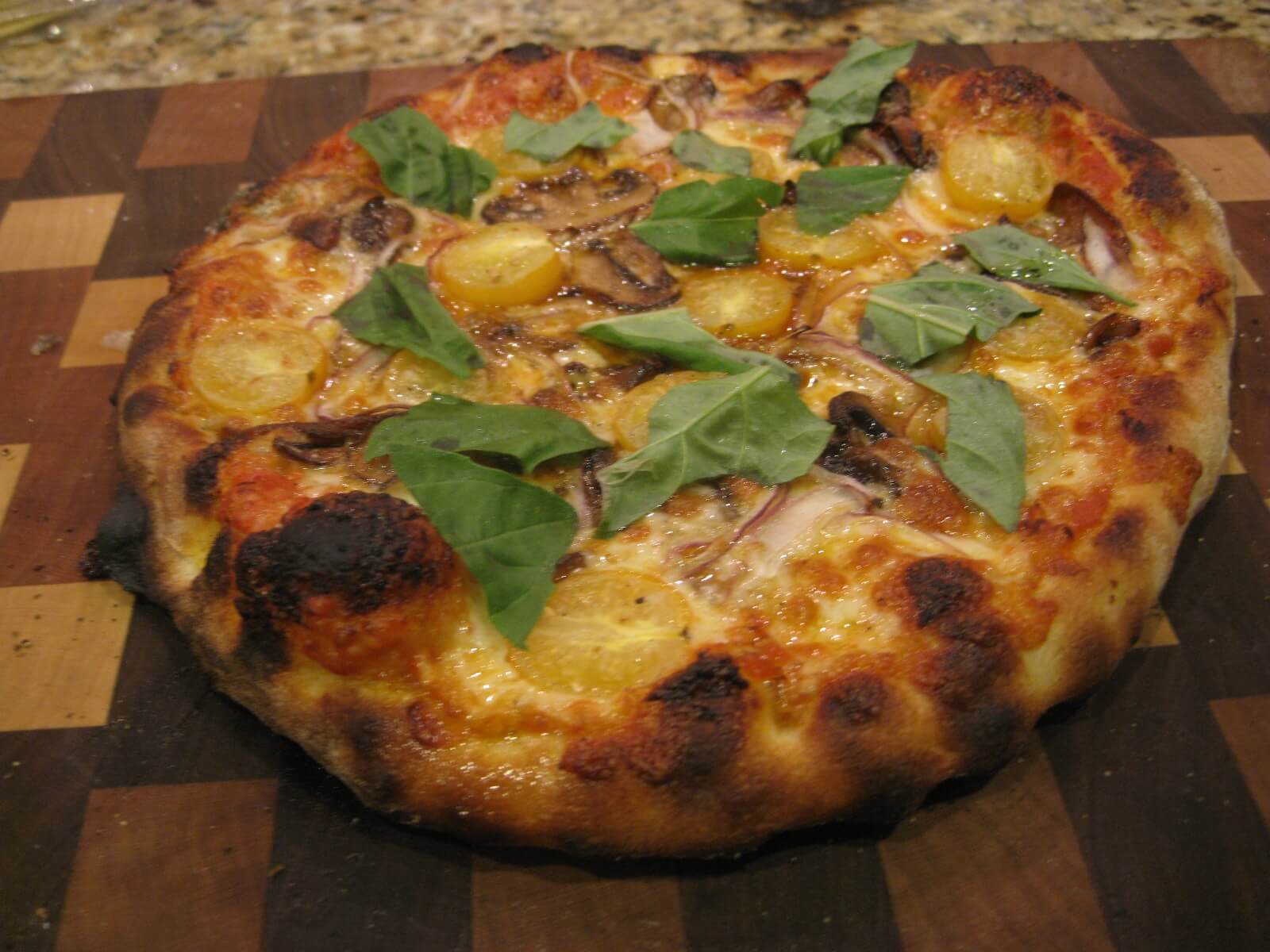 If some evil, freedom-hating pizza dictator locked me in a cage and told me I could only have one topping on my pizza for the rest of my life, I would probably go with mushrooms. So here's a recipe for a simple, more "traditional" pizza sporting some flavors that play well together, while still highlighting my personal desert-island topping.
You will notice that I roast my mushrooms before I put them on my pizza. While raw mushrooms have their place (where, I do not know), it is most definitely not on pizza. I think this accomplishes two things: First, you get more flavor out of your shrooms by pre-roasting and getting some nice Maillard reaction happening; second, roasting the mushrooms separately removes a lot of water that would otherwise end up in your pizza, leaving you with a less soggy pie.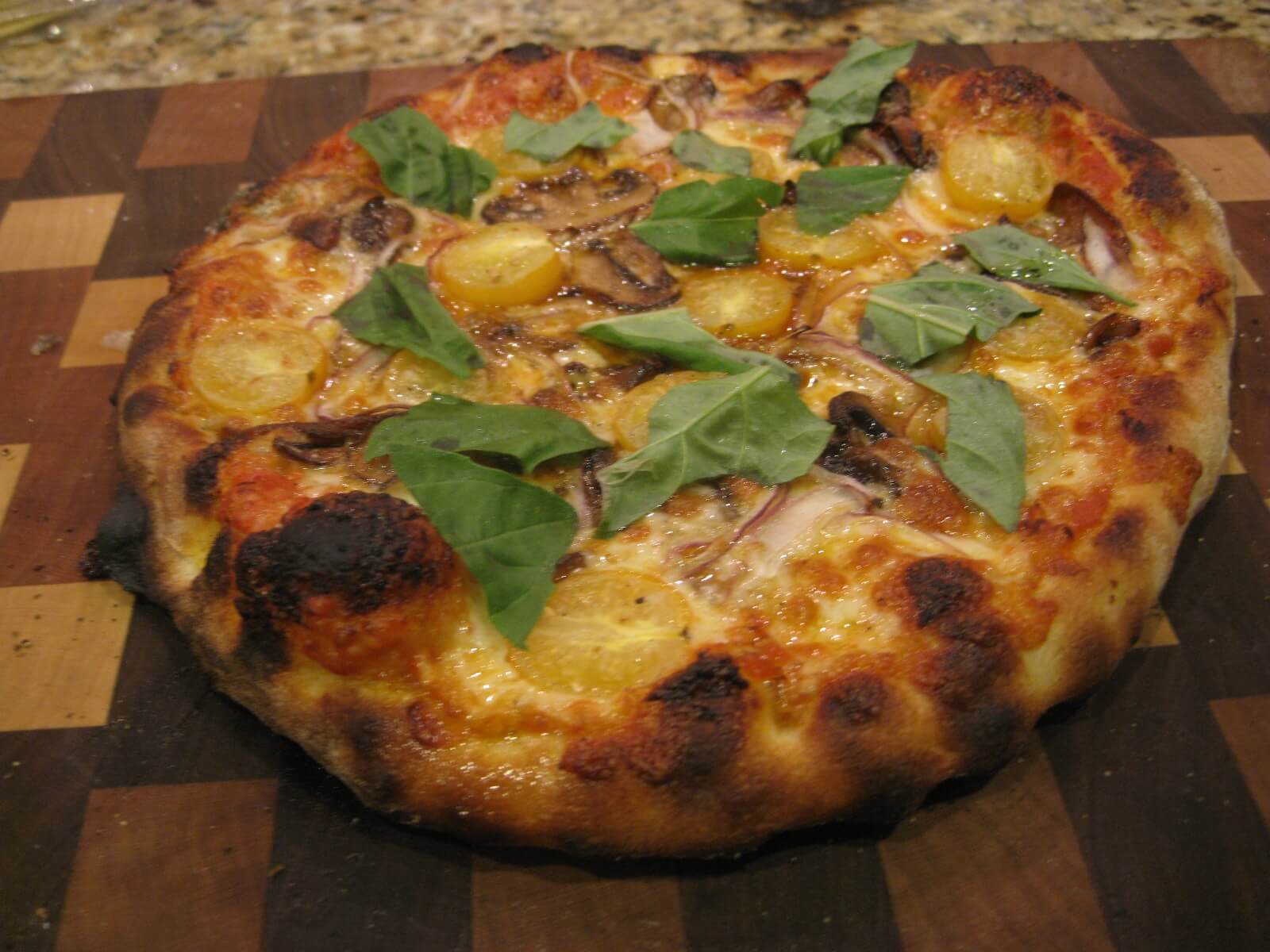 Pizza With Roasted Mushrooms, Cherry Tomatoes, Red Onion and Basil
Ingredients
For the pizza sauce:
1 1/2 T extra virgin olive oil
1/2 C yellow onion sliced
1 1/2 cloves garlic smashed or coarsely chopped
2 sprigs thyme
1 sprigs basil
1 14.5 oz tomatoes can whole peeled
salt to taste
Pepper to taste
For the pizza:
1 T extra virgin olive oil
4 oz mushrooms cremini, sliced
4 oz mozzarella cheese
1/4 red onion sliced paper thin
10 cherry tomatoes sungold, halved
4 basil leaves torn
Cheese freshly grated parmesan, as needed
Instructions
To make the sauce, heat the olive oil in a small saucepan over medium heat. Add the onion and garlic, season, and sweat, stirring frequently, until the vegetables are just starting to turn golden around the edges. Add the thyme and basil and allow to toast for 15 seconds, then add the tomatoes, using a spoon or your hands to break up the flesh. Reduce the heat to low and allow the sauce to simmer until it has thickened considerably. Remove the thyme and basil sprigs and use a stick blender or food processor to puree the sauce until smooth. If your sauce is still too thin return to the heat and allow it to reduce to proper pizza sauce consistency.

Meanwhile, roast your mushrooms in your wood oven. Preheat a skillet large enough to hold the mushrooms in a single layer. Add the olive oil to the pan; it should smoke. Add the mushrooms, season with salt and pepper, and return to the oven. Do not stir your mushrooms for 2 minutes. You want your shrooms to sear, and stirring too much or too soon is going to drop your heat, causing the mushrooms to start leaching out water and steaming. Roast the mushrooms, stirring once or twice, until they are golden brown and delicious, about 4-5 minutes. Remove from the oven and set aside.

To assemble your pizza, stretch or roll your dough using your preferred method. Top with a thin layer of sauce. Sprinkle with the mozzarella. Top with the roasted mushrooms, halved sungolds and red onions. Give the whole pie a dusting of parmesan, then transfer to your wood oven and bake until done. Remove the pizza from the oven and top with the torn basil leaves. Portion as appropriate and consume as desired. And then, if you're like me, make another one.