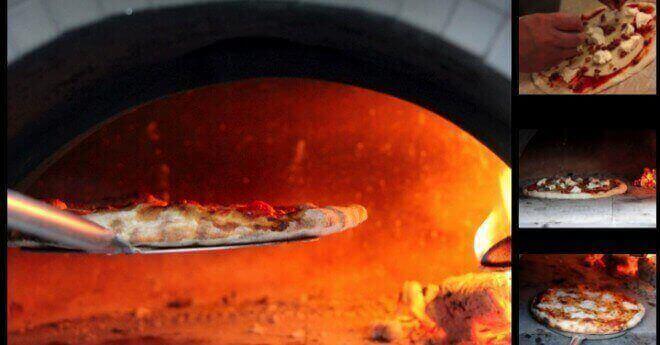 Pancetta and Doming
Jul 22, 2020
Posted by Chef Bart
Print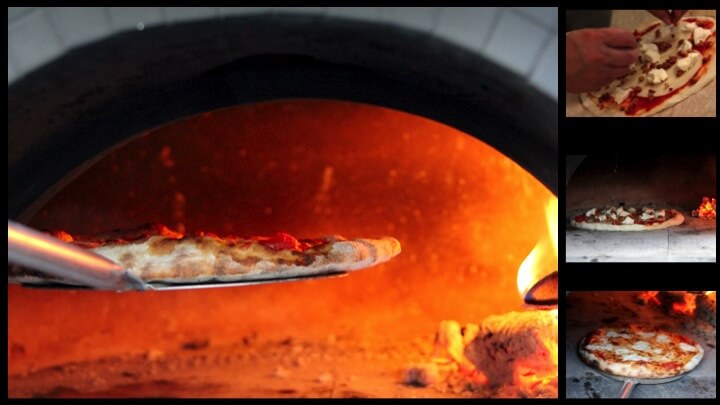 Two weeks ago, I posted information on wood and the flavor characteristics that the different woods can impart in the overall flavor of the pizza.  This week, as a follow-up, I wanted to talk a little about "doming" the pizza during the cooking process.
To "dome" the pizza or "doming" is the practice of lifting the pizza off the hearth and holding it close to the dome for a short period of time. The act of holding it closer to the flame or dome for 10 – 15 seconds is going to rapidly toast the toppings, char the dough, or finish the melt on the cheese.  This technique is typically done at the end of the cooking process, but it is not always necessary. Based on your individual toppings and the state of your dough, this is a great method to utilize and take your creation from good to great.
It is said another benefit of "doming" is to impart more smoke flavor, though I am not quite sure the "extra" smoke gained in this short cooking/finishing time can be dramatically tasted.  Nonetheless, the ritual, art, and tradition of "doming" is a part of the Napoletana pizza lore that most likely inspires us all to make an extraordinary pizza.
I found "doming" a perfect approach to finishing pancetta on my pizza.  The extra time close to the flame and heat of the dome creates a crispy crunch on the exterior of the salty pancetta that leaves you craving more after each bite.
This is a simple pizza with loads of flavor!
Hope you enjoy. Feast well!
Chef Bart
(Originally published in July, 2015)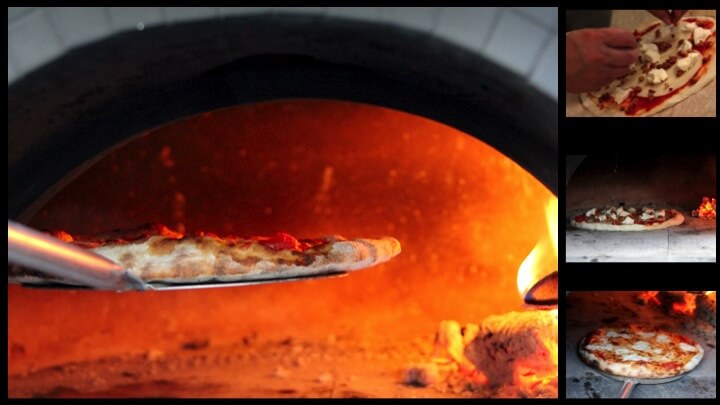 Pancetta Pizza with Smoky Tomato Sauce
During the last few moments of cooking, using a pizza peel, lift the dough off the hearth and "dome" the pizza until the dough has charred and the pancetta is crispy.
Ingredients
Pancetta Pizza
1 each dough of your choice
1/3 cup smokey tomato sauce
3 oz fresh mozarella
3 slices provolone cheese
1/4 cup pancetta, diced and cooked/rendered crisp
1 pinch red chili flakes
Smoky Tomato Sauce
6-8 ea tomatoes medium size
2-3 cloves garlic, sliced
8-10 ea basil leaves, fresh
1 tblsp olive oil
1 pinch red chili flakes
sea salt / black pepper
Instructions
Form and stretch the dough to the desired shape and size.

Spoon the smoky tomato sauce over the base. Place the provolone cheese over the top of the sauce and scatter the mozzarella over the top of the provolone. Sprinkle the pancetta over the cheese and finish by scattering the chili flakes over the top of the entire pizza.

Place in your Forno Bravo oven and bake.
Smoky Tomato Sauce
Core tomatoes, slice in half lengthwise and score the bottom with an "x" cross-cut. Place tomatoes in a roasting pan, drizzle olive oil over the top and season liberally with salt and pepper. Add basil and chili flakes and place into the wood oven.

Note: I typically roast the tomatoes when the oven is warming up to capture the smoke flavor and a lower heat of 350-400. If planning ahead, roast them when the fire has died off and the pizzas are done for the day for your next cooking session.

Roast the tomatoes for 10-15 minutes. The skin should blister and the tomatoes should begin to break down and release some of their juice. Remove the tomatoes from the oven; using tongs, pull off and discard the skins and transfer the contents to a small saucepot. Reduce the sauce by 2/3 over medium-low heat. During the cooking process, use a whisk to break up the larger pieces of tomato or use a food mill to break down to a smooth consistency. Remove from heat, taste, adjust seasoning if needed.

Let sauce cool. Sauce can be stored covered in the refrigerator for 3-5 days or divided equally into ice trays and frozen to use later. One to two cubes equal the equivalent portion for one pizza. (Defrost before using)