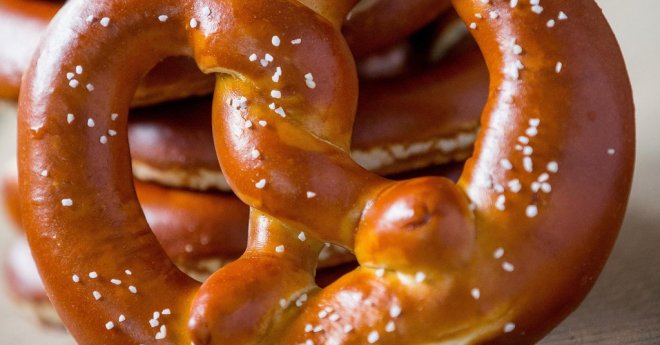 Oktoberfest Wood Fired Pretzels
Sep 05, 2018
Posted by guestchef
Print
Served with stone ground mustard or a dip of smooth cheese sauce, who doesn't love old world, soft German pretzels! This recipe is perfect for Oktoberfest and the fall season! We received it courtesy of guest chef, Anthony LaRocco, of Anthony's Rustic Crust. He and his wife Debbie, run a mobile wood fired pizza concessionaire in Florida.
As with most baking, measuring by weight is more accurate and yields more consistent results than measuring by volume. This recipe is written mostly in terms of weight.
It does have a couple of other unique attributes.
First, it is a two-day recipe utilizing a biga (a pre-ferment that adds depth and complexity to the dough's flavor and also strengthens the final dough.) Note: Making a biga is not a difficult step to do, it just requires a bit of planning to give it time to rest overnight.
Second, the recipe calls for the use of food-grade lye. You can order this ingredient from DudaDiesel.com. It costs around $6.00 and will last a very long time!  Chef Anthony shares that "You can use baking soda instead, but it isn't as good." Note: Both lye and concentrated baking soda are caustic materials. Please be very careful when using them, and do not allow children to help with this step of the recipe.
Pretzels are one of those funny foods that have been with us for a long time. Legend says they were invented by an Italian monk in 610 A.D. They look like a ton of work on paper, but are actually pretty easy to make once you have practiced the flow a few times. We encourage you to give these delicious wood fired pretzels a chance in your kitchen and pizza oven! You won't be sorry.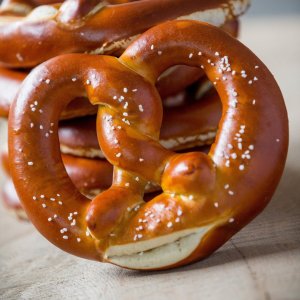 Oktoberfest Wood Fired Pretzels
This is an old world German soft pretzel recipe tailored for baking in a wood fired oven. Crusty on the outside and chewy on the inside, they are perfect for serving at a fall Oktoberfest party, or in a restaurant, or food truck!
Ingredients
Biga (Make the day before)
144 grams White or All Purpose Flour
94 grams water
2.8 grams Kosher Salt
1 pinch instant yeast (IDY)
Pretzel Dough
578 grams White Flour
340 grams water * Use bottled water if your tap water has a taste to it
12 grams sea salt
2.5 tsp instant yeast (IDY)
36 grams unsalted butter Softened
7 grams baking malt * You can order this from King Arthur or any baking store
240 grams Biga * Pre-fermented overnight
Lye Dip
1250 grams water (apx. 5 1/4 cups)
50 grams Food-Grade Lye
Instructions
Biga
Combine the ingredients in a mixer for less than one minute, or until you get something that looks like pancake batter. Cover the bowl with a towel, and let it sit overnight.
Pretzel Dough
Mix the dough ingredients together (except the biga) for 3 minutes.

Add the biga in chunks and mix for 5 minutes.

Let the dough rise for 1 hour, covered. Then remove it from the bowl and fold it. Return it to the bowl, cover, and let it rise another hour.

Roll out approx. 85 grams of dough into a rope about 18 - 20 inches long. Shape the pretzels into the traditional crossed-end shape, or in rods. (I've done both. The rods are much easier, but the people like the original-shaped pretzels best.)

Refrigerate the pretzels for about 30 minutes. It makes them much easier to handle when putting them in the lye.
Lye Bath & Baking
Remember, even food-grade lye is caustic! We recommend wearing safety glasses and rubber gloves to protect your eyes and skin. Combine the lye and water in a glass bowl. Do not use metal! Stir gently until all of the lye is dissolved.

Do not drop or throw the pretzels in the lye bath. Using a large plastic skimmer or slotted spoon, GENTLY lower the pretzels one at a time into the solution for 5 seconds and then remove from the solution and place on parchment paper. You can dry them off by patting with a paper towel (opt.) Sprinkle with coarse sea salt or other toppings. I've also done Jalapenos and combinations of other toppings.

Important: Before baking, slice the pretzels at the bottom. (This allows the gas to escape.) Bake in the oven at 450°F - 500°F for around 6-8 minutes or until brown. They will stay crispy outside and soft and chewy inside.
Notes
When you are distributing the pretzels, you can ask if your guest would like it heated. Most of the time, they do! Simply pop it back in your brick oven for around 10 - 15 seconds and serve with a small cup of sweet, hot mustard or cheese sauce for dipping. They are very popular in restaurants, food trucks, and parties! Chemistry note: The alkaline lye bath changes the color and flavor of the pretzels, affecting the way the Maillard reaction* plays out when the pretzel bakes. (*A Maillard reaction is the chemical interaction between small sugars, proteins, and amino acids that happens when dough bakes.) Lye baths have been used for centuries in traditional pretzel baking to give them their unique taste. It is important to avoid touching the dough with your bare hands after dipping it into the lye mixture. Also, keep it off of aluminum surfaces because of the caustic nature of the chemical. Pretzels are safe to eat after cooking. Lastly, a contribution from one of our Community members who has a bakery: "If you opt to use a baking soda bath instead of a lye bath, first bake your baking soda at 250°F for an hour before mixing it with the water. This gets the baking soda to brown better- one carbon molecule is baked off, and the baking soda turns grey- it works!"