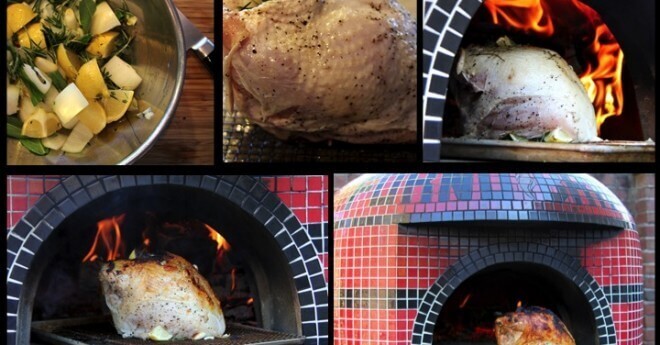 New Tradition – Forno Bravo Oven Fire Roasted Turkey
Nov 13, 2014
Posted by Chef Bart
Print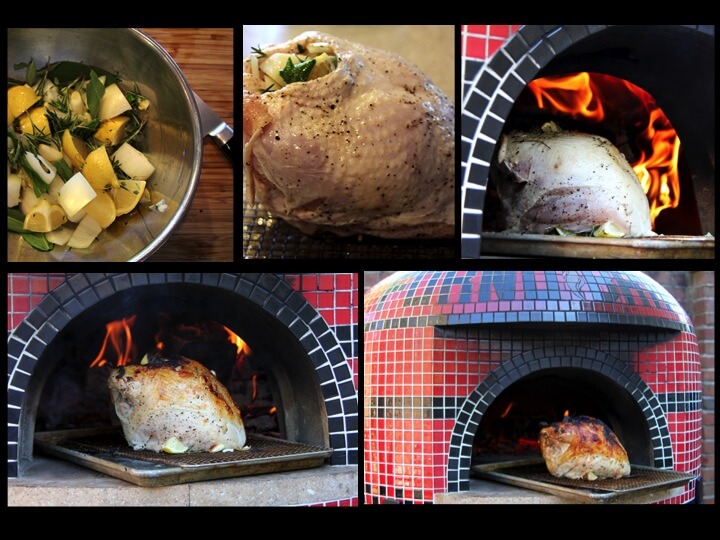 Thanksgiving is a mere two weeks away so why not throw a turkey in the "Drago Affamato" or "The Hungry Dragon" as my family calls our oven. Obviously maintaining a steady low fire is key to evenly roasting for your bird. Think back to your cure, ideally a low fire around 350 is ideal. You'll get charring, similar to your pizza, in spots, especially on the top but the crispy blistered skin and silky smoke flavors are a pleasant bonus. To make it easier and less time, I've opted to remove the wings, legs and thighs for this round. For the legs and wings, I've roasted them separately in the oven and transferred into my stockpot for a rich, roasted turkey broth base for my gravy. As for the thighs, I've minced them up and added the meat to my stuffing for an additional layer of flavor.
I am a big fan of brining meat, especially turkey. Brining helps retain moisture as well as help season the meat through out. While I did not brine this particular turkey you certainly could do with this simple brine recipe listed below.
Hope you enjoy … until next week feast well!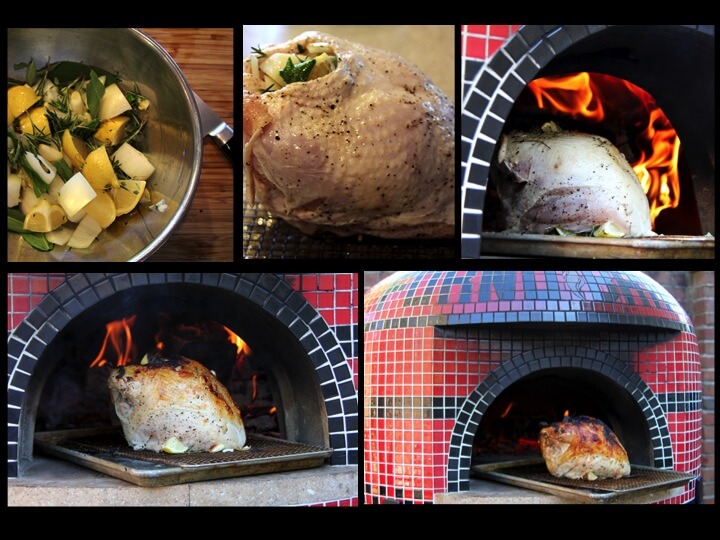 New Tradition – Forno Bravo Oven Fire Roasted Turkey
Ingredients
Turkey
1 10-12 pound turkey fresh
1 yellow onion diced large
1 lemon diced large
6-8 sprigs thyme picked
2 sprigs rosemary picked
6 sage leaves
6 basil leaves
3 tablespoons olive oil
Kosher Salt
black pepper
Brine
3 cups Kosher Salt
1 cup brown sugar
.25 cup cracked black pepper corns
4 apples chopped
4 lemons chopped
2-3 bay leaves
1 head garlic chopped
water to cover
Instructions
Turkey
Rinse the turkey in cold water and pat dry with a paper towel. Remove legs, thighs and wing joints. Set aside for other use (see above). Rub the turkey with olive oil add season liberally with kosher salt and fresh cracked black pepper.

Place the onion, lemon and herbs into a small mixing bowl, season with salt and pepper and toss so that the mixture is mixed through. Stuff the turkey cavities, including the front neck portion with the lemon herb mixture.

Place on a baking pan with a wire rack. Slide into the oven and roast. For this version I had a 12-pound turkey and averaged 350 degrees for approximately an hour and 10 minutes. I rotated the bird every 10-15 minutes to ensure even heating. I did not opt to cover the hot spots with aluminum foil, as I did not want to steam the skin. Once you turkey reaches an internal temperature of 165 degrees it is done, remove from oven and let rest for about 20 minutes or 2 minutes per pound to ensure a juicy, tender result.
Brine
Combine all the ingredients into a large pot with 1 quart of water. Bring mixture to a boil, remove from heat and let cool. Place mixture into a brining bag or similar large container that can be refrigerated. Remove turkey from packaging, rise with cold water and pat dry. Place the turkey into the brine mixture, and add additional cold water to cover the turkey. Place in refrigerator and let stand for 4 hours. Remove from brine, rise and pat dry.