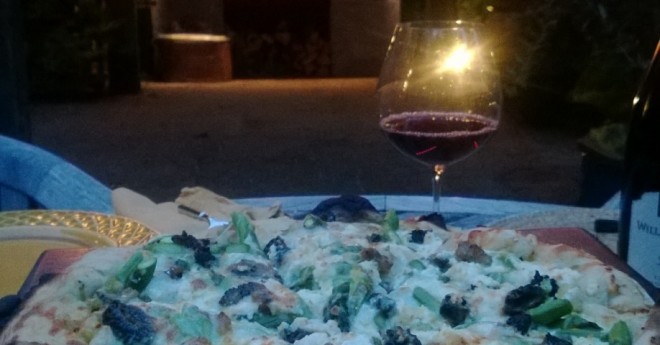 Morel, Asparagus, & Leek Pizza
May 29, 2019
Posted by guestchef
Print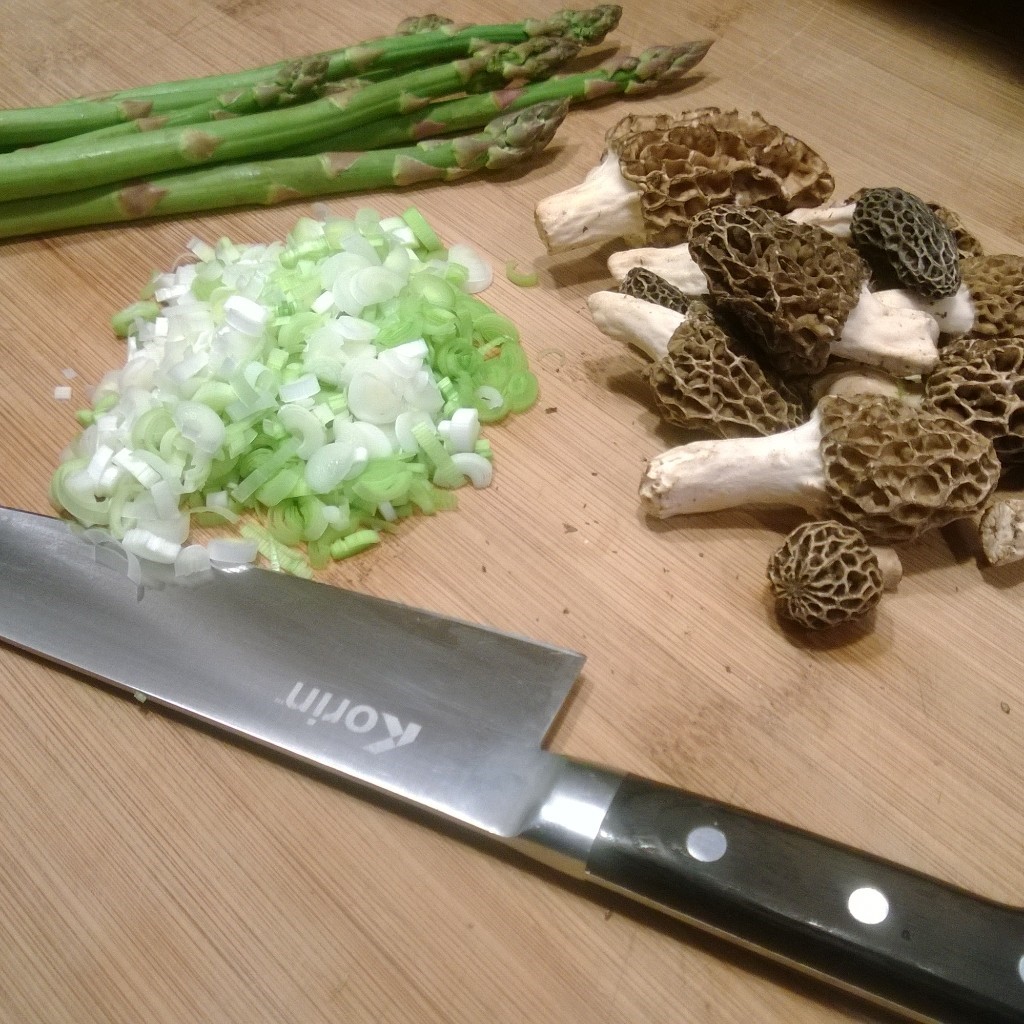 Special thanks to Greg Higgins, who installed a Professionale 120 at his home in Oregon, for this dough and pizza recipe. He shares his Forno Bravo oven creations on his Facebook page, Pizza Monday.
Notes on Greg's Pizza Napoletana Dough:
This is my favorite pizza dough using "00" pizza flour. It's based on a classic Neapolitan dough ratio. We typically mix the dough around noon on Pizza Monday.  After an hour of hydration, I begin a series of turns and folds every half hour or so. By four o'clock, the dough is silky, puffy, and beautifully bubbly. I then divide it, round it, and wrap – refrigerating any extra to make calzones, focaccia, or pita bread with the next day.
Enjoy!
This recipe yields: 3 – 12" or 2 – 16" pies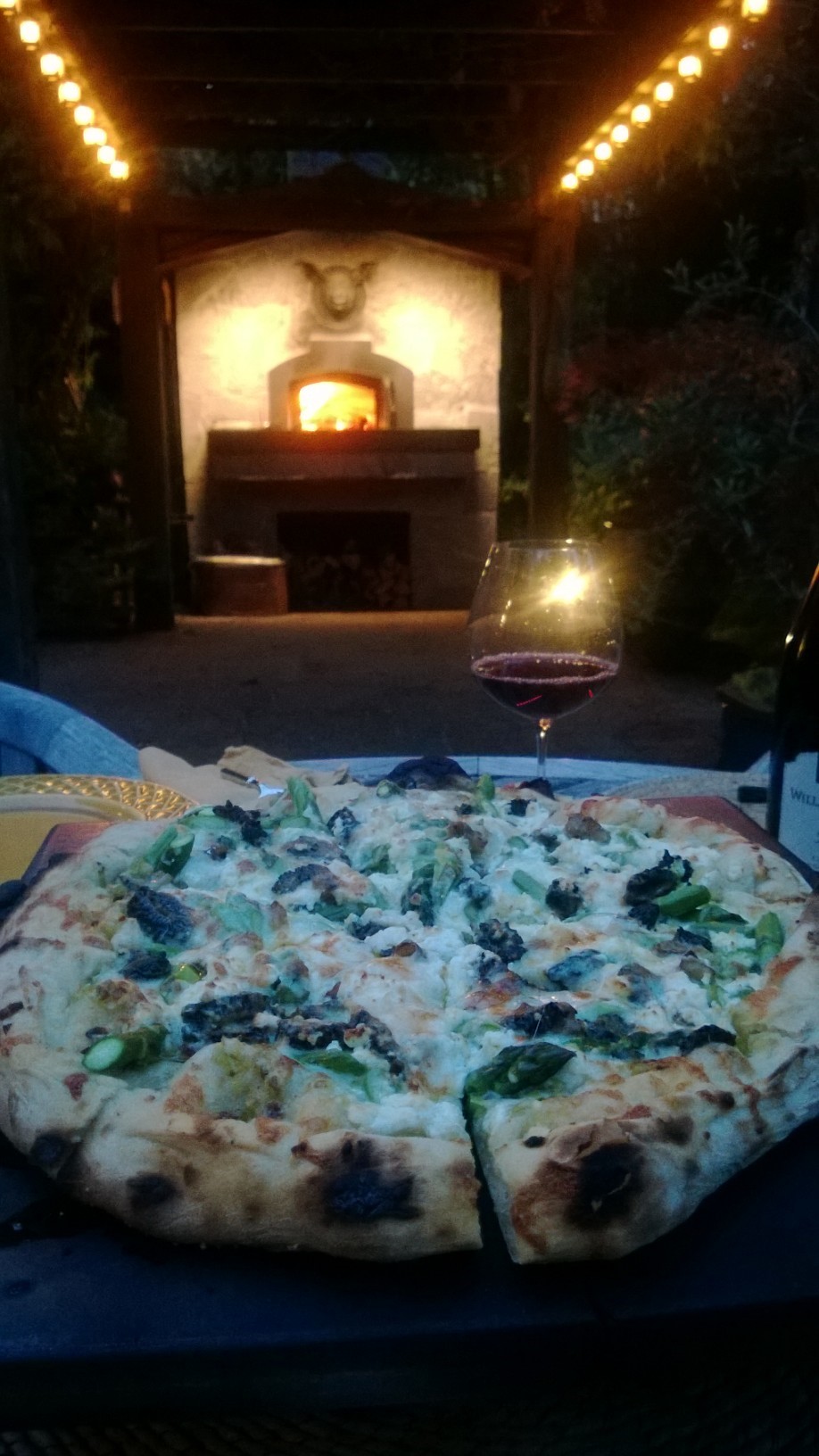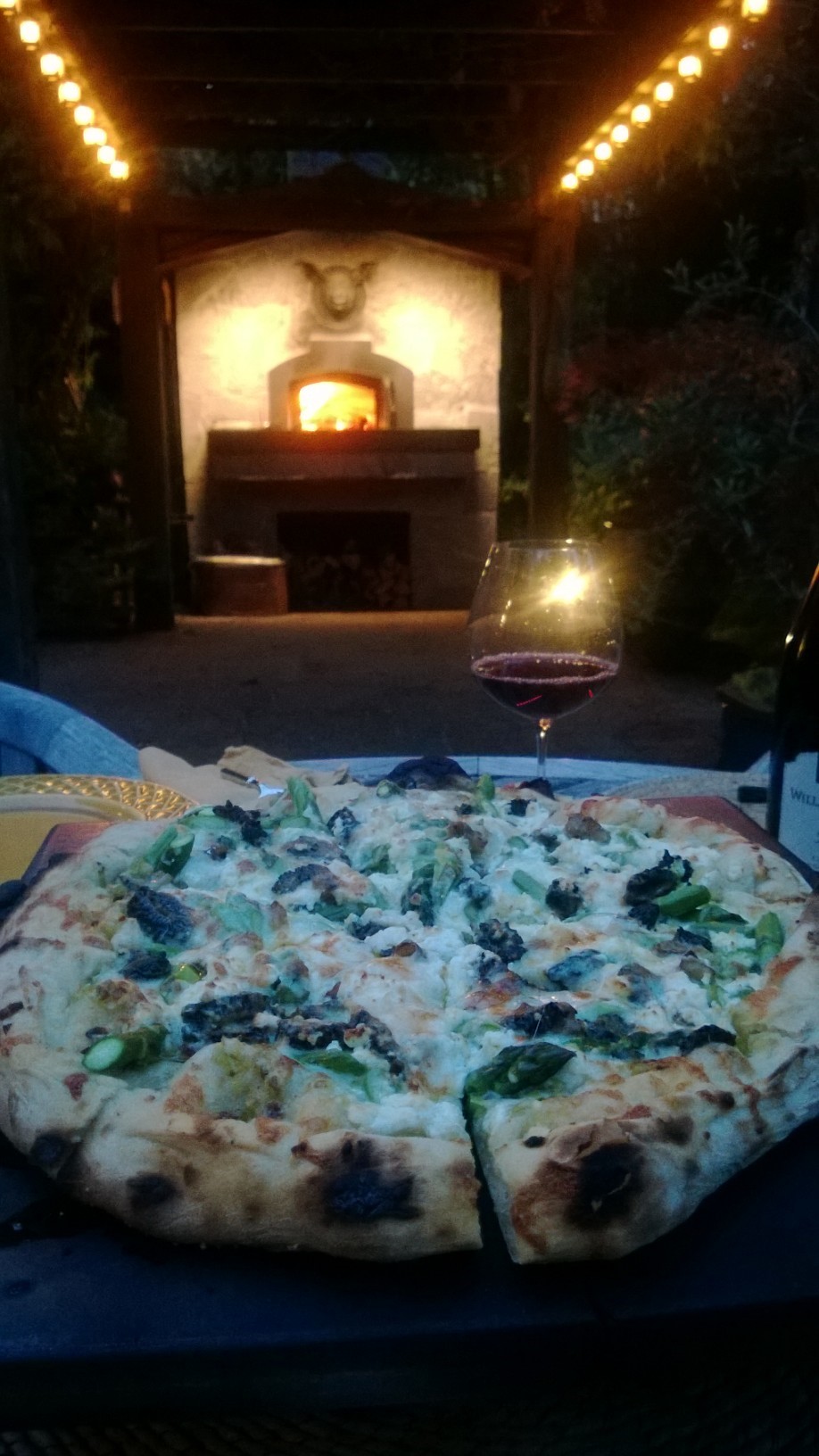 Morel, Asparagus, & Leek Pizza
A light, vegetarian pizza, perfect for a summer evening treat.
Ingredients
Pizza Toppings
4 - 6 oz Morel Mushrooms - cleaned and sliced
1 C asparagus - washed & 1" bias cut
1 C leeks - washed & finely minced
2 C Asiago cheese - grated
1 C feta cheese - crumbled
1 tsp red chili flakes
3 - 4 oz extra virgin olive oil
1 Ball pizza dough
Greg's Pizza Napoletana Dough
750 g (~6 C) Tipo "oo" Pizza flour (Note: 750 g is just shy of 6 C)
15 g (~1 TBL) sea salt
6 g (2 tsp) instant dry yeast (Note: 1 packet)
488 g (2 C + 1 TBL) water - 95 degrees F. (Note: Goal is 65% hydration of water to flour)
Instructions
Making Your Pizza Dough
Put the water in a bowl or mixer and add the dry ingredients – mix evenly to eliminate any lumps. Scrape down the sides of the bowl, and wipe the rim clean with a moist towel or sponge. Cover the bowl and place in a warm spot to proof for an hour.

Wet your hands and a plastic spatula or scraper and free the edges of the dough from the bowl. Making sure your hands are well dampened; pull the dough back over itself to begin to form a smooth surface.

Repeat the pulling/folding process two or three times, and then cover again and allow to rest. Every half hour repeat the same steps, taking note of how the dough is gradually proofing and getting smoother and more elastic each turn. By the fourth series of turns (2 hours,) the dough should be very smooth, supple, and ready to portion for pizza making.

Carefully turn the dough out on to a well-floured board. Divide it into thirds for 12" pies, or halves for two larger (16") pizzas. Round the dough portions and dredge well with flour. Transfer to a tray, and cover with plastic or a clean towel. Allow to rest and proof for 1-2 hours before making your pizza.
Preparing Your Toppings
Chop your morels, asparagus, and leeks and set aside.

In an oven proof dish, combine the leeks and chili flakes with 2 oz. of olive oil and roast them in the oven until tender (5-7 minutes.)

Transfer to a small bowl and season to taste with salt. Roast the morels in the same way, moistened with olive oil, for 7-10 minutes.
Making Your Pizza
Shape your pizza crust and place on a cornmeal-sprinkled  peel. Spread the leek and oil mixture evenly over the crust and top with half of the Asiago cheese. Distribute the asparagus and morels over the cheese, and then add the remaining Asiago and the feta.

Bake in a wood fired oven till crisp and lightly singed. (This will take approximately 3 min at 650 degrees F. or you can adjust the time for your preferred baking temperature.) Serve immediately.