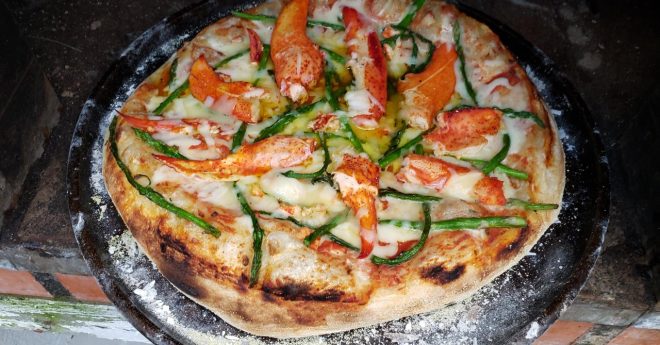 Lobster and Asparagus Pizza
Dec 29, 2020
Posted by guestchef
Print
Hailing from the province of Ontario, Canada, Chief Psychologist and professor, Dr. Jon Mills, is a long-time fan of wood fired cooking. He submitted this recipe for our 2020 Recipe Contest and we think it looks and sounds amazing! Cooking new dishes always involves an element of risk, but they can also yield many happy surprises. This pizza is one of those winning flavor combinations.
Notes from the Chef:
"This was an experiment and it turned out great. The lobster meat dominates and you hardly notice the asparagus.  Thin stalks are best, as they are not chalky, but still provide a bright snap and depth.  You can also add some chopped fresh dill or cilantro over the lobster before cooking the pizza, which gives it a more complex flavor."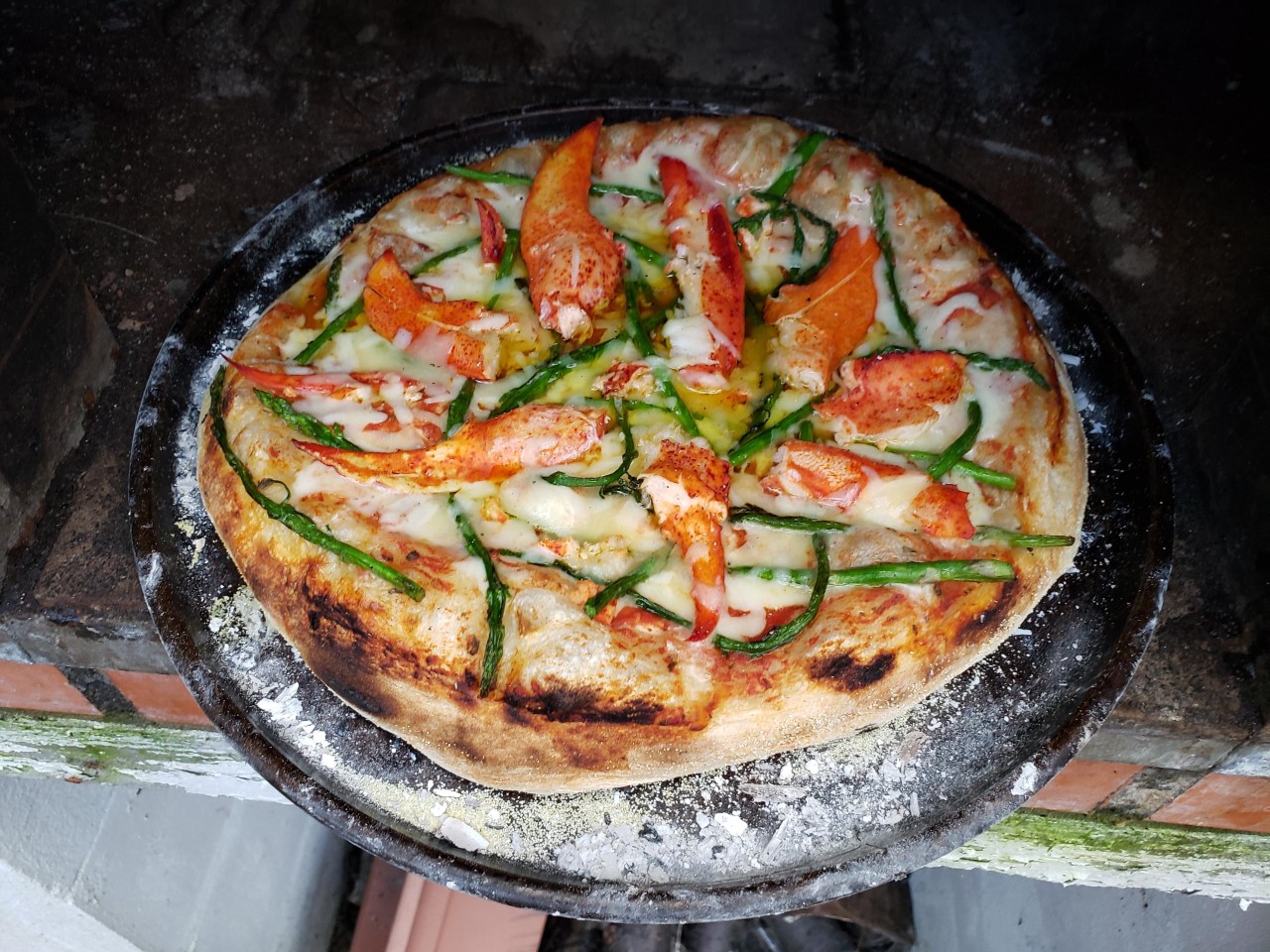 Lobster and Asparagus Pizza
Featuring flavors from both the sea and the farm, this pizza brings both together in a delicious combination.
Ingredients
1 Ball Fresh Pizza Dough
San Marzano Tomao Sauce - (From can of whole plum tomatoes)
dried oregano - (Spice sauce to taste)
basil
Dried Chili Peppers
1 clove Fresh Minced Garlic - (split between sauce and asparagus)
mozzarella cheese - (3 Cheese mix of these types or your preference)
muenster cheese
provolone cheese
Thin Stalks of Asparagus, Trimmed - (Select the thinnest you can find to avoid chalkiness)
Cooked Lobster Meat - (Use chunks, such as claws and arms, as they hold in moisture)
extra virgin olive oil - (Drizzle)
Chopped, Fresh Dill - (Optional)
Chipped, Fresh Cilantro - (Optional)
Instructions
Ingredient Prep
In a cast-iron skillet, mix trimmed asparagus with some minced garlic and olive oil, and place in the oven for a few minutes to soften. (You want a crisp-tender texture. Do not overcook.) Remove from oven and set aside.

Prepare your sauce from the tomatoes. (Note: You can blend in the spices and minced garlic and thicken it a bit. Or you can add the spices and minced garlic separately to the pie after the sauce.)
Pizza Prep
Bring your pizza dough to room temperature. Stretch your dough out to approximately 10" diameter.

Once sauce, spices, and garlic are applied over the dough, place a thin layer of cheese over the top.

Place the cooked asparagus on the pizza.

Then add the lobster meat in chunks. Arrange ingredients to preference (see options above.) Sprinkle on a bit more cheese. Drizzle olive oil over the top

Place in the oven and bake for 2-4 minutes depending on your oven's temperature. Note: You can bake directly on the cooking floor or on a pizza pan, as you prefer.
Notes
Using a minimal amount of cheese will keep the pizza from getting heavy or greasy. You want the lobster and asparagus flavors to be the star of the show. The cheese is an accent.