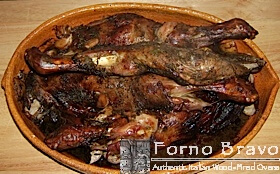 Leg of Lamb or Lamb Shoulder
Dec 28, 2011
Posted by guestchef
Print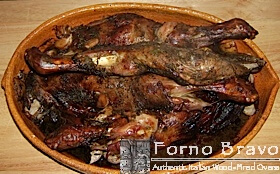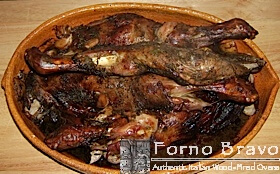 Leg of Lamb or Lamb Shoulder
Ingredients
lamb Leg or shoulder
3-4 cloves garlic sliced
1/4 cup olive oil
1/4 cup red wine
2 Tbs rosemary
2 Tbs thyme
Instructions
Pierce the lamb with a knife, and insert garlic. Marinate overnight in olive oil, wine, rosemary and thyme in the refrigerator.

Fire your oven until hot, and then let the heat fall to a low to moderate temperature, roughly 350-400ºF. If you have fired your oven for a longer period (90 minutes or more), rake out the coals to allow the temperature to keep falling. If you do not have enough retained heat in the oven, you can leave a small fire, or coals at the start of cooking.

Place the lamb in a terracotta dish and add some fresh rosemary. You can even throw some fresh rosemary in the oven. It adds some spice to the air and the food.

Roast for approximately 30 minutes per pound for medium-doneness.