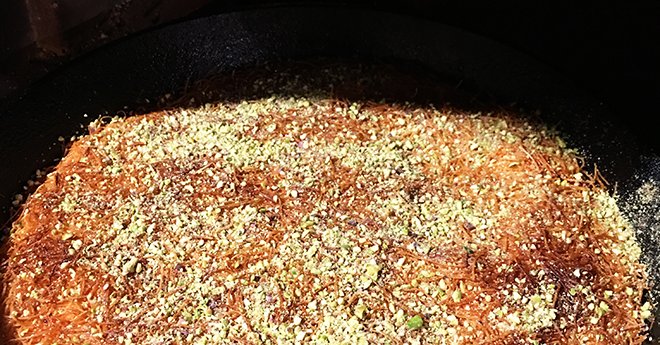 Kunefe
Aug 02, 2018
Posted by guestchef
Print
Special thanks to our Community Contributor, Harout Ichlokmanian, for a delicious dish that can be made in a wood or gas fired oven.
He tells us that, "This is an amazing middle eastern dessert that has been passed down for generations! I am Armenian, and most Armenians love to have Kunefe for special occasions." Well, we invite you to stretch our horizons and try this dessert for yourself! It's a cultural treat that is sure to impress.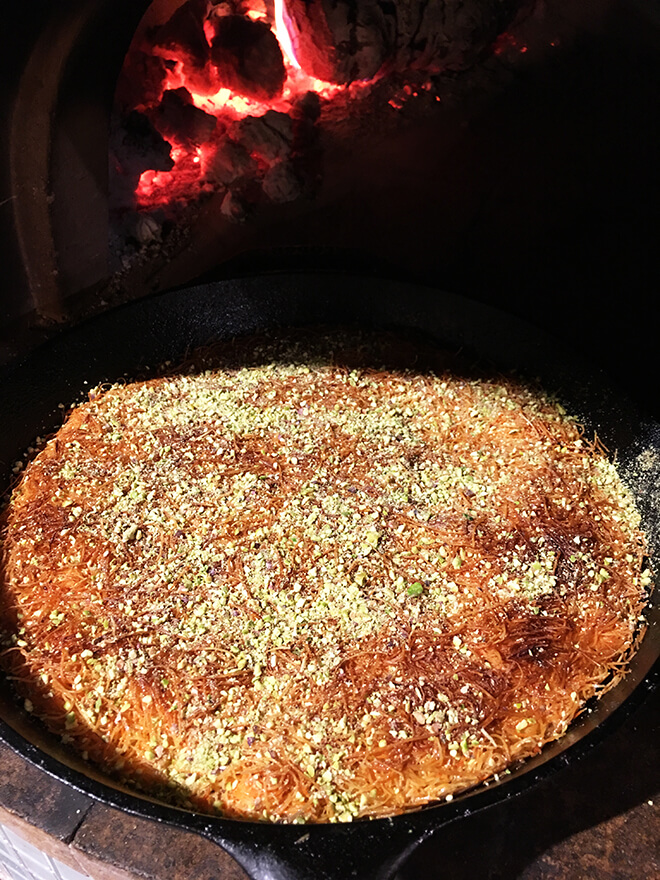 Kunefe
A flaky, sweet and savory Armenian dessert.
Ingredients
Dough
16 oz fillo dough Shredded (also known as phyllo or filo dough)
32 oz Fresh Mozzerella Cheese Sliced (BelGioioso brand)
3 sticks butter
Syrup
3 cups caster sugar (also known as baker's sugar or superfine sugar)
1 cup water
2 Tbsp orange blossom water
1 lemon Juiced
Instructions
Dough
Start by shredding the fillo dough by hand into small pieces.

Melt butter in the microwave for approximately 1 minute or until fully melted. Pour melted butter over your shredded fillo dough and mix it up by hand to fully incorporate the butter.

In a 12" cast iron pan, spread half of your fillo dough, than evenly place all of the cheese, and cover it with the rest of the fillo dough.

Place the dish in your Forno Bravo oven with the temperature at a mild 350°F for 30 minutes, or until the top is golden brown.
Syrup & Finishing
For the syrup, add the sugar and water to a pan and bring it to a boil. (This can be done on a stove top or by placing the pan just inside the oven mouth, stirring frequently.) Once the sugar has fully dissolved, turn off the heat/remove for heat, and add the lemon juice and orange blossom water.

Once the Kunefe has been removed from the oven, cut it into squares and serve hot with 2 tablespoons of syrup for each serving. Enjoy!