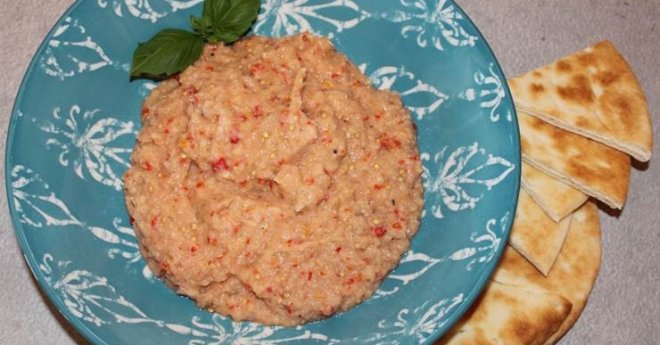 Fire Roasted Eggplant Dip
Oct 30, 2019
Posted by guestchef
Print
Autumn is my favorite season—cooler temperatures, longer nights and best of all: harvest! Eggplant is among the best of the bounty. Delicious dips such as baba ghanouj (also called baba ghanoush) and muttabal are mainly roasted eggplant, with most recipes placing the fruit directly on a gas burner and roasting until the skin cracks. What better candidate for the wood fired oven?
I picked up four eggplants to roast in my Bella oven. I also grabbed a large red bell pepper. When the fire was ready, I also threw in two yellow onions and a handful of heritage cherry tomatoes that were beginning to wrinkle in the refrigerator—perfect for the fire (plus an acorn squash to use for another recipe.) Many vegetables would be good to include in this dip; it's a matter of personal taste and what you have on hand.
I usually roast in larger quantities than I will use in a single recipe, as I want to make the most of each fire and my wood fuel. Roasted eggplant freezes well, especially for the texture desired in this dip. The eggplant, bell pepper, and onion were roasted over coals on my Tuscan grill. The cherry tomatoes and garlic were cooked on my cast iron griddle next to the coals, simply because they were too small for the grill.
Give this Mediterranean recipe a try and enjoy the taste of Autumn!
~Carrie Nalley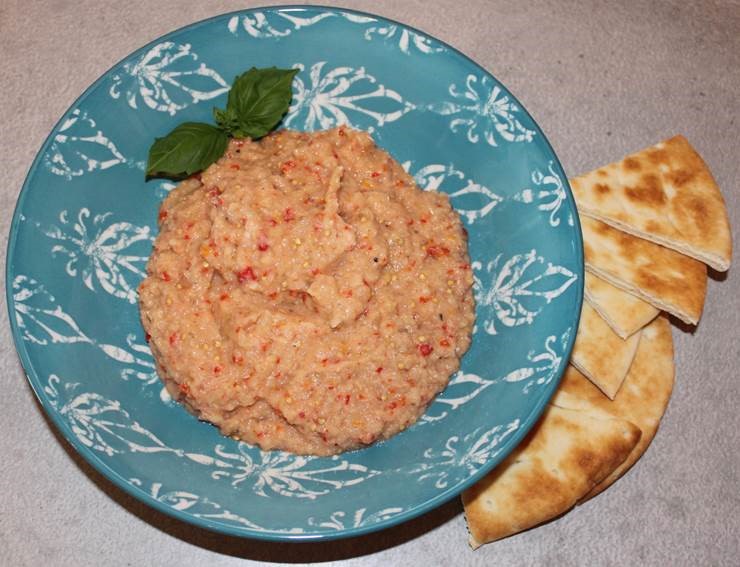 Fire Roasted Eggplant Dip
A smokey, simple and healthy appetizer perfect for dipping with pita bread, vegetables, or other items.
Ingredients
1 Large Eggplant *See important preparation note below
1 red bell pepper (or jalepeno or serrano or...you get the idea)
1 medium onion Peeled
3-4 Cloves garlic Roasted - or 1 Rounded Tbsp Minced Garlic as a substitute
4 cherry tomatoes
1/4 cup Lemon juice * or to taste
1 Tbsp tahini * or to taste
Salt and pepper to taste
Instructions
Preparation of Ingredients
Cut three or four vertical slits, about an inch and a half long, around the top and bottom curves on the Eggplant so that it doesn't explode in the oven. (Yes, I learned by experience.) Slice off the top and bottom of the onion and peel.

Build your fire, light it and let it burn down to white hot coals still holding their shape. At this point, use a rake to spread them around on the oven floor, replace the oven door and let sit for a few minutes. Now, move the coals slightly to one side if you need space for a griddle or pan like I did.

Place the grill over the coals, and roast your veggies until their skin is cracked, and blackened/charred in places.
Preparation of the Dish
Remove veggies from oven and let cool, then peel them. Remove seeds, stem, and pith from the pepper. Place all of the vegetables in a food processor.

Combine Tahini and lemon juice, stir until smooth, add to veggies. Use a food processor or hand blender to break everything down to a chunky consistency. Add salt and pepper to your taste preference.

Give the mix a final stir by hand, and transfer it to a serving dish. You may want to cover and refrigerate it for at least an hour to let the flavors blend (optional.)

Garnish with fresh parsley if desired, and serve with warm flatbread (or whatever you prefer for dipping).
Notes
Tahini is a thick paste made from toasted and ground, hulled sesame seeds that is frequently used in Middle Eastern and Mediterranean cuisines.  It is similar to natural peanut butter in appearance, but it's not inherently sweet. It has the earthy, nutty flavor of sesame seeds, but with a tinge of bitterness. You can find Tahini in most major supermarkets in the ethic foods section, in the condiments aisle near the specialty olives, or in ethnic markets. You can also make it from scratch at home. If you are going all out, it is also very easy to make Pita bread in a wood fired oven using a basic dough recipe!