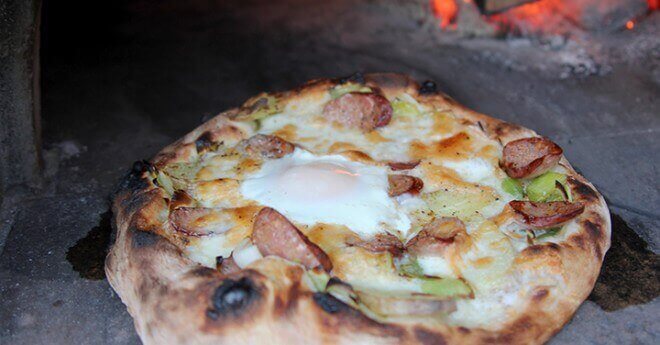 Egg And Leek Pizza
Apr 13, 2015
Posted by Chef Bart
Print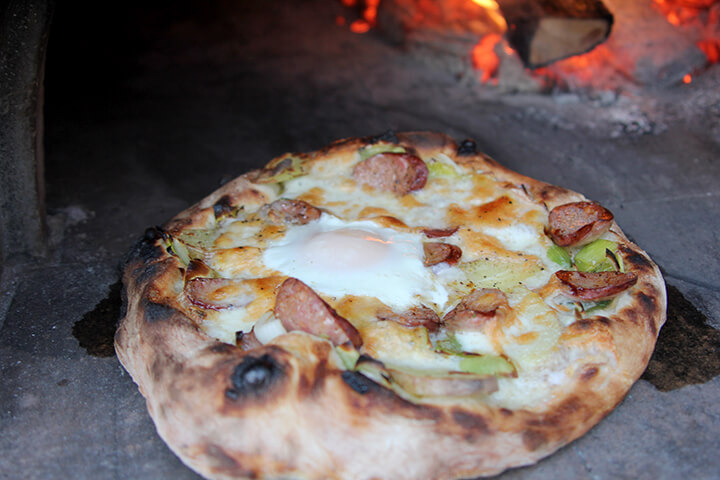 Eggs are awesome. Breakfast, lunch, dinner or midnight munchie, their versatility is unmatched in the gastronomic world. It is also a popular culinary myth that the pleats in a chef's toque represent the 100 ways a chef can cook an egg.
Adding an egg to pizza is certainly nothing new, but crowning your pie with the yolky richness certainly will elevate it from good to great. In this version I couldn't resist the addition of leeks, potatoes and sausage.
Hope you enjoy. Until next week, feast well.
Chef Bart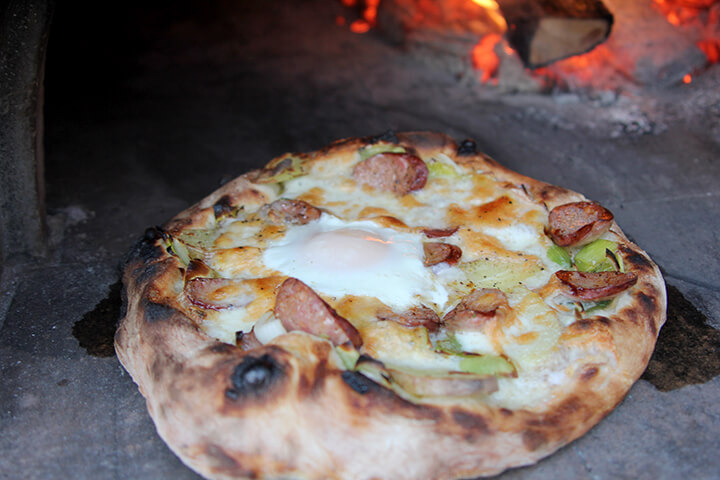 Egg And Leek Pizza
Ingredients
1 Dough of your choice
3-4 tbsp sautéed leeks
6-8 thinly slices fingerling potatoes
2 ounces Taleggio cheese sliced into thin pieces
1/2 cup andouille sausage sliced
1 egg
Leeks
1 cup leeks small dice
1 teaspoon thyme fresh and chopped
1 tablespoon butter
Kosher Salt
Cracked Black Pepper fresh
Potatoes
4-6 each fingerling potatoes
1 each bay leaf
2 tablespoons Kosher Salt
4 cups water
Instructions
After forming the pizza dough, spread the leeks evenly on the dough base and top with sliced Taleggio cheese. Scatter the andouille sausage and sliced potatoes over the top, place the dough in your Forno Bravo oven, and bake for 20-30 seconds. Remove the pizza from the oven and crack an egg over the center of the pizza. Replace the pizza in the oven and cook until the crust is golden brown and the egg white is set but yolk still runny. Remove from the oven, season with fresh cracked pepper and enjoy.

In a small sauté pan over medium heat melt butter. Add leeks, thyme and season with salt and pepper. Gently cook until the leeks are tender and cooked through. Remove from heat, cool and set aside for the pizza assembly.

In a small saucepot, add water, potatoes, salt and bay leaf. Over medium-high heat simmer the potatoes until they are fork tender with a slight firmness about 90% cooked. Remove potatoes from water, cool and reserve for pizza assembly.