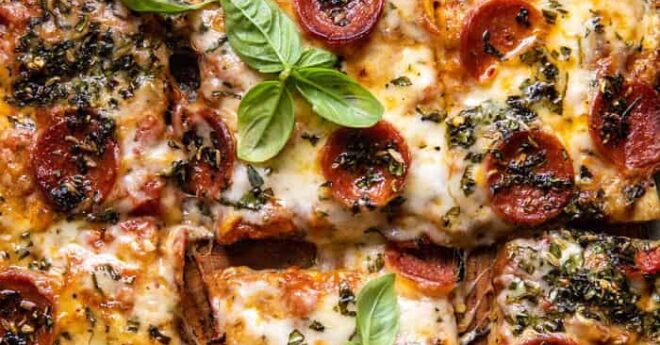 Easy Sheet Pan Tomato Herb Pizza
May 13, 2021
Posted by Forno Bravo
Print
Ready for a change from Neapolitan pizza?  Try a Sicilian(-ish) style pan pizza from Half Baked Harvest in your wood fired oven instead! Tieghan Gerard is the creator of this dish that she bakes in her Casa2G90 pizza oven. It can also be baked in a standard oven set to its hottest temperature. With a deeper square crust, a flavorful, roasted tomato sauce, 3 kinds of cheese, pepperoni, basil, and a vibrant garlic herb blend to cap it off, your taste buds won't know what to do with themselves! This pizza comes out rich and decadent and is best devoured hot and fresh from the oven.
Because the crust is a bit thicker, it needs to cook a little longer than a Neapolitan pizza, but it is also easy to handle on its tray, and is a great way to use up fresh herbs and tomatoes from your garden or your grocery store.
CLICK HERE for Tieghan's full blog, preparation tips, and a breakdown of the steps in this recipe.
Prefer to watch a video of making this recipe? Click the image below!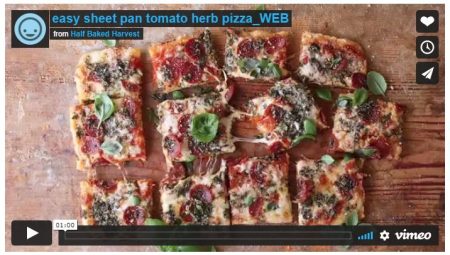 Easy Sheet Pan Tomato Herb Pizza
A Sicilian-style pizza made with fresh pizza dough topped with roasted cherry tomato sauce, three kinds of cheese, pepperoni, house style "pizza seasoning" and fresh garden basil.
Ingredients
1/2 pound pizza dough - homemade or store-bought
3 cups cherry tomatoes - or one 14 oz can crushed tomatoes
4 cloves garlic - 2 whole smashed, 2 grated
2 tsp fig preserves - or honey
1/4 cup extra virgin olive oil - plus more for drizzling
2 Tbsp fresh thyme leaves - or 2 tsp dried
1 pinch crushed red pepper flakes
1 pinch kosher salt and black pepper
1/4 cup fresh basil - chopped, plus more for serving (or 1 Tbsp dried)
1/4 cup fresh oregano - chopped, (or 1 Tbsp dried)
1-2 tsp fennel seeds - use to your taste
1 cup whole milk mozzarella - shredded
1 cup Fontina Cheese - shredded
1/2 cup parmesan or asiago cheese - grated
3 oz pepperoni - sliced
Instructions
Fire your wood fired oven to 500 - 600 deg F. If you are baking in a conventional oven, position the oven rack in the upper 1/3 position. Preheat the oven to 500 degrees F. at least 30 minutes before baking, preferably 1-2 hours ahead. If you have a baking stone, start preheating it.

Place the ball of pizza dough on a lightly oiled quarter sheet pan. Lightly drizzle olive oil on top of the dough ball. Cover with plastic wrap and let rest for at least 30 minutes, preferably 2-5 hours, if time allows. Note: For a thicker crust, use 3/4 - 1 lb of pizza dough, for a thinner crust, use 1/2 lb of dough. Your cooking time may increase with the thicker crust, but will also vary based on your oven temperature.

To make the sauce: In a roasting pan, combine the tomatoes, olive oil, 2 cloves smashed garlic, fig preserves, thyme, and a pinch each of salt and pepper. Roast in the middle of the oven at 500 degrees F. for 10-15 minutes, until the tomatoes burst. Using a fork, smash the tomatoes down until a chunky sauce forms. (If using canned tomatoes, just simmer on the stove until thickened. Alternately, you can use your favorite marinara sauce too.)

To make the herb seasoning: In a bowl, combine the basil, oregano, 1-2 cloves grated garlic, fennel, and a pinch each of red pepper flakes, salt, and pepper.

To assemble: Remove the plastic wrap. Gently press the dough out until it covers the entire oiled sheet pan. Drizzle the dough lightly with olive oil. Spread on the sauce (you may not need it all.) Top with cheese, then pepperoni. Sprinkle the herb seasoning over top.

Slide into the preheated oven and bake for 10 minutes, rotate the pizza, and bake another 3-5 minutes or until the crust is golden and the cheese has melted.

Top the pizza with fresh basil and addition crushed red pepper flakes. ENJOY!
Notes
This recipe is designed for being made and baked in a quarter sheet pan. You can use this pan in both a wood fired oven and a conventional oven. If baking in a wood fired oven, we highly recommend using a cast iron pan for best results and to keep your pan from warping.