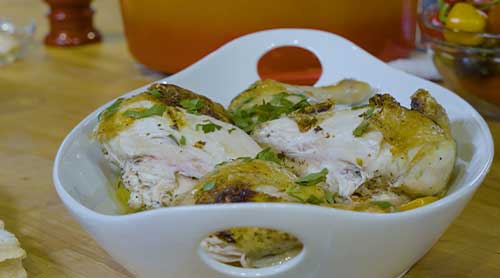 Dutch Oven Baked Spatchcock Chicken
Oct 29, 2021
Posted by cecebeauchamp
Print
Spatchcock chicken is a fancy way of referring to a chicken that has been split in half and laid open for roasting. Chef Anthony Iannone of the North American Pizza and Culinary Academy demonstrates this technique for us, pairing his chicken with squash, zucchini, potatoes, thyme, and other fall flavors for an easy one-pot, no muss, no fuss meal for your dinner enjoyment.
Follow along with Chef Anthony in the video below as he teaches you this simple cooking technique for preparing a tender and delicious chicken dish that is sure to please
Dutch Oven Baked Spatchcock Chicken
Simply seasoned chicken with summer vegetables combine for a one pot dinner delight.
Ingredients
1 Whole Chicken - 3 lb (Average)
3 Carrots
1 Red Onion
1 Zucchini
1 Yellow Squash
2 Garlic Cloves - Fresh
4 Red Skin Potatoes
4 Sprigs Fresh Thyme
2 oz Olive Oil
4 oz White Wine
Salt
Pepper
Fresh Parsley or Basil - For Garnish
Instructions
Split the chicken down the back, and remove the back bone and center breast bone.

Clean & cube the carrots, squash, zucchini, onion, and potatoes.

Peel and slice the fresh garlic.

In your Dutch oven, mix the vegetables, potatoes, and thyme with half the olive oil and season with salt & pepper.

With the rest of the oil, rub the chicken and season it with salt & pepper on both the cavity and the outside of the chicken. Lay it on top of the vegetables.

Pour in the white wine and cover.

Place in an approximately 500 degrees F oven away from the fire. Depending on the size of your oven, bake for 45 minutes to an hour and check for an internal temp of 165 degrees F. At 165 degrees F, remove the cover and cook next to the flames for another 5 minutes to color and crisp the skin.

Let sit for 5 minutes, then cut the chicken into pieces. Transfer vegetables onto a serving platter and place the chicken on top. Top with fresh parsley or basil for color.
Notes
Note: Your butcher can also pre-spatchcock your chicken for you, or you can do it at home with a boning knife.
.