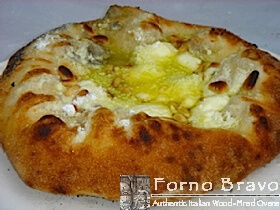 Dessert Pizza with Mascarpone and Fruit
Feb 17, 2019
Posted by Chef Bart
Print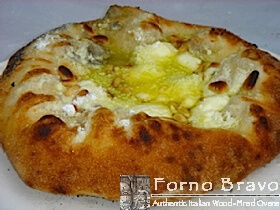 Here is the recipe for the Dessert Pizza we made at 10 Speed Press. It is an after-dinner treat to share with your lucky someone. With a hint of lemon and nuts in the dough, the smooth richness of Mascarpone cheese, and the sweetness of fruit and powdered sugar, this delicacy is sure to please!
Originally introduced to the Forno Bravo Community Cookbook in 2011, this recipe is still a favorite today!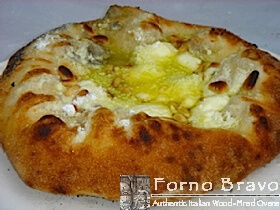 Dessert Pizza with Mascarpone
Light and not too sweet, this dessert features the combined flavors of fruit, cheese, lemon, pine nuts, and powdered sugar to perfectly finish any meal!
Ingredients
Dessert Pizza Dough
500 gr Caputo pizza flour
300 gr water 60% hydration
1 tbsp olive oil
1 tsp salt
2 tsp instant dry yeast
1 rind lemon the lemon gives the dough a nice, tangy flavor that comes through on the finished dessert
The Toppings
mascarpone
pine nuts
olive oil
powdered sugar
crème fraiche
fresh fruit
Instructions
Make your dough as you would regular pizza dough, and then shape into four dough balls.

Shape each ball into 6'-7' rounds, leaving finger impressions. Keep them thick (like a fat, little Focaccia.)

Cover with olive oil, and then top with 6-8 dollops of Mascarpone. You don't have to spread them out. Top that with 2 Tbs of pine nuts.

Bake in an oven that has fallen from high pizza heat to around 600ºF, with a live fire.

Remove from the oven and quarter or halve the pizza. Then top with crème fraiche and powdered sugar. Add fresh fruit of your choice to the very top.
Notes
This dish is almost like a bread pudding below the fruit and cream. The fruit isn't cooked and stays fresh with a nice texture.