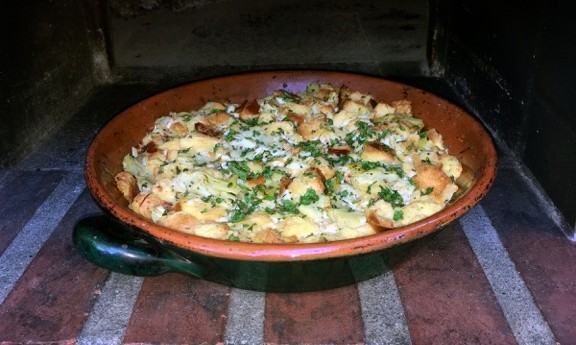 Crab and Artichoke Savory Bread Pudding
Jun 20, 2016
Posted by Chef Lea
Print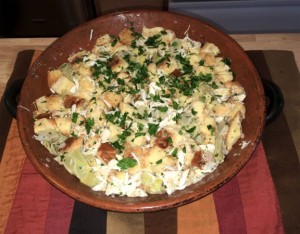 Isn't it frustrating to let the oven's residual heat go to waste? Here's a recipe that gives you the opportunity to make a delicious brunch dish for the next day, after you've cooked up a feast the night before.
I had a pizza festa on a recent Saturday night for some friends who were staying with us for the weekend. I made a dozen assorted pies, but a few of them weren't eaten (doesn't it seem like the whole country is on a diet?) so I thought I'd do my usual post-pizza breakfast—crack a couple of eggs on top of each pie and slide it into the oven.
Then I had a little wine-induced brainstorm. My freezer contained the goods—half a pound of lump crab and frozen artichokes. I had some day-old bread, too, so I whipped up this bread pudding while my pals were cleaning the kitchen. A little cutting, mincing, seasoning and mixing and the next morning it turned into breakfast applause.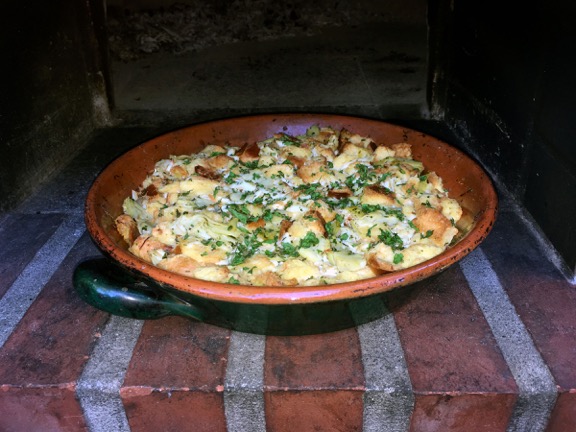 Crab and Artichoke Savory Bread Pudding
Ingredients
8-10 ounces day-old bread (something with character; not too strong or crusty)
1 cup half and half
1 cup whole milk
5 eggs
3 Tblspn butter
1/2 cup minced shallots
2 Tblspn chopped fresh parsley
2 Tbspn Marsala or Madeira wine
8 ounces lump crab meat
9 ounces package of frozen artichokes (Bird's Eye sells a "deluxe" variety)
3 Tblspn fresh lemon juice
1/4 tspn cayenne
Salt and pepper to taste
Instructions
Cut the day-old bread into one-inch cubes. Toast them allowing them to get barely golden. Combine the milks and eggs. Whisk until well combined adding 1/2-1 teaspoon of salt.

In a sauté pan, melt the butter and gently sauté the shallots without browning them. Add the parsley and Marsala. Season lightly with salt and freshly ground pepper. Add the crab and sliced artichokes to the shallots. Add the lemon juice and cayenne. Season with salt and freshly ground pepper.

Butter a baking dish that will be safe for your WFO. Toss the bread with the crab and artichoke mixture and put into the baking dish. Pour the milk and eggs over the bread. Refrigerate the bread pudding overnight.

In the morning, check your oven temperature. Mine is usually between 300 and 400 degrees. If it is hotter than 375 degrees, allow it to cool down a bit further to prevent the eggs from scrambling. Ideal temperature is between 325-350 degrees. Remove the pudding from the refrigerator to warm up to room temperature. You don't need to build a fire—this is residual heat baking. Then slide the baking dish into the oven and bake for about 40-50 minutes. If it starts browning more than you'd like, cover it loosely with aluminum foil.