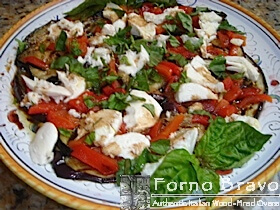 Cold Grilled Eggplant
Dec 19, 2011
Posted by Forno Bravo
Print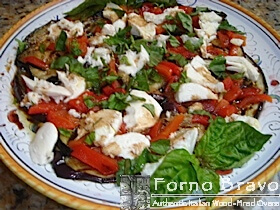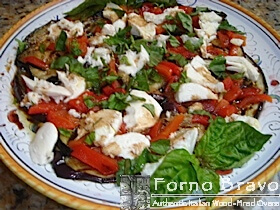 Cold Grilled Eggplant
Ingredients
2 eggplants
1 red pepper
1 Cheese ball of fresh mozzarella
3 tbs olive oil
1 tbs wine vinegar
1 tsp Balsamic vinegar
2 tbs basil slivered
salt
Instructions
Fire the oven until hot. This dish uses high heat to sear the eggplant.

Cut the eggplant into 1/2' slices (they have to be the same thickness to cook evenly).

Salt the eggplant and let drain for 30 minutes. Rinse well, then brush with olive oil (an actual brush works best).

Grill the eggplant on a hot grill pan in a hot oven until brown and cooked through.

Grill the whole pepper, and put it in a brown bag to sweat. When it is cool, remove the skin, core, and slice.

Place eggplant and peppers in layers on your serving dish. Coat with the mixed oil and vinegars and put in the refrigerator for 2-3 hours. Top with mozzarella, a little more olive oil, and the basil.