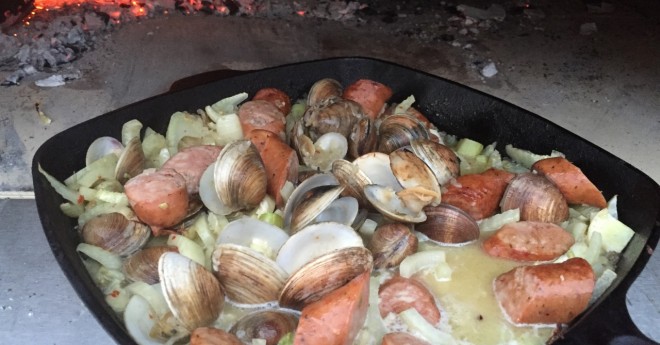 Clams and Sausage in Fennel Broth
Dec 14, 2015
Posted by Brigit Binns
Print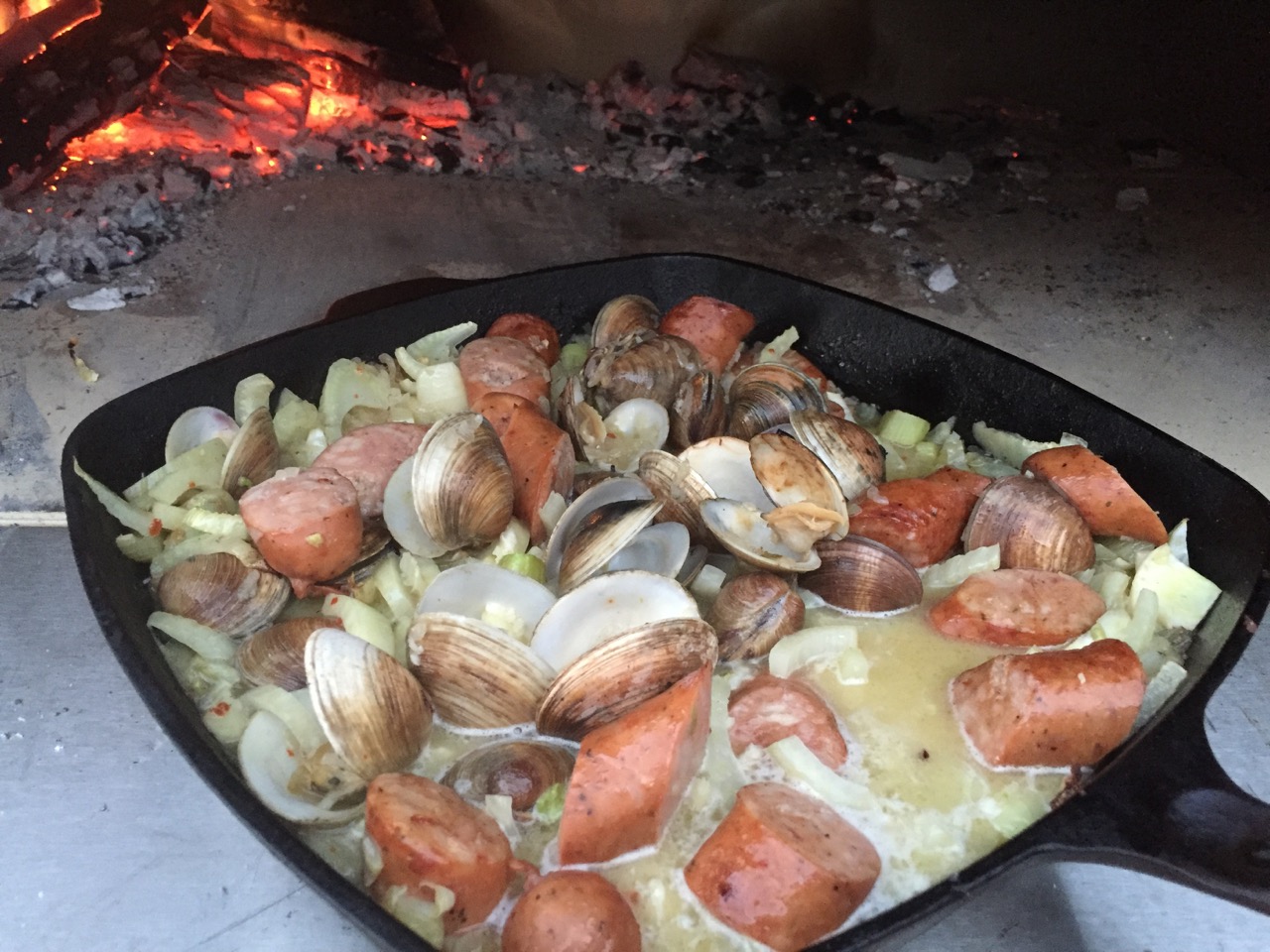 In Italy, fasting on Christmas Eve (La Vigilia) has long been traditional. But, in an Italian-American-inspired shift, the definition of "fasting" has been changed to "no meat." Thus, the Feast of the Seven Fishes is now the traditional meal for Christmas Eve in Italian-American households across the U.S.A.
And who are we to argue? With our Bella oven quickly up and running (and warming our souls for the holidays), we like to cook at least two of our fish inside the wood oven—if not more. The marriage of shellfish, like clams, and cured pork is always a good partnership, and this savory but light dish makes a worthy addition to the tasty line-up. Add my Calamari & Chorizo Pizza, and let your spirit range far and wide when selecting the other five candidates. Hint: Arrange live oysters on a bed of rock salt in a paella pan, and slide into the oven for a few minutes before loading in the pizza. When the shells gap open, they're ready for slurping.
Let the revels begin!
Brigit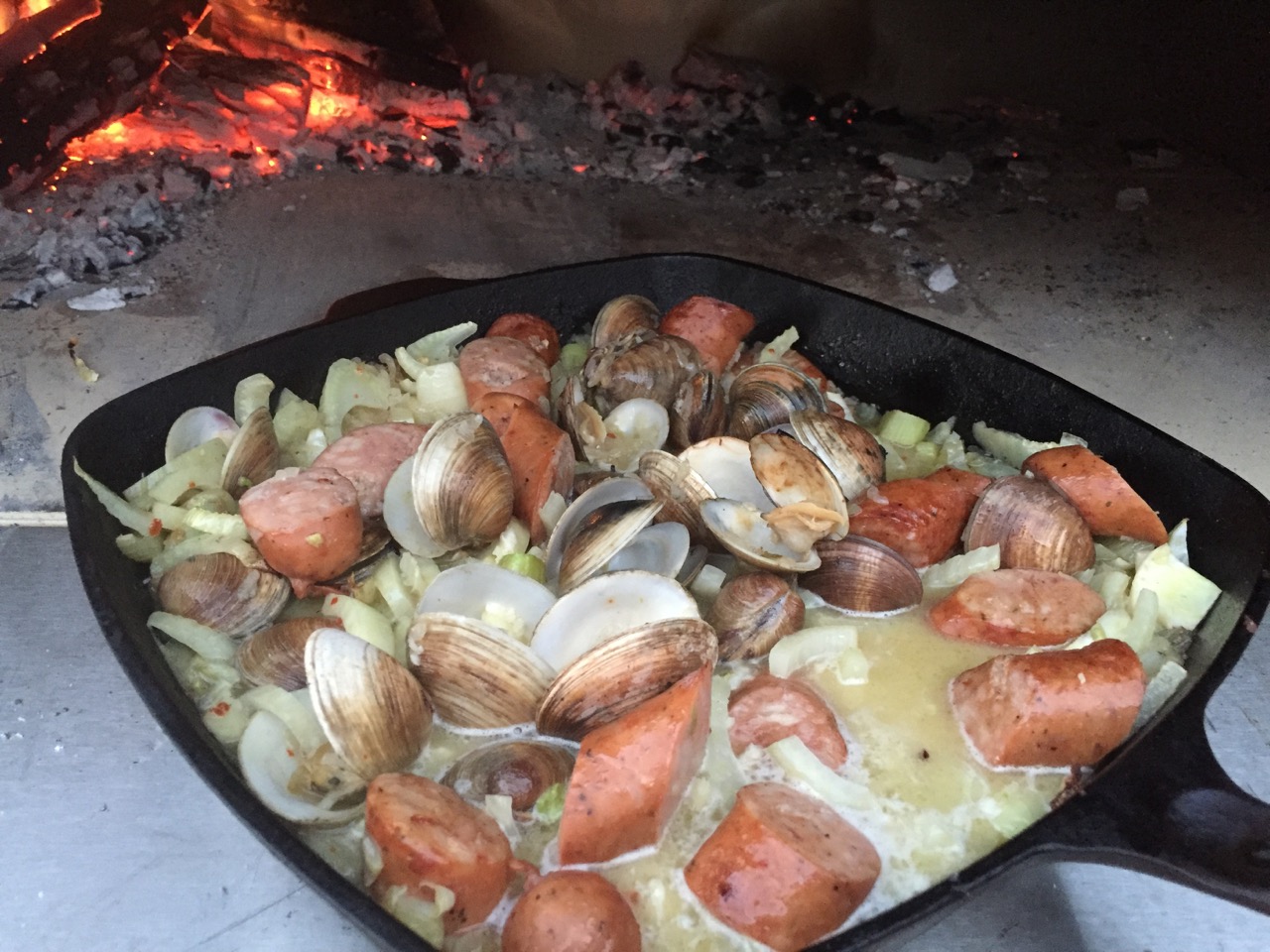 Clams and Sausage in Fennel Broth
Ingredients
2 small bulbs fennel, feathery greens reserved
1/3 cup dry white wine or vermouth
1/3 cup fish stock
1 tblspn Pernod or Ouzo
3/4 tspn red pepper flakes
2 tblspn extra virgin olive oil
3 large shallots, finely chopped
4 cloves garlic, finely chopped
fine sea salt and freshly ground pepper
2 lbs clams, alive and scrubbed
12 oz. mild, pre-cooked pork sausage, sliced into 1-inch pieces on the diagonal
1/4 cup cold butter (salted or unsalted) cut into 4 pieces
Instructions
Build a fire in your oven for medium-high heat cooking (450° to 500°). Quarter and core the fennel, then slice the quarters crosswise ¼-inch thick. Tear the feathery greens into small pieces; set both aside. Combine the wine, fish stock, Pernod, and pepper flakes in a jug. Assemble all the necessary ingredients and tools at the oven. Warm a large cast iron skillet or a paella pan in the oven. When it's very hot, add the olive oil and then the chopped fennel, shallots, and garlic. Sizzle for 2 to 3 minutes, rotating the pan once or twice, and season with salt and pepper. Add clams and sausage slices and the wine mixture and simmer until the clams have begun to gap open and there is about ¼-inch of flavorful liquid in the pan, 6 to 8 minutes, rotating the pan as necessary. Swirl in the butter and remove the pan from the oven, swirling the mixture until the butter emulsifies into the juices. Top with the fennel greens and spoon into bowls, distributing the buttery juices equally.