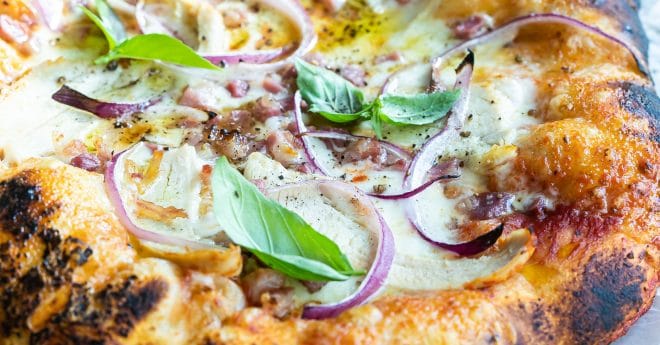 Chicken and Pancetta Pizza
Sep 15, 2020
Posted by guestchef
Print
It's easy to overthink – and over top – a wood fired pizza. Too much cheese, too many flavors, too much weight can all bog down the dough and reduce the crust's oven spring, making it greasy or flat (or difficult to slide off the peel, resulting in a pizza disaster. Yikes!)
This yummy pizza combination was contributed by guest chef and Forno Bravo oven owner, Gerry Speirs at Foodness Gracious, and is none of those things. It hits just the right notes of "Enough, but not too much!" It's full of flavor, but light enough to really taste the crust too; easy to assemble, but with upscale ingredients that go beyond the basics. We think you will love it as much as we do. Enjoy!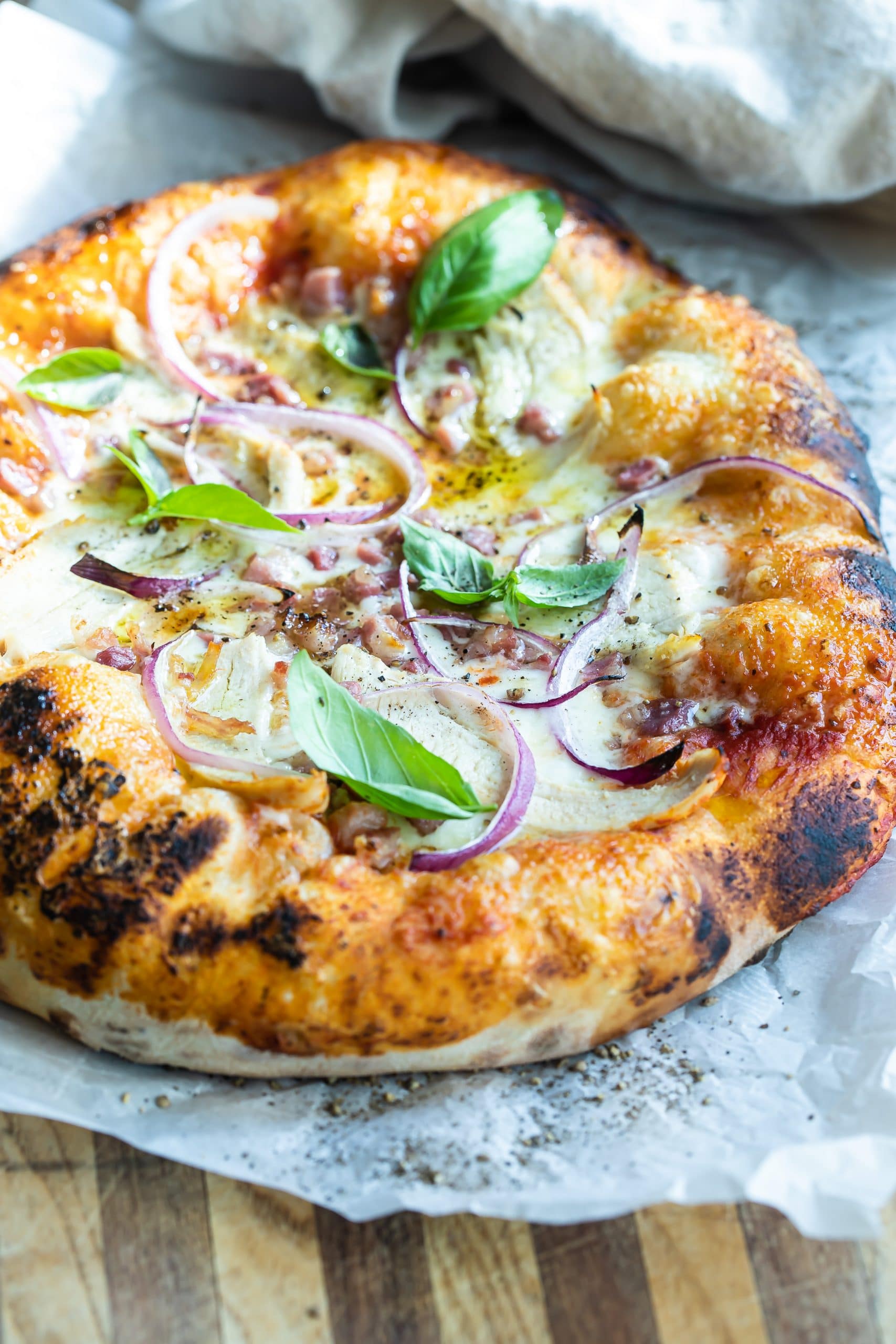 Chicken and Pancetta Pizza
The perfect balance of smooth flavors for a delightful pizza treat. Features Fontina cheese, chicken, pancetta, and red onions.
Ingredients
1 12 oz dough ball
2 Tbsp Tomato Sauce
1 Cup Fontina Cheese - Grated
1 Cup Cooked Chicken Breast - Thinly sliced
3/4 Cup pancetta - Diced
1/2 Cup red onion - Sliced
fresh basil
Instructions
Prepare your ingredients and preheat your oven to approx. 600 degrees F.

Roll or stretch the dough out to your preferred size, around 8-10 inches wide.

Spread the sauce over the surface.

Evenly sprinkle the Fontina cheese on top of the sauce.

Add some slices of chicken on top of the cheese.

Sprinkle the Pancetta on top (either finely diced for a quick bake, or dice and sautee it in advance for a crispier texture.) Follow with the red onion.

Bake in your pizza oven for about 3-4 minutes, making sure to turn the pizza often and cook evenly.

Garnish with some fresh basil leaves. Let rest for a few minutes before cutting for best results.
Notes
Pancetta is the Italian cousin of bacon. Both are made from pork belly, but pancetta is cured, while bacon is traditionally smoked. Another close cousin in this family is prosciutto which is made from the leaner pork leg cut, then dry-cured for a much longer period (years!) Bacon is the saltiest/smokiest of the three, with pancetta having a quieter, deeper, pure pork flavor. All of them can be used with this recipe, but each will result in a slightly different flavor and texture. Fontina is a semi-hard, white cheese characterized by a waxed rind and sweet-savory flavor. It is primarily made in the Aosta Valley in the foothills of the Alps (Danish and Swiss versions are available as well.) This incredibly rich and creamy cheese has sweet and pungent flavors, followed by tones of butter and roasted nuts as it lingers on your palate. Fontina is typically brined for two months, then aged for 3 more months in caves and caverns around the valley before it is sold. Though common enough in stores that sell specialty or Italian cheeses, if Fontina is not available in your area, Provolone or Gruyère are other cheese options with similar flavors and melting characteristics that may be easier to find.