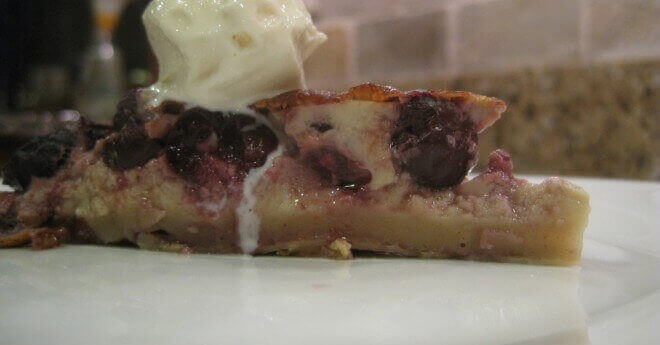 Cherry Clafoutis
Feb 17, 2012
Posted by chefdan
Print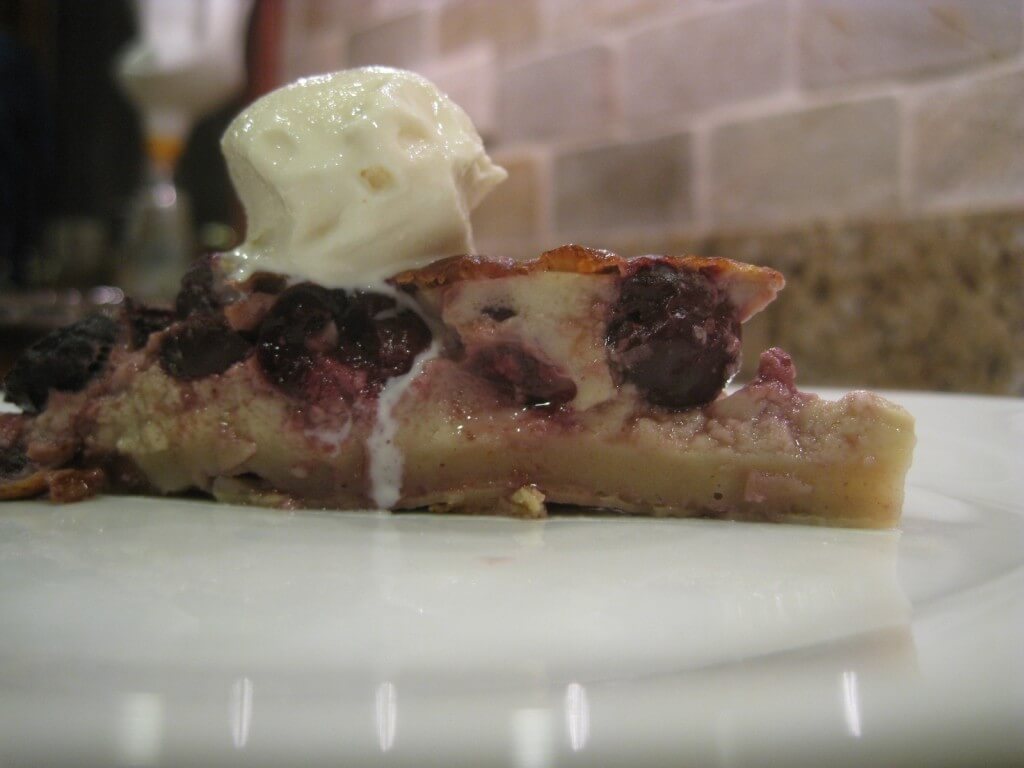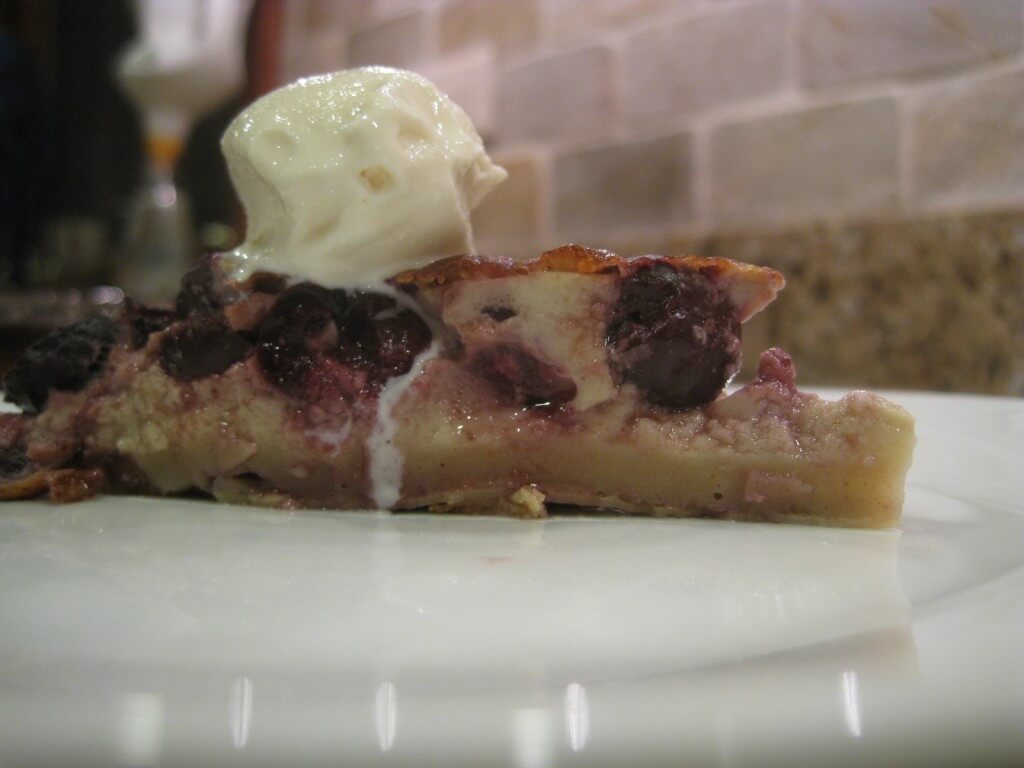 This is a recipe I adapted from the inimitable Julia Child. I honestly don't know why people don't make or serve clafoutis more often – it's one of the easiest desserts imaginable, you can make one with pretty much any fruit you'd care to, and it's absolutely delicious. Maybe it's the scary-looking French name. Call it a deep-dish crepe for all I care, just make one for your next dinner party and wow your guests. I used frozen cherries here because it is February in Chicago, but if they're in season feel free to go for fresh. (I'm also a big fan of peach clafoutis.)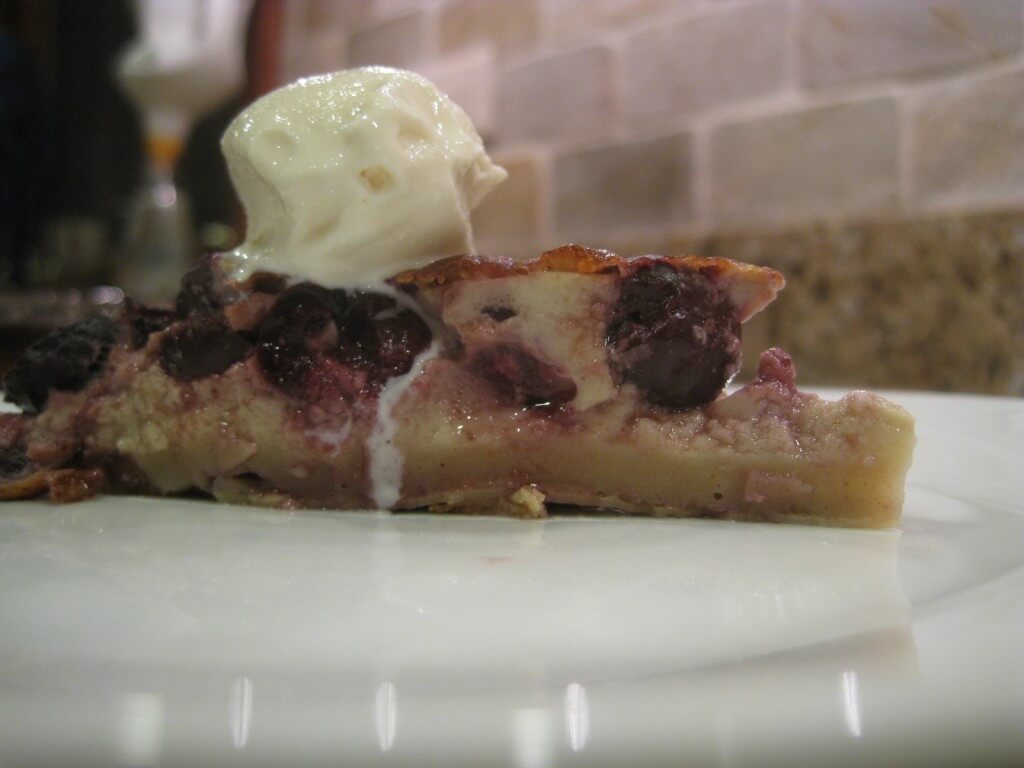 Cherry Clafoutis
Ingredients
1/3 C sugar
1 1/4 C half and half
3 eggs
1 T vanilla plus 1 tsp
1/4 tsp salt
1/2 C flour
1/2 tsp cinnamon
1/2 tsp nutmeg
butter for greasing your baking dish
16 oz cherries frozen pitted
vanilla ice cream or whipped cream to garnish
Instructions
Place the 1/3 cup of sugar, the half and half, eggs, vanilla, salt, flour, cinnamon and nutmeg in the carafe of a blender. Blend until combined and smooth – it shouldn't take any more than 15 seconds. Allow the batter to sit for 5 minutes.

Meanwhile, butter an oven-safe round glass pie plate. Once the batter has rested, pour a small amount into the bottom of your baking dish so that it is covered by a quarter-inch. Place on a rack in your medium-hot wood oven – you want an air temp around 400F. Allow to bake for 4-5 minutes, until the batter has set.

Spread the cherries evenly over the bottom of the dish. Sprinkle the remaining 1/4 cup sugar over the cherries, then pour in the remaining batter.

Return to your oven and bake for 30-45 minutes, depending on the temperature of your oven. The clafoutis is done when it's golden brown and set – a paring knife should come out clean when inserted into the middle.

Allow to cool for at least 10 minutes, then slice like a pie and serve with a scoop of ice cream or a dollop of whipped cream. And one last thing – I thought better of it. Please don't call it a deep-dish crepe. Embrace your inner Francophile. Say it with me: Cla-foo-TEE.