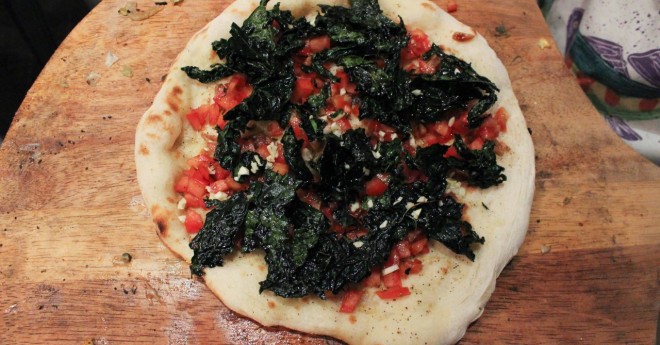 Caramelized Garlic, Roasted Kale, and Tomato Salad Flatbread
Jan 15, 2016
Posted by Brigit Binns
Print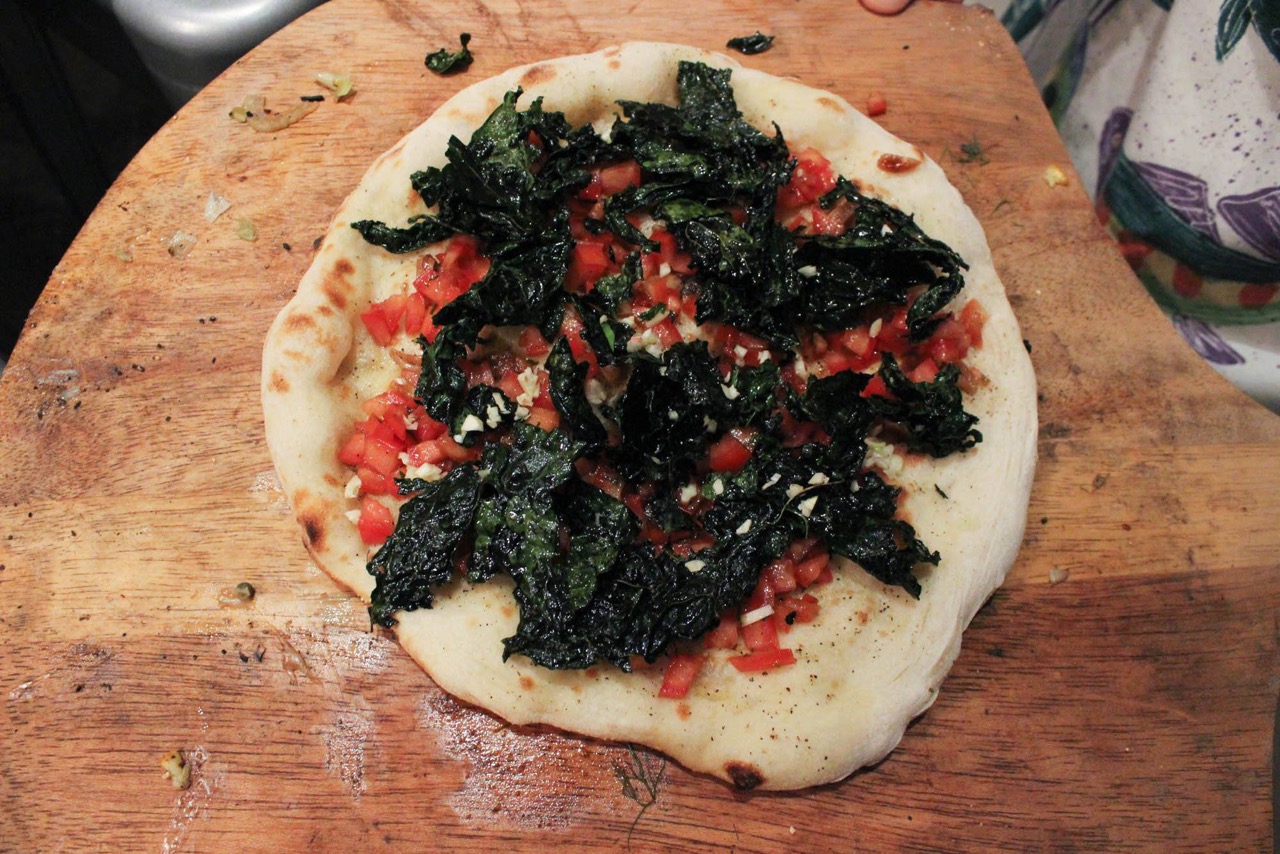 Correct. If followed from start to finish, this outrageously great flatbread requires a bit of time. But I like to caramelize LOTS of garlic at once (and why wouldn't we?), so it's always on hand for the many deserving dishes it can elevate from the mundane to the sublime. PLUS, why not roast some kale once every week or two, then hold it in an airtight container at room temperature, until you deign to crumble it over any, again deserving, dish like this one. Ignore the rumors of a hipster trend —as if anything this good can be a "trend"?—and just say YES to crispy-salty kale.
Makes one @13-inch flatbread; may be doubled
About 20 cloves garlic, cut into large slivers (@1/4-inch wide), plus 2 extra cloves, minced or pressed, for tomato salad
Extra-virgin olive oil, as needed
Sea salt, freshly ground pepper, and dried or fresh thyme
1 bunch Tuscan kale, leaves removed from stems (stems discarded), and torn into large, bite-sized pieces
5 plum tomatoes, concassé (this is a fancy French word meaning you must core, seed, and cut each tomato into @1/4-inch dice)
Large pinch minced flat-leaf parsley or arugola
One 9-ounce dough ball, at room temperature
Rice flour and cornmeal, for shaping and cooking the flatbread
I preheat my Bella wood fired pizza oven to around 375°. In a small crock or medium ramekin, barely cover the garlic pieces with olive oil and season with salt, pepper, and thyme. Place on a rimmed baking sheet and cover (use foil if using a ramekin). Roast for 45 to 50 minutes, until bubbling and golden brown. Remove and let cool completely. (Save the olive oil for another use.)
While the oven is still at 375°, spread the kale onto a large, rimmed baking sheet. Drizzle with about 2 tablespoons of olive oil; massage the oil evenly into the kale, then sprinkle with about ¾ teaspoon salt; massage the salt into the leaves. Roast at 375° for about 15 minutes, tossing once at the 10-minute mark. The kale should be deep green but very crisp. Cool at room temperature. These two steps may be done ahead of time.
Combine the tomato concassé with 2 to 3 tablespoons olive oil, the minced raw garlic, ½ teaspoon salt, a generous grinding of pepper, the balsamic vinegar, and a little parsley or arugola. Toss together and let stand for at least 15 minutes, at room temperature.
Flour a board and your hands with rice flour, then stretch and pull the dough (never press) into a roughly 13-inch round or oval; don't try to make it perfect. Transfer to a wooden pizza peel liberally sprinkled with cornmeal. (I like to make ovals for this one.)
Have ready a slotted spoon for scooping up the garlic and tomatoes.
Brush (or spray) shaped dough very lightly with olive oil and season with salt and pepper. Bake the dough in the hot oven un-topped, pushing down any air bubbles as they arise with a flat spatula. When the flatbread is lovely and golden, slide onto a serving surface and quickly top as follows: scattered drained caramelized garlic, scattered drained tomato salad, and roasted kale. Cut and serve.
Let the revels begin!
Brigit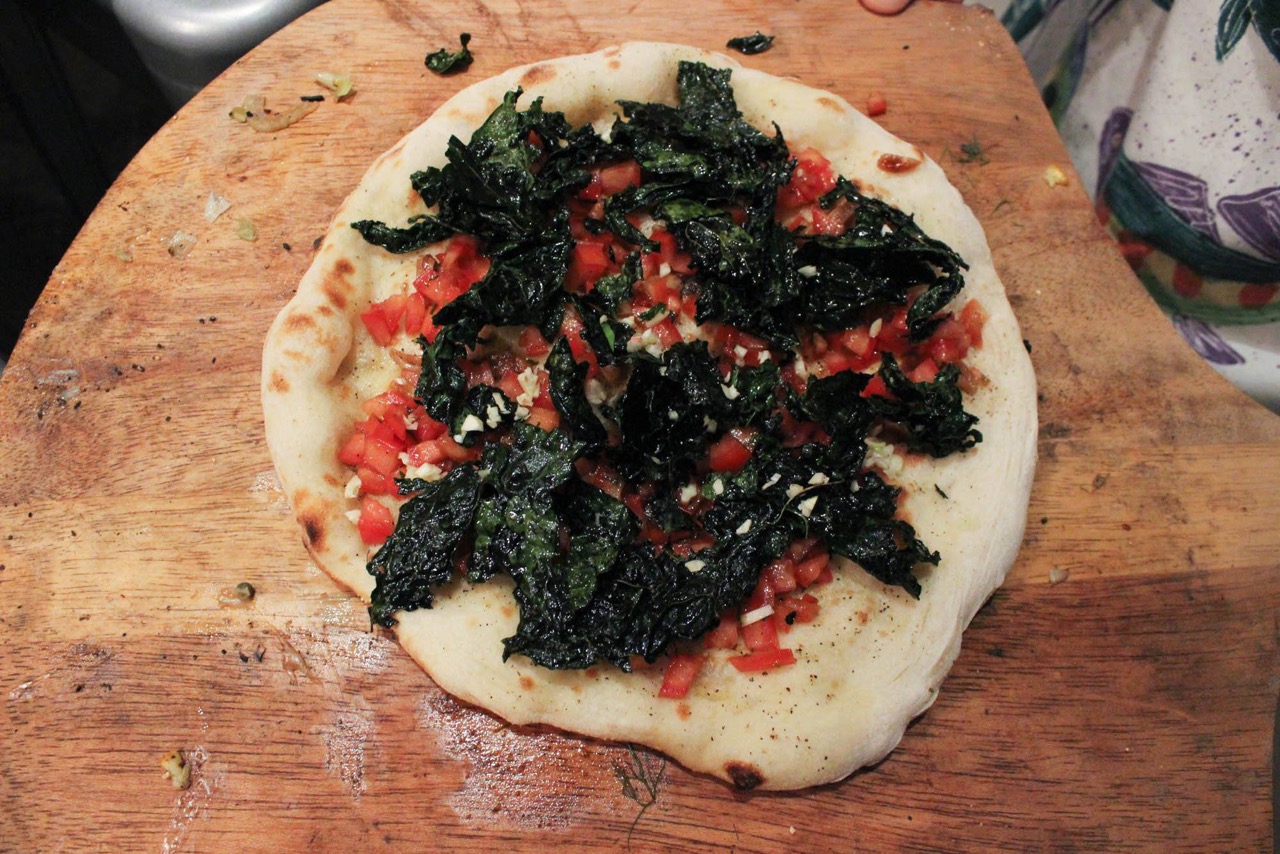 Caramelized Garlic, Roasted Kale, and Tomato Salad Flatbread