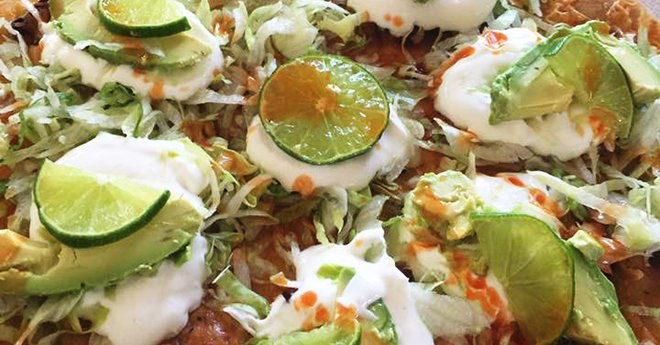 Bravo Mexican Pizza
Aug 01, 2018
Posted by guestchef
Print
Community contributor, Maria O'Donnell, shares her recipe for a Wood Fired Mexican Pizza that is a crowd favorite at her house! Perfect for summer parties.
This pizza features salty pancetta, mild shrimp, and hearty black beans as a base, then layers on four kinds cheese for richnesses. Finally, it ties the flavors together with crisp lettuce, smooth lime crema, and jalapenos and hot sauce for some spice. Try this dish and be ready for a fiesta of flavors in your mouth!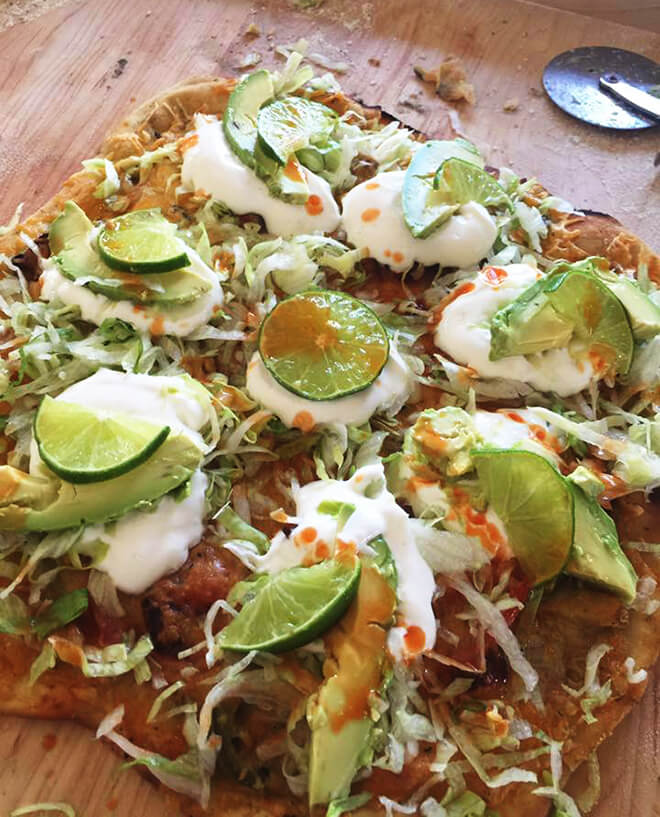 Bravo Mexican Pizza
A fun pizza that balances cool and spicy flavors in every hearty bite. Each slice of this pizza is a meal in itself!
Ingredients
Pizza Dough
4 cups bread flour
1 package yeast
1/2 cup warm water
1/4 cup olive oil
3/4 cup water
Salt and pepper
Lime Crema Filling
1 1/2 cups sour cream
2 limes juiced
1 tsp lime salt or citrus salt
dash Lemon Pepper
1/4 tsp sugar
Pizza Toppings
1/4 cup olive oil
1 Tbsp butter
1/2 lb pancetta Diced
1/2 lb shrimp Peeled and deveined
1/2 Spanish Onion Diced
1 garlic clove Minced
1/4 cup black beans Rinsed from can
1/4 cup Grilled Corn Kernals - corn can be grilled in the pizza oven in a skillet or tuscan grill and then cut off the cob
1/4 tsp each paprika, cumin, coriander, and old bay spices
1 Tbsp brown sugar
1/4 cup Pickled Jalapeños
1/4 cup cilantro Minced
1 cup Iceberg Lettuce Shredded, and tossed with a little lemon and lime juice
2 Whole, farm fresh tomatoes Sliced
1 cup mozzarella cheese Shredded
1/2 cup Monterey Jack cheese with peppers Shredded
1/2 cup Parmesan reggiano cheese Shredded
1/3 cup Asiago cheese Shredded
Citrus Salt and Lemon Pepper To taste
1 lime Sliced in half slices for garnish
1 Ripe Avocado Peeled and sliced for garnish
1 tsp hot sauce
Instructions
For Dough
Mix 1/2 cup bread flour, 1/2 cup warm water, and yeast, then wait a 1/2 hour. Mix in the rest of the ingredients and make a dough ball.

Put the dough ball in a bowl lightly greased with olive oil, and cover with a damp paper towel. Let rise two hours. Punch and turn and let rise another hour.

After making your dough, don't forget to use a dusting of semolina flour on the bottom of your dough and top of your pizza peel, so you can slide that pie right into your Forno Bravo pizza oven. Press or roll out your dough when your toppings are prepared and you are ready to bake. Run a roller with nubs over the pizza dough after it's rolled out to remove the air bubbles when cooking, This is key!
For Lime Crema
Juice limes. Mix all ingredients, and chill for 1 hour.
For Pizza and Toppings
Sauté all the vegetables and meats for 7 minutes, then add everything else (i.e. spices, sugar, and jalapeños). (Do not add tomatoes, lime wedges, lettuce, cilantro, lime crema, and cheeses!)

Place tomato slices on top of the dough, then add the meat and vegetable filling.

NOTE: Dough should already be ready to go on top of your pizza peel. MOVE QUICK to your Forno Bravo, or the toppings will seep through your dough and your dough won't slide off the peel into the oven.

I like my Forno Bravo at 300 degrees F. (I know most people like the oven to be hotter, but at 300 degrees F, I can best control the type of crust I want-- golden brown and a slice that will hold up horizontally with my toppings in place. It takes less than 7 minutes, turning the pizza every minute and a half, to get the pizza ready for the cheeses.)

Remove from the oven and top the pizza with the cheeses, a drizzle of olive oil, and salt and pepper. Return to oven in the same place on the oven floor, and bake another 3 minutes or so, until the cheese is bubbly.

Remove from the oven and top each slice and the middle of the pizza with lettuce tossed with cilantro and lemon and lime juice, and a dollop of lime crema. Garnish each dollop with a lime wedge and a slice of avocado (optional) and hot sauce.
Notes
OMG! YOU HAVE NEVER HAD ANYTHING LIKE IT. AMAZING. THANK YOU FORNO BRAVO!!