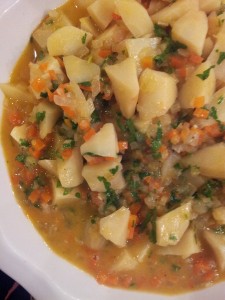 Braised Parsnips With Cara Cara Oranges
Feb 26, 2013
Posted by chefdan
Print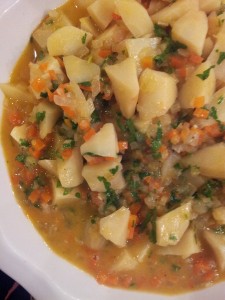 Braising is my favorite preparation for parsnips, because it really brings out all the flavors this oft-forgotten root has to offer: delicate sweetness, earthiness and just a hint of minerality. Cara caras, one of the many types of heirloom citrus that become blessedly available in the winter months, are a perfect partner to parsnips. But if you can't find them, regular navel oranges will work just as well.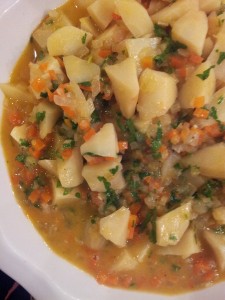 Braised Parsnips With Cara Cara Oranges
Ingredients
2 T butter
1 carrot brunoise
2 celery stalks, brunoise
1/2 yellow onion minced
4 parsnips peeled
1 sprig thyme
1/2 C white wine
1 1/2 C vegetable stock
3 oranges cara cara
1 T parsley chopped
salt to taste
black pepper to taste
Instructions
Place the butter in a large saute pan or wide, shallow pot and heat in your wood oven, which should be low- to medium-heat. Once the butter has melted, add the carrot, celery and onion, season, and sweat, stirring frequently, until soft, about 5-7 minutes.

While the mirepoix is sweating, cut your parsnips into bite-sized pieces. Add them and the sprig of thyme to the pan, season with salt and pepper, and sweat for another 2 minutes. Add the white wine and allow it to reduce by 3/4.

Use a vegetable peeler to remove the zest of two of the oranges. Add the strips of zest to the pan along with the vegetable stock. Bring to a simmer and cook until the parsnips are just beginning to become tender, about 8-10 minutes. Squeeze the juice of all three oranges into the pan and cook for another 2-3 minutes, or until the parsnips are soft but not mushy.

Remove from the oven and adjust seasoning if necessary. Pick out the orange zest and discard. Stir in the chopped parsley. Serve with roasted chicken, or even on its own over some rice or pasta with a little parmesan grated on top for a satisfying vegetable-based meal.