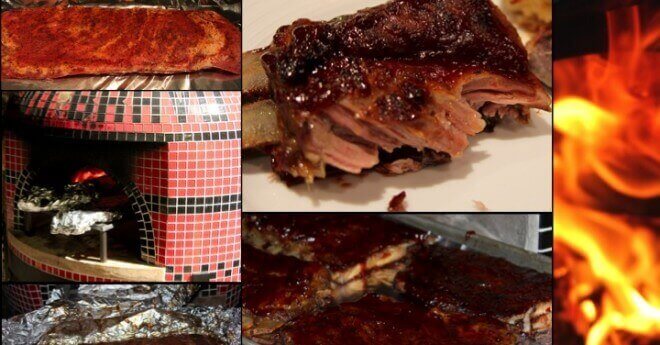 St. Louis BBQ Ribs
Mar 27, 2019
Posted by Chef Bart
Print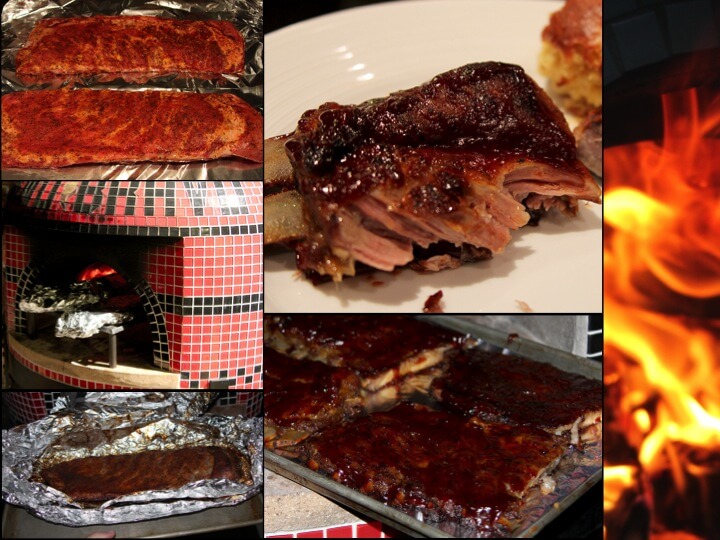 Last week, I posted a quick recipe and technique to utilize while your oven is heating up. This week, I thought I'd share a post-pizza party, oven cool-down recipe for St. Louis BBQ Ribs. The residual heat after an evening of cooking pizzas provides a great opportunity to utilize your Forno Bravo oven for a smoky slow roast. While there are countless rubs and marinades for ribs out there in the community, this is the one, that over the years, family and friends have come to love the best.
Enjoy as a midnight snack or cool ribs overnight in the refrigerator and heat up the next day for a BBQ dinner.
Until next week … Feast well – Chef Bart
*Recipe first published in the Forno Bravo Community Cookbook October, 2014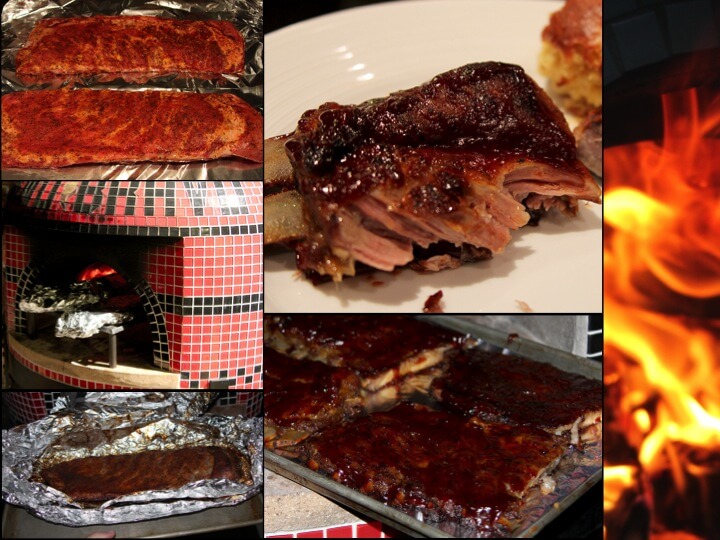 St. Louis BBQ Ribs
Rubbed and sauced smoked ribs cooked two different ways for melt in your mouth deliciousness!
Ingredients
2 racks Pork Ribs St. Louis
1 cup chili powder Ancho
1/4 cup brown sugar
1 Tbsp Mustard Powder
1 Tbsp Cracked Black Pepper
1 Tbsp Kosher Salt
1/2 Tbsp garlic powder
1 cup Apple Cider
Instructions
In a small mixing bowl, combine the chili powder, brown sugar, mustard powder, salt, pepper, and garlic powder and mix with a spoon until incorporated.

Rinse the pork ribs with cold water and pat dry with a paper towel. Place ribs on a work surface/sheet tray and using your hands, gently rub and massage the spice mixture into both sides of the ribs. Place ribs into the refrigerator and let sit for 4-6 hours. If you feel organized and plan ahead, the ribs can be rubbed down the day prior and let stand overnight.

Remove ribs from refrigeration about 30-40 minutes prior to cooking to allow them to temper to room temperature. Place one rack on a large sheet of aluminum foil and fold up the edges around the rack. Add ½ cup of apple cider, and wrap the aluminum foil to cover, leaving a few small gaps open, so that smoke is allowed in, and repeat for the remaining rib rack.

In this method, we are cooking the ribs at a higher temperature for a shorter time than a traditional slow smoke. The addition of the apple cider will assist in braising the meat, making it tender and juicy in a shorter time. Alternately, you can also choose to wait the additional time to let the temperature of your oven to drop 200 – 300 degrees, and let the ribs go much longer approximately - 6 hours.

Place the ribs on a Tuscan grill so that they do not rest on the hearth, and air and smoke can circulate around the meat. Close the door of your oven so that the remaining coals snuff out and smoke the meat.

Once the ribs are fork tender, about 3.5 hours at 600 degrees, peel away the foil to expose the meat. Transfer the meat to a sheet pan and brush with your favorite bbq sauce on both sides, then return to the oven for an additional 15 -20 minutes.