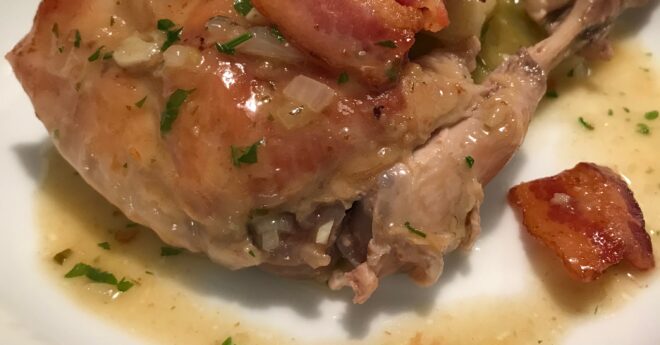 Bacon Braised Hare with Leeks
May 13, 2021
Posted by guestchef
Print
This recipe comes from Chef John Livera. He loves hosting dinner parties and using his custom-tiled Vesuvio wood fired oven as the star of the show.
Hare (or rabbit)* is a very mild, tender, lean meat that takes on many of the flavors it is cooked with. It is full of protein, low in fat, and low in cholesterol, making it a very healthy option that really elevates the meal. You can find sustainably raised and harvested rabbits from both small, local farms, co-ops, specialty butchers, and also online. Most people opt for farm-raised rabbits, as wild rabbits can have a stronger, gamier flavor. Rabbits have been raised for food since the 15th century and are considered a common comfort food in France.
Because the meat can become dry, braising rabbit in a flavorful cooking liquid is a fantastic method of preparation. The wood fired oven offers a high, even heat that works well for both the preliminary steps and the final braise, allowing you to make this a true, one-pot meal.
This dish has a decidedly French flavor profile, but is actually quite simple to prepare. We encourage you to give it a try and find out all of the wonderful new kinds of cooking you can do in your wood fired oven beyond just pizza!
Bacon Braised Hare with Leeks
A simple and delicious one-pot meal that yields a gourmet-quality dinner that is sure to impress.
Ingredients
1 Whole Rabbit - Farm Raised
1/2 lb. bacon - Cut into 1 inch strips
2 leeks - Cut into 1/2 inch moons, rinsed
2 shallots - Sliced thinly
1/2 Cup white wine
1 Qt. chicken stock
2 Tbsp parsley - Minced
2 Tbsp unsalted butter
All Purposed Flour - For dusting
kosher salt & fresh cracked black pepper - For seasoning
Instructions
Render the bacon in a heavy bottom pot in the wood fired oven. Remove some for garnish once fully cooked.

Season the rabbit with salt and pepper, dust the rabbit with flour, removing any excess.

Sear the rabbit on all sides in the bacon fat.

Remove the rabbit once seared. Melt the butter and add the leeks and shallots for a quick sauté.

Deglaze the pan with white wine. Add the chicken stock and the seared rabbit.

Cover and place in the wood fired oven for 45 minutes (600°F) – 60 minutes (500°F,) depending on the temperature.

Plate, garnish with the reserved bacon pieces and parsley, and serve.
Notes
The USDA recommends cooking rabbit to 160⁰ F. You can test the temperature with a probe thermometer inserted into the thickest part. *Hares and rabbits are actually different species of animal within the same family Leporidae.) Either can be used for this recipe, though it is much easier (and common) to source farm-raised rabbits than hares. You can also substitute chicken in this recipe if you are less adventurous, as the meat is similar.