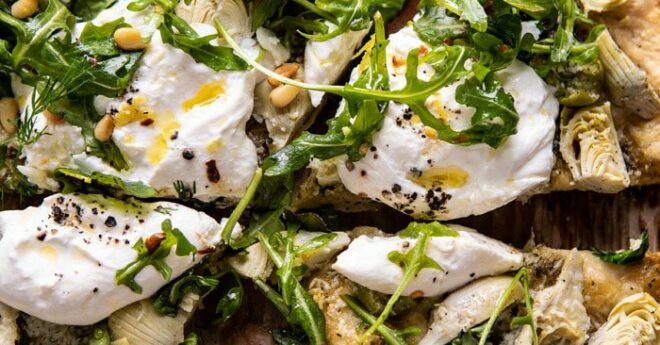 Artichoke, Pesto, and Burrata Pizza with Lemony Arugula
May 13, 2021
Posted by guestchef
Print
Ever craved a vegetarian pizza, but wanted it to be flavorful and filling too? You are in luck. This combination from Half Baked Harvest checks all of the boxes! You can pair it with a whole wheat crust for a heartier taste or a 00 flour crust for a lighter texture.
One of the specialty items in this recipe is burrata cheese. Burrata is a bit like mozzarella on the outside, but creamy ricotta on the inside, and it softens beautifully from the residual heat of the pizza after it comes out of the oven. You can now find burrata at many grocery stores that have a larger cheese section, or if you are having trouble finding it, you can substitute fresh mozzarella. (If using mozzarella, add it before baking the pizza for best results.)
Note: Be sure to toss the arugula in the homemade lemon dressing recipe included below for the fullest flavor profile. It is well worth the few extra steps needed to make it, and it really adds the zip and zing that balances the artichoke hearts and other elements!
CLICK HERE for Tieghan Gerard's full blog, preparation tips, and a breakdown of the steps in this recipe.
Prefer to watch a video of making this recipe? Click the image below!
https://vimeo.com/316258300
Artichoke, Pesto, and Burrata Pizza with Lemony Arugula
A spring or summer vegetarian pizza that pops off the deck. It features the earthiness of artichoke hearts and olives, the brightness of pesto, the smoothness of burrata, and the lemony-peppery zing of dressed arugula for flavor perfection!
Ingredients
Main Pizza
1/2 lb pizza dough - homemade or store-bought
1/3 cup basil pesto - homemade or store-bought
1/2 cup green olives - roughly chopped
1 cup Baby Spinach - roughly chopped
1 jar (12 oz) Marinated Artichoke Hearts - drained and roughly chopped
8 oz Burrata Cheese - about 2-3 balls (add after baking)
Dressing
2 Tbsp extra virgin olive oil - Plus more for drizzling
2 tsp lemon zest
1 Tbsp Lemon juice - fresh
crushed red pepper flakes - to taste
kosher salt and black pepper - to taste
Salad Topping
2 cups Baby Arugula
1/2 cup fresh basil leaves - roughly chopped
2 Tbsp Fresh Dill - roughly chopped
2 Tbsp Toasted Pine Nuts
Instructions
If baking in a home oven, preheat the oven to 450 degrees F. Grease a large baking sheet with olive oil. (See note below for instructions for baking in a wood fired oven.)

On a lightly floured surface, push/roll the pizza dough out until it is pretty thin (about a 10-12 inch circle.) Transfer the dough to the prepared baking sheet.

Spread the dough with pesto and top evenly with olives, spinach, and artichokes.

Transfer to the oven and bake for 10-15 minutes or until the crust is golden.

Meanwhile, in a medium bowl, whisk together the olive oil, lemon zest, lemon juice, and a pinch each of salt, pepper, and crushed red pepper.

Add the arugula, basil, dill, and pine nuts and toss to combine.

Remove the pizza from the oven and top with burrata. Allow the burrata to sit on the pizza and warm through, about 5 minutes. Drizzle with olive oil and add a pinch of kosher salt and cracked black pepper.

Top with arugula. Enjoy!