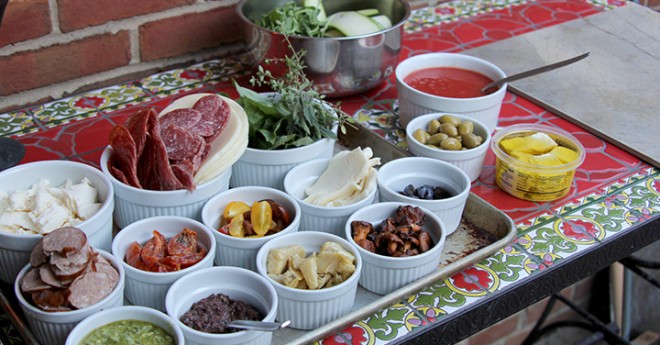 A Few of My Pizza Oven Favorites
Oct 26, 2015
Posted by Chef Bart
Print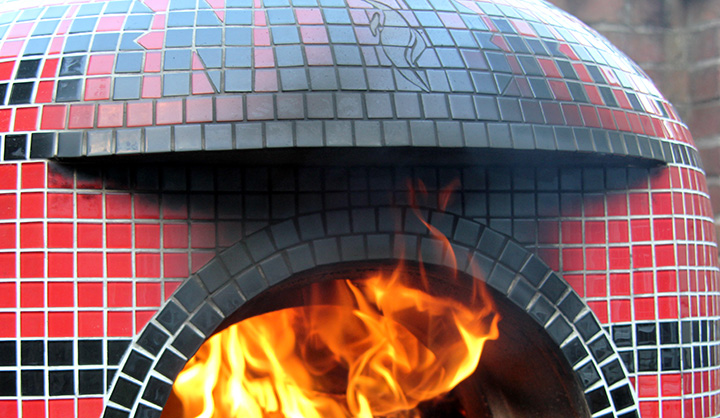 A little more than a year has taught me a few things about pizza out of a Forno Bravo pizza oven.  To name just a few: the woods and the flavor of smoke, the fire and how to trust in the dome-licking flames, the illusion of controlling the dough, yeast, humidity and time, and of course the toppings–spicy, sweet, tart, bold, creamy, sharp and all delicious.  The most important lesson is to have fun, relax, and enjoy.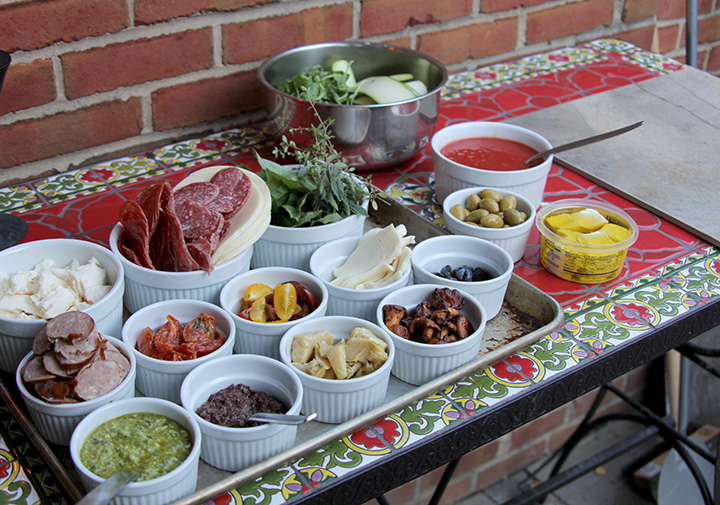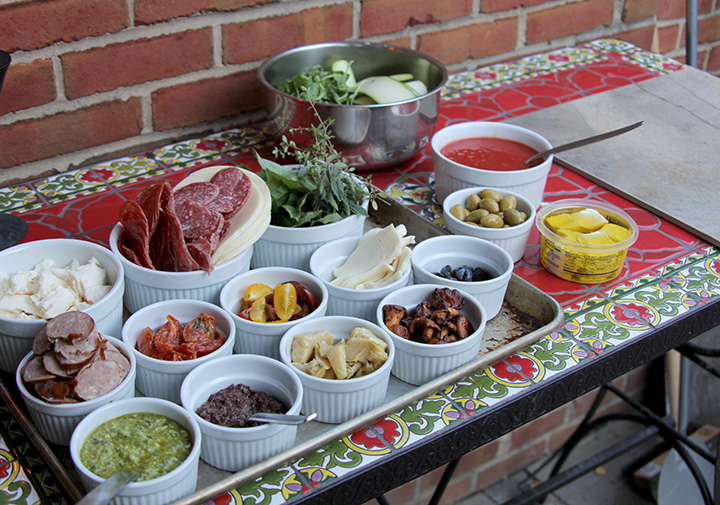 A Few Favorites
My favorite pizza toppings: Fresh mozzarella, Provolone, Goat Cheese, Andouille Sausage, Salami, Sun Dried Tomatoes, Pesto (Recipe below), Picholine Olives, Olive Tapenade (recipe below), Arugula, Mushrooms, Artichoke Hearts, Fresh Basil / Thyme. Let's start with my favorite dough recipe -
Ingredients
Dough
1000 grams "00" Soft White Flour 7 3/4 cups
700 grams Water (90-95 F) 3 cups
20 grams sea salt 1 tbsp + 3/4 tsp
2 grams yeast 1/2 tsp
Basil Pesto
1 bunch basil approx. 1 cup
1-2 cloves garlic
.25 cup Parmesan cheese
.25 cup pine nuts toasted
.25 cup extra virgin olive oil
salt to taste
Olive Tapenade
1/2 cup black nicoise olives
1 tblspn capers
2 filet anchovy salt cured (optional)
1 clove garlic
2 leaves fresh basil
.25 cup extra virgin olive oil
Salt and pepper to taste
Smoky Tomato Sauce
6-8 each tomatoes medium size
2-3 cloves garlic
8-10 leaves fresh basil
1 tblspn extra virgin olive oil
1 pinch red chili flakes
sea salt and black pepper to taste
Instructions
Dough
Dough: Hydrate the yeast with 3 tablespoons of the 3 cups of water. In a separate bowl, combine the flour and remaining water together with a wood spoon or hands until incorporated. Let the water-flour mix sit for 30 minutes. Sprinkle dough with salt and yeast mixture and using damp hands make quarter folds in the dough until the yeast and salt are fully incorporated. Cover, set aside, and let the dough rest for an hour. From the corners, fold the dough in on itself one time, cover, and let rest at room temperature for 5-6 hours. After dough has rested and doubled in size, divide into 5 - 340 gram dough balls. Dough will be slightly tacky; use a bit of extra flour for your hands and work surface as needed. Dough is ready for the oven. This dough is 70% hydration and yields a traditional Neapolitan pizza. The crust will produce a crisp bite with a great chew, as well as soft fermentation flavors with medium to large air pockets.
Basil Pesto
Use a mortar and pestle to pound the garlic and salt into a paste. Add toasted pine nuts and continue to pound. Once the mixture is a course paste, remove garlic pine nut mixture from mortar and place in a small mixing bowl. Chop the basil coarsely and add to the mortar. Pound the leaves to a paste. Return the pounded pine nut mixture to the basil, add parmesan, and continue to pound while adding the olive oil. Taste. Adjust seasoning as necessary.
Olive Tapenade
Ideally you would hand mince all the ingredients and combine in a small bowl. If pressed for time, combine all the ingredients in a food processor and pulse until the mixture is smooth. Adjust seasoning to taste if necessary.
Smoky Tomato Sauce
Core tomatoes, slice in half lengthwise, and score the bottom with an "x" cross cut. Place tomatoes in a roasting pan, drizzle olive oil over the top and season liberally with salt and pepper. Add basil and chili flakes and place into the wood oven. I typically roast the tomatoes when the oven is warming up to capture the smoke flavor and a lower heat of 350-400 degrees. Roast the tomatoes for 10-15 minutes; the skin should blister, and the tomatoes should begin to break down and release some of their juice. Remove the tomatoes from the oven and use tongs to pull off and discard the skins and transfer the contents to a small saucepot. Reduce the sauce by 2/3 over medium-low heat. During the cooking process, use a whisk to break up the larger pieces of tomato or use a food mill to break down to a smooth consistency. Remove from heat, taste, adjust seasoning if needed. Let sauce cool. Sauce can be stored covered in the refrigerator for 3-5 days or divide equally into ice trays and freeze to use later. One to two cubes equals the equivalent portion for one pizza.