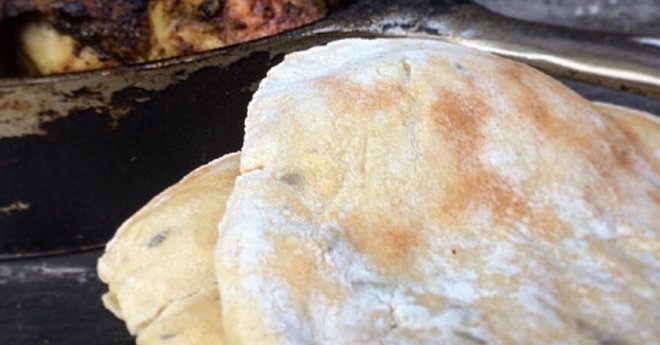 Feb 24, 2020
Posted by guestchef
Print
Naan Bread is a versatile form of flat bread that has its roots in India and the Middle East. It is also super easy to make in a wood fired oven! This recipe for Lavender and Fennel Pollen Naan Bread is a gourmet adaptation of the basic recipe and brought to us by Chef Ryan Kirby of Wisconsin. Chef Kirby has a passion for making dishes with local, fresh ingredients. You can find more of his fabulous creations on Instagram at @ryankirby84.
Seasonings
A couple of the unique seasonings in this bread are fennel pollen and lavender.
Fennel pollen is hand collected from wild fennel which grows predominately in Italy, and now in California. Fennel pollen is a powerfully condensed spice with flavors of licorice, citrus, and sweetness. Its flavor is different from anise or fennel seeds, though complementary, and generally a pinch goes a long way! You can find it at many spice shops, or online at places like Spiceology or Pollen Ranch.
Culinary Lavender also has a strong flavor, so pairing it with another assertive flavor like the fennel pollen or lemon juice/zest helps give it balance. Dried lavender can be found year round and used a couple of ways. One way is to soak it in a few drops of full fat milk for half an hour. This hydrates the lavender, and the fat facilitates the essential oil distribution in your naan bread. It can also be used as an infusion, grinding it or straining it out of the liquid before using. Again, use sparingly so the bread doesn't taste like soap 🙂
Uses
This bread makes a wonderful appetizer for your guests to enjoy all by itself, or it can be paired with cheeses, fruit, or a mild dipping element for variety. It is also beautiful side accent to Mediterranean-style chicken, lamb, or other main courses.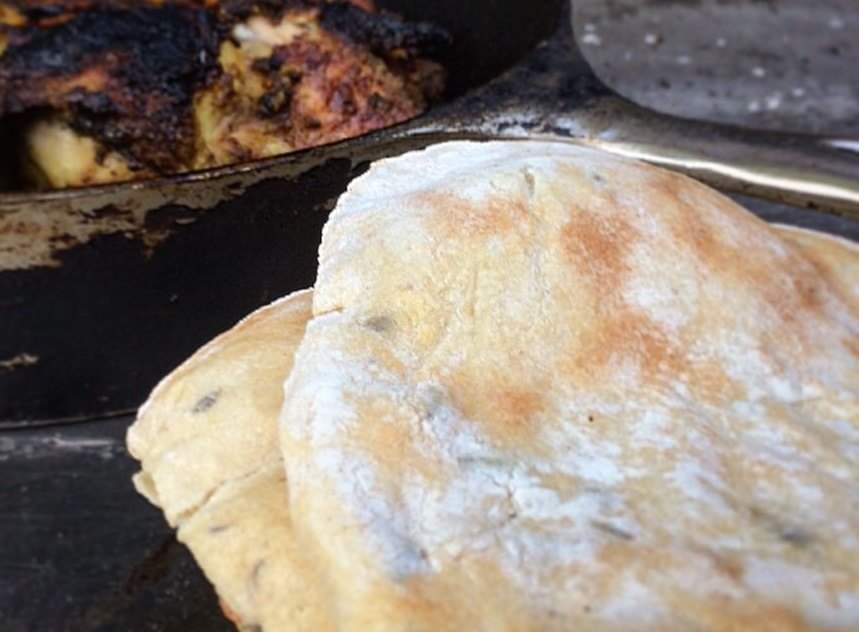 Lavender and Fennel Pollen Naan Bread
A middle eastern flat bread with an Italian twist. Perfect as an appetizer.
Ingredients
1/2 cup warm water - 110° to 115°F
2 tsp instant yeast
1 tsp sugar
3 Tbsp olive oil
1/4 cup Greek yogurt
1 egg
1/2 tsp salt
2 1/2 - 3 cups all purpose flour
2 Tbsp melted butter
fennel powder to taste
culinary lavender to taste
sea salt flakes to taste
Instructions
Combine warm water, yeast, and sugar in a large bowl; let sit for five minutes or till bubbly.

Add olive oil, yogurt, egg, salt, seasoning* (see notes above) and 2 cups of flour. Mix till smooth.

Add enough flour to make a soft dough. Knead a few times on a floured counter until smooth.

Place dough in a greased bowl. Cover and let rise in a warm place until doubled.

Heat your oven up to about 650-750°F. (You want a quick bake for best results. It gives the bread a nice outer crust and a soft fluffy inside.)

Cut dough into eight pieces. On a floured surface, roll out each piece into a 6" circle.

Place in oven slightly away from the fire and cooked directly on the oven floor. Cook till naan is bubbly and golden brown. (1-2 min)

Brush the top (the bubbly side) of each naan with melted butter. Lightly season top with a mixture of sea salt flakes, lavender, and fennel pollen.