There are two basic approaches to focaccia.
In Genoa, where focaccia was born, a rich, olive oil infused dough is shaped into a pan, allowed to raise, indented with fingers, covered with more olive oil, then baked at a moderate heat.
In Naples, the home of pizza and wonderful brick pizza ovens, many pizzerias create a focaccia that is basically a flatbread made from pizza dough and topped with oil, a splash of tomato sauce, and oregano.
Click out our flatbread section for Neapolitan focaccia, and read on for authentic Genovese focaccia. In Tuscany, they call it Schiaciatta ("flatten" in Italian), and they reserve the name focaccia for the round flatbread. Nothing is easy in Italy.
Basic Recipe
Using a bread machine, create your basic dough:
1 1/2 cups water
4 TBS olive oil
4 cups bread flour (read our flour page for more)
2 tsp salt
2 tsp dry active yeast
Add the water and olive oil, then cover the liquid with flour. Add the salt (half each in two corners), then make a small well in the middle of the flour and add the yeast. Start the dough cycle, which will last for roughly 90 minutes. Add any herbs or cheese and hand knead dough to incorporate them.
Coat an oval or square metal baking dish, roughly 9″ x 13″ and 2″-3″ deep liberally with olive oil.
Take your dough and gently stretch it until it is roughly the shape of your pan, lay it in the pan, and push it into the corners to fit. Jiggle the pan back and forth to make sure the bottom of the dough is coated and slides smoothly. Cover and let the rest for an hour, or until it has risen by half.
Push down an interesting pattern of indentations using your fingers, coat the top with yet more olive oil to fill the indentations, and bake in a moderately hot brick pizza oven (apx. 500°F.) If your fire is bright and your dome hot, you might want to wait for it to cool down a bit first.
Depending on your oven temperature, your focaccia should cook for somewhere between 20 and 30 minutes.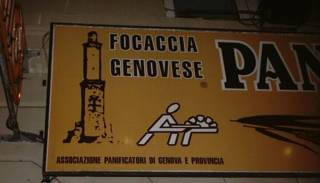 Variations and Toppings
Parmesan and rosemary — knead the cheese and herbs into the dough after the bread machine cycle and before the last one hour rise.
Gray salt and pickled red pepper
Fresh sage
Olive tapenade
Mixed olives
Grilled onion
Grilled zucchini and cherry tomatoes
Potato
Potato, onion, and leek
Dried tomato and pine nuts
Thyme and gray salt
Mozzarella, tomato, and fresh basil
Return to Bread Central – Table of Contents